Air conditioner condenser fan replacement
05-30-17, 05:59 PM
Air conditioner condenser fan replacement
---
Does anyone know off hand what fan motor I need to buy for my old luxair ac unit? Replaced the start cap and it ran for 2 days then off. I checked fan resistance and all leads read open. I have a partial ge number, but the bracket was mounted over the plate and part is missing. Model number is so washed out I can't read it.

Number is 9kc 9gge410s. Looks like 3 wire, 3 1/4 inch long 1/2" shaft.

Thanks!
05-30-17, 06:58 PM
You will need more information.

Do you have a model number for the condenser?
Does the condenser nomenclature give you any information about the fan motor?
Can you read the horsepower rpm and frame size on the motor?
05-30-17, 11:13 PM
How does your motor mount to the unit?
Most just use the 4 bolts sticking out of the end of the motor but some have a welded mounting bracket.
Do you know the RPM.
They usually run around 800 rpm or around 1100rpm.
If you are just using the 4 bolts sticking out of the end of the motor,
this motor
and a 5 microfarad run cap should work.
4 wire universal motors wire up a little differently.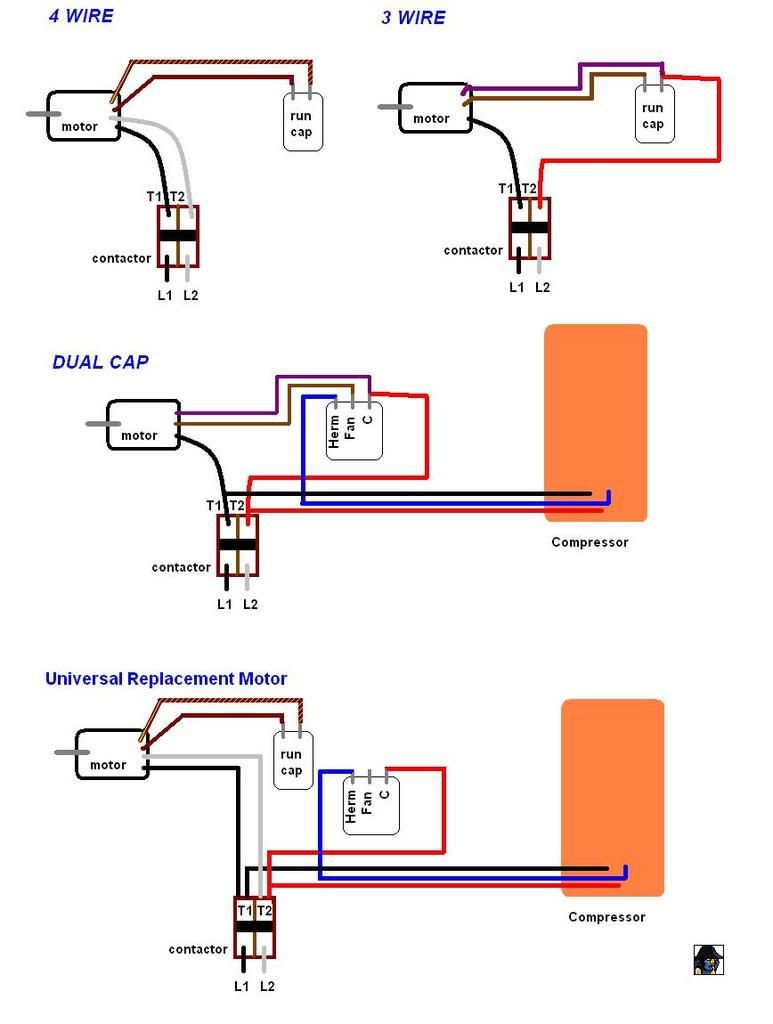 05-31-17, 04:57 AM
It's 1075 rpm, it mounts with a clamp arrangement onto a frame. The stud one won't work.

I will have to measure and see if it's the same size frame and maybe I could just use it.

Thanks for the replys!
---
Last edited by Nightrider0614; 05-31-17 at

05:47 AM

.
05-31-17, 07:53 PM
The motor that I posted will cost a fraction of the OEM motor but it will be longer. The shaft may also need to be cut ( although I haven't had to cut one in years).
A universal motor will have a drain plug. The plug should be in the drain hole that ends up on top of the motor. I have seen homeowners leave the plug on the bottom hole and partially fill the motor with rain water in less than one year. The motors shorted out.
A universal motor will be reversible. The air should discharge out of the top of the condenser.
06-03-17, 01:25 PM
Thank you very much for the link and the advice! I ordered the motor you recommended and will let you know how it works out!

Thanks for the tip about the drain plug(s) I will remove them if they are in there. Or should I just leave them both in if they are plugged?

My thinking says leave the top one in but remove the bottom one?