Should I buy Carrier or Lennox?
06-21-18, 11:43 PM
Should I buy Carrier or Lennox?
---
My 11 year old 2-ton Carrier outside AC unit stopped working. A technician checked and said the compressor shorted and needs to be replaced. He also suggested that I get a new unit rather than replacing the compressor because it's an old system, using Freon R-22 and it costs over 2 thousands to replace the compressor and Freon.
I agreed to buy a new unit and he offered the following (the inside Air Handler unit also needs to be replaced too since it also uses Freon R-22):

Carrier Comfort Series 14SEER 2-ton Heat Pump Model 25HCE424A003
Carrier Comport Series 2-ton Air Handler Model FX4DNF025L00
For $ 5,900 (6,400-500 manufacturer rebate)

Lennox Merit Series 2-ton Heat Pump Model 14HPX-024-230
Lennox Merit Seires 2-ton Air Handler, Model CBX25UH-024
For $5,500 (6,000-500 Manufacture rebate)
Both come with 10 year warranty on the compressor and parts and 3 year warranty on labor.
Thank you for your advice.
Sponsored Links
06-22-18, 04:56 AM
The air handler is basically a blower, there's no refrigerant in it, other than in the evaporator coil, which is part of the A/C system. If you buy a new A/C system, it will consist of the outside unit (compressor & condenser) and the evaporator coil which goes inside the air handler. If you need a new air handler, then by all means replace it. However, it doesn't need to be replaced just because you're replacing the A/C system.
06-22-18, 06:25 AM
Depending on the age of the indoor unit, replacing just the evap coil is an option. Although I'm guessing most contractors will want to replace the entire unit rather than hassle with replacing the coil. Plus they get more money that way. If you go this route, then I'd replace the line set as well. It can be flushed, but you'll never get all of the R-22 out of there. Not sure what else is involved with switching from R-22 to R410. Others will chime in I'm sure.
06-22-18, 07:48 AM
The lennox merit is a builder's grade unit. The cabinet may be very flimsy and it's made in mexico with a korean compressor. If you care about american jobs, don't buy the lennox.

The carrier is also the base model I believe but it's probably better quality than the lennox.

In this case I would get more quotes on repair. 2 grand is steep.

It's possible to use a compressor with poe oil and switch to r-407c.

-------------
If you're staying with the same size and efficiency, you do not need a new air handler.

The old oil in trace amounts of compatible with the new oil used with 410a. The new oil absorbs and carries the old oil and can be okay with 410a.

R22 and 410a use the same coil type. Your unit is probably new enough for the coil to be approved for 410a.

The part that needs to be changed is the metering device to work with 410a.

For sure, you don't need a new air handler. At most, the coil can replaced if there are outstanding concerns.

The advantage of changing the coil you don't risk changing the outdoor unit now, only to have the coil spring a leak in a few years.
06-23-18, 07:01 AM
Part of the question in this thread is whether to replace the air handler also. Here is some hard data.

In 1994 replaced a 1967 GE 36,000 BTU R22 outside unit with a cheap York 30,000 BTU unit from HomeDepot. (In 1970's to reduce heat load had done major upgrade to home insulation.)

Electrical draw when down from 26 amps to 13 amps. York AC only runs 8 hours/day in summer.

Only maintenance has been adding R22 every few years.
06-23-18, 09:47 AM
Join Date: Oct 2009
Location: Texas
Posts: 7,425
I Recommend replacing the air handler when you replace the outdoor unit.
If you are at all in doubt I recommend removing the panels on the air handler and checking the level of rust on the coil.
An air handler has the evaporator coil inside of it.
A gas furnaces has an evaporator coil next to it.
This coil is leaking refrigerant...
This coil is only 4 years old.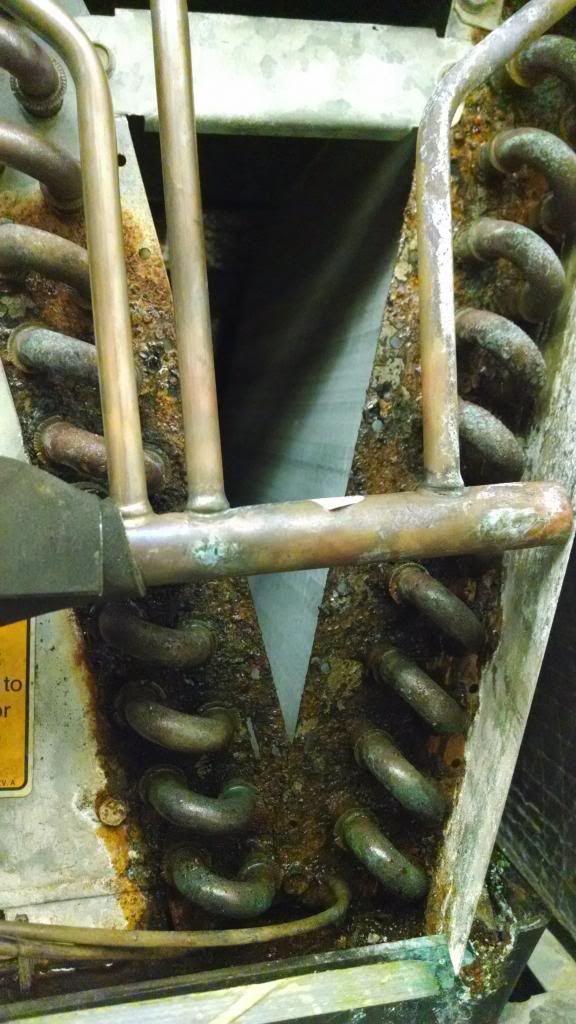 The indoor coil serves as the condenser coil in heat mode if you have a heat pump. This makes it even more important to have a matched indoor coil to the outdoor unit.
---
Last edited by Houston204; 06-30-18 at

03:23 AM

.
06-23-18, 09:13 PM
The air handler in this case is post-2006 and already okay for a 13+ seer, existing heatpump is already a 14. A new unit can work with this air handler just fine with a metering device change provided the size and seer stay the same.
The coil can be changed to avoid having it fail and spring a leak when the outdoor unit is "middle aged". It's new enough that an oem replacement coil can probably be found.
There is no reason what so ever to change out the whole air handler in this case.
An air handler can be kept going indefinitely and scraping it would just be a huge waste.
11 years old is nothing for an air handler. There isn't that much to break and what is there can be repaired affordably.
I find it ridiculous the excuses that can be given to try and replacing equipment that can be repaired.
-------------
Rust??? Air handler evaporator coil is made of copper tubing with aluminum fins. There is no rust after 50 years
The tube sheets on the sides rust.
Copper does not rust, but in can corrode and spring micro-leaks. The condensate is contaminated with chemicals and between having two dis-similar metals and the chemicals, the thinner copper of newer coils they fail.
https://www.achrnews.com/articles/10...rrosion-issues
Posting Rules
You may not post new threads
You may not post replies
You may not post attachments
You may not edit your posts
---
HTML code is Off
---