pool noodle inquiry
06-22-19, 05:35 PM
pool noodle inquiry
---
There's a couple of low-mounted signs with wooden frames about 3/4" thick of which the bottom corners of these signs have the potential for short youngsters to bump their heads into. We don't want to move the signs, they need to stay where they are. Kinda hard to explain but anyway the proposed solution was to install some protective soft material onto the bottom corners of these frames to cushion any such bumping.
I acquired these "pool noodle" things, made of a foam plastic stuff, and was hoping after cutting a couple of short lengths of the noodles with matching 45-degree angles for each corner that I could then easily slip these constructed two piece corner protectors over these sign corners (would slit down the middle of each piece and stretch over the thickness of the sign(s). Indeed it will work great if I can only figure out what method to adhere the cut 45-degrees angles of this material with. Here is what these things are:
https://www.lowes.com/pd/Inno-Wave-A...oodle/50376904
I'm not sure, and it doesn't say, but I'm thinking this foam stuff is maybe "polyethylene" foam? It's of course a plastic-like stuff and is porous as foam stuff like this would be. I already tried a couple of adhesive type liquids/substances l had sitting around, hoping if I applied it to one side or the other of the angles and held the two angles together tightly for a short bit that they would hopefully like set up and bond together quickly and tightly. Ideally I'd want the inside edges of the cut angles to almost "melt" together so when I stretch the two bonded pieces over the corners to fit they would not have the tendency to ever pull apart at all but stay tight together. I tried ABS glue, PVC glue, that didn't work. Probably because its not ABS or PVC. Plus, even if I did have specific glue that should work fine to bond together this type of plastic material, I don't really have a way to keep holding it tightly together long enough for the glue to dry/cure; no way to hold such pieces in a vice or anything. So thought about using a heat gun to maybe heat up the inside surfaces of the cut angles and then quickly stick the two cut pieces together when the plastic melted enough, and did try that, but that didn't work either because the heat from the heat gun just kinda melts and deforms the whole cut piece, as can be seen in the following picture, which shows a couple of the cut trial angle pieces I was practicing with (the one piece melted).
Any suggestions/advice how I might successfully accomplish what i'm trying to accomplish, getting these cut pieces of this material to bond together as I described.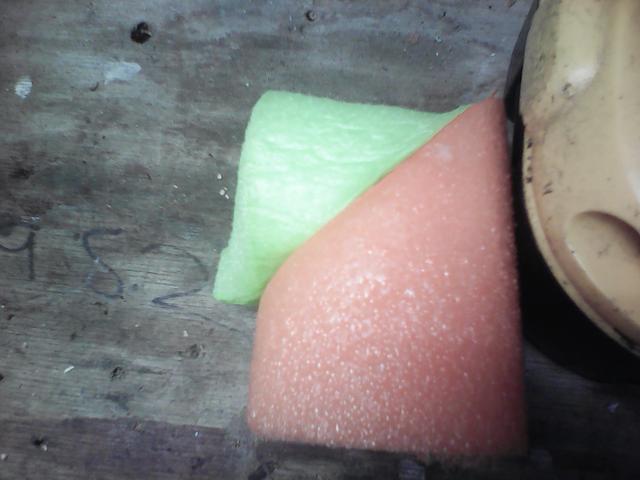 06-22-19, 05:44 PM
Join Date: Oct 2012
Location: Jersey
Posts: 71,689
If it was me attaching a noodle to a sign..... I'd be using a hot glue gun.
You could also use contact cement. Put a thin layer on the sign and a thin layer on the noodle. Allow 5 minutes or so to tack up and then install the noodle.
Contact cement
06-22-19, 05:55 PM
To attach the noodle cut lengths/corner pieces to the sign I can simply cut a single slits along the inside length of the piece(s) and stretch them over the thickness of the sign(s) and that will hold them on the sign good and snugly. But I do have some contact cement and I'll give that a try on the surface(s) of the cut angles of the noodles, as suggested. I'll allow 5 minutes or so tack time before sticking together.
06-23-19, 05:22 AM
Join Date: Mar 2003
Location: NC, USA
Posts: 28,602
06-23-19, 10:24 AM
Ooh. . Will doo. Thank yoo.