Attic storage support, concentrated weight
08-14-16, 03:16 PM
Attic storage support, concentrated weight
---
I'm trying to support some concentrated weight in my attic, ideally about 350 lbs in two locations. The contents are not heavy but the safes are.
I was going to bring in a structural engineer/contractor if needed, but since i feel no give when i'm up there on one truss, I thought i would check here first.
The pictures show where on that second level i was going put at opposite ends 2 small safes about 20"x20"x20". i planned on putting additional 2 x 4 across like is already there but closer together as i'm going to bolt both safes.
Any comments or ideas would be appreciated.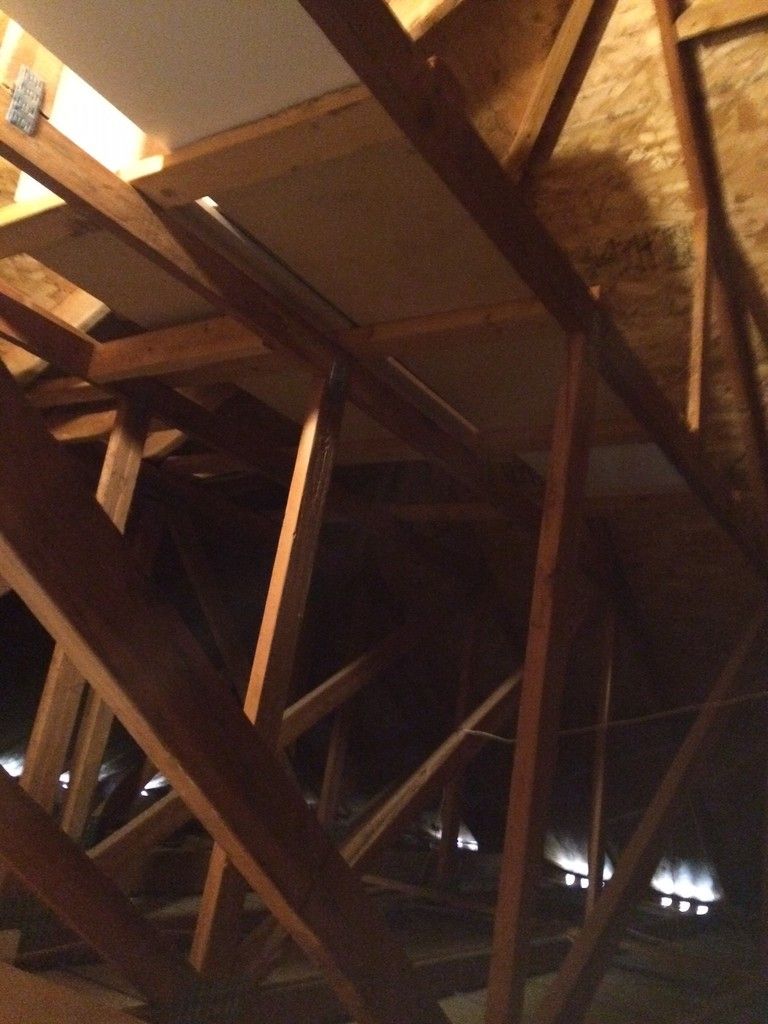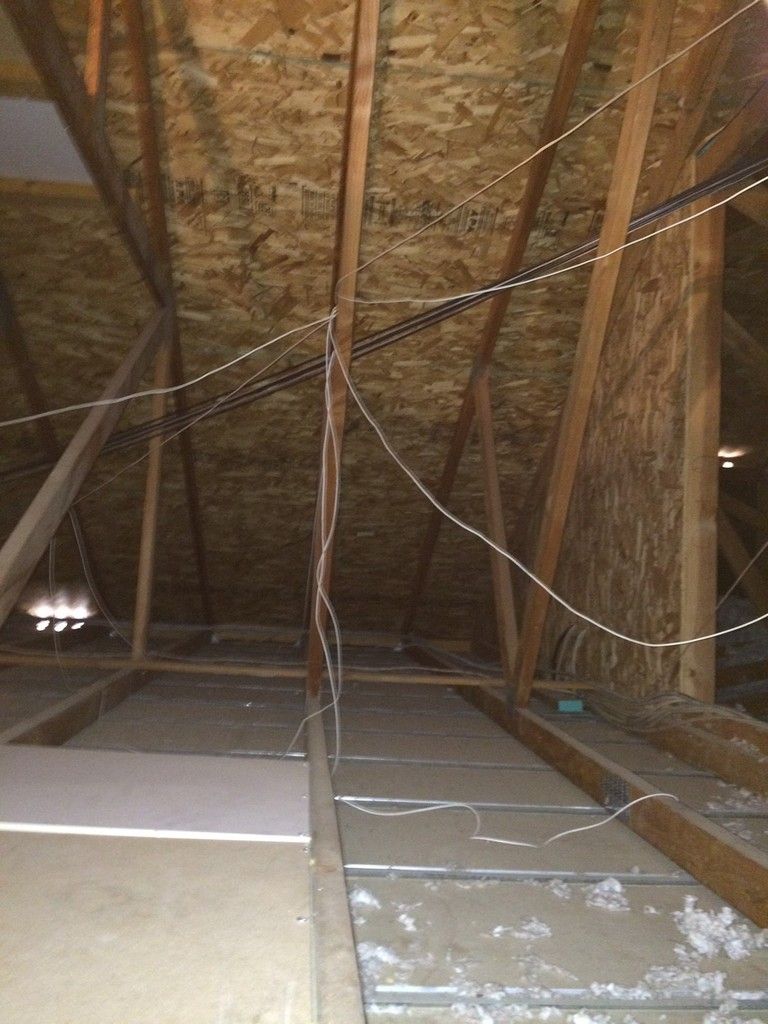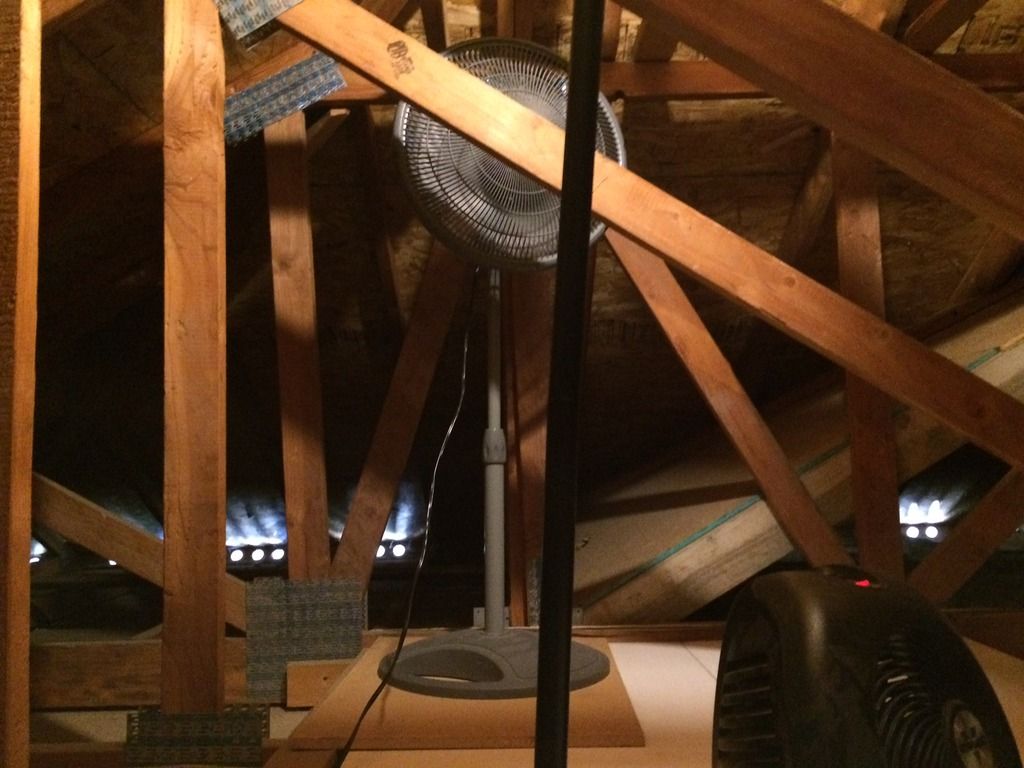 08-14-16, 03:36 PM
Welcome to the forums! Trusses on 24" centers aren't meant to provide much strength for storage, although, as indicated, they can be floored. Heavy, concentrated weight such as your safes would be better positioned over walls, such as where the trusses are joined at the bottom. If you can locate one of these areas, you can add to the trusses and install a flooring piece to set the safe(s) on.
08-14-16, 04:08 PM
Join Date: Jan 2011
Location: USA
Posts: 4,459
No way is that attic made for any type of storage!
No way is adding another 2 X 4 going to add enough strength to support that load.
08-14-16, 04:15 PM
Join Date: Mar 2006
Location: Wet side of Washington state.
Posts: 16,321
Despite my very high opinion of Larry Chandler I have to agree with joecaption. Trusses are simply not designed to carry loads on the bottom chord over the weight of the ceiling drywall and maybe some blown-in insulation.

Nor is the presence of a wall under the truss chord in the middle of the span any reason to think that the weight from above will be transferred down through the wall. In fact, ideally the wall isn't even fastened to the truss as otherwise a condition known as "truss uplift" could cause the drywall to separate at the wall-ceiling junction.

It is good that you plan to have an engineer come on-site to give his opinion. I doubt that he will okay your plan without some very serious upgrading of the trusses involved.
08-14-16, 04:55 PM
It looks like the OP doesn't want to sit the safes on the bottom chords, but the upper area above the chords. I'm not sure what to call that area, but an engineer might approve the idea.

It's almost like there are two truss systems, I believe the upper area is called a piggyback and might be able to support a floor. A local Architect would be familiar with this roof design in your area and could probably answer the question quickly.
08-14-16, 05:12 PM
Joel, I did disclaimer the trusses ability to carry loads, and while light loads are often placed on the trusses, I would, in no way, put a 350 lb safe on them. If it had to be done, the weight would have to be carried from a supported area such as a wall. The uplift question is rare, since the entire ceiling run of nails/screws would pull out along the truss if the uplift was significant. An engineer certainly would be a necessity in this instance due to the weight and sheer mass of the safes.
08-14-16, 05:24 PM
I really appreciate the quick feedback and comments and it's pretty clear i need to bring in an SE to evaluate it. It's a 3 car garage I could live with some structural posts separating workout area from other 2 cars. Thanks all
08-14-16, 10:13 PM
I should have mentioned it was a garage as that's a big piece of info. :-) Does a garage make it easier to support weight, more difficult or same and just need truss reinforcement out of curiousity.
I can move them with this and some accessory straps at bottom and top (and taking off door) make it possible:
https://www.amazon.com/WARN-885000-C...llzAll+120V+AC
Now though i'm thinking of just using a higher number of smaller safes or just a traditional bigger one on the ground.
08-15-16, 02:56 AM
Truss support over a garage is minimal at best, due to the fact there is absolutely no support below. I would opt for a larger safe on concrete or on a more firm foundation.