Window Blinds
12-26-19, 01:03 AM
Window Blinds
---
Hello Gals and Guys -

I got the windows and doors replaced in my house this summer. The old curtains were from the the 60s and 70s, so I wanted to replace them. I've been looking at window blinds. I've got 10 normal sized windows, two doors with large windows and one large picture window that need coverings. I've got three bids. The lowest is using all normal vertical binds in the same color for all the windows. It's about $2,000 and I'm trying to figure out if that's a fair price for the work involved, which I know can be open to interpretation.

The other thing I'm trying to figure out is if I spend the money for all these blinds, does having the all be the same seem like the right thing to do? I know this is subjective as well. The only one I really need to do is the large picture window. The rest can wait if need be. Thanks for any help.
12-26-19, 05:19 AM
Join Date: Sep 2016
Location: USA MI
Posts: 9,746
So the only real way to know if it's a good deal would be to get some additional bids, you can do that on line at any blind store.

Same/different, your personal preference!
12-26-19, 06:23 AM
Join Date: Sep 2013
Location: United States
Posts: 10,855
I think the same style blinds on all windows is better than different style.

A while back one of our mini blinds (in the bathroom) broke and actually fell off the window. It was in the evening and we could not find any store that had mini blinds of the size we needed. We had to settle for the larger type. It looks odd but we had to settle for it.

As far as installation goes it's not hard to do it yourself. But I did notice you are in the health related field so I assume you time is short. But, once you know how and you properly prepare it would be snap to do your own. Except maybe the large size one.
12-26-19, 08:15 AM
Hello and welcome to the forum!

Your question on price is impossible to answer. Prices are all over the board. Location is one factor. The company you use is another. The maker is the biggest factor. There's cheap blinds and there's extremely expensive blinds. There is no set price, so companies can charge what they want. You would have to get a few estimates from different sources to know. However, having window treatments installed can get pricey. Unless they're two story windows, it's not that difficult to DIY.

As far as all the same or different, you can go either way, there's no rule. The only rule is, they should all be the same in one room or an open floor plan. Otherwise, they could be different. From the outside is another factor. Some prefer them all to look the same from the outside, but again, it's not a rule set in stone, unless you live in a HOA house. They may have rules.

The only thing I question is, you say you're getting verticals. Did you mean horizontal blinds? If not, I would not get all verticals, only possibly on the doors. They're pretty dated and sounds like you're not interested in dated things.
12-29-19, 03:10 AM
Thanks all for the replies. I understand what I'm asking is subjective, so all opinions are welcome.

I do have three bids with the $2,000 bid being the lowest. The other bids are higher, though they're using nicer rolled and pleated blinds.

The 2,000 bid uses 1" horizontal aluminum blinds. All of the windows, with the exception of the picture window and the doors, are 27" wide of varying lengths - 32", 36" and 52".

Looking at the estimate I'm being charged a minimum of $110 per blind. I looked on Home Depot and the 1" horizontal aluminum blinds were selling for less than $30. $110 seems a bit excessive, but I don't know anything about blinds. Perhaps they're using better blinds or something.

Maybe I'll buy a blind or two to see if I can do it myself. Then if goes well, do the rest. Anyone know of a good how to video for installing blinds?

Thanks again.
12-29-19, 06:11 AM
Join Date: Sep 2013
Location: United States
Posts: 10,855
Show us a pics of the windows. From there we can show how to hang the blinds . There are several procedures. I prefer not to screw the brackets directly to the window or the trim if possible. But it depends on the framing. Do you want the blinds to hang within the window casement or hang over the framing? Pre drilling the screws holes will make the job easier. Depending on the width you may or may not need a center support.
12-29-19, 06:37 AM
Custom window treatments, regardless of what kind, are going to be expensive. They're made for your window. Then having someone come out and install them is going to cost yet more.
You can't compare this to readymades sold at Home Depot. They'll also be better quality blinds than sold at HD.
If that $110 includes installation, then it's not a bad price. Not sure I'd go with the cheapest bid tho.
12-31-19, 02:20 AM
Thanks for the replies. It looks like I can order blinds from Home Depot in any size I want, so I don't understand why a custom one would improve the fit?
It looks like the blind I'm ordering is Alta 1" aluminum blind that's .oo8 gauge. I found them on the internet for about $48, not including tax and shipping, so that I'd around a 50% markdown. That'd be worth investigating doing myself. I did see the recommended 1" aluminum blinds for installation at Home Depot starting at $120 a piece.
Here's a picture of my kitchen window, which is pretty typical for most of the windows in my house, except for the doors and picture windows: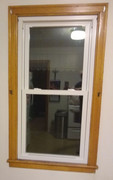 Thanks again.
12-31-19, 04:38 AM
Join Date: Sep 2013
Location: United States
Posts: 10,855
So, I'll ask again, are you planning to put the blinds inside the window casement or outside?
12-31-19, 10:55 AM
Check JCP for vinyl blinds - put up 10 sets over 10 years ago and they still look fine. I would consider drapes on the large picture window.
As Norm201 asked, it makes a difference if they are going inside the casement or attached to the sides. Just means you have to double check the measurements before you order.

If they go on the outside of the window you want them a little wider so they actually cover the window opening.
12-31-19, 11:18 AM
It looks like I can order blinds from Home Depot in any size I want, so I don't understand why a custom one would improve the fit?
If you can order any size you want, then that is custom. Readymades come in specific sizes that are already made. They do have cut to fit, which would be sort of semi custom. They take a readymade and cut it down to the exact size you need. Either of these options will cost more than a readymade.
Of course if you install it yourself, it will be cheaper.
I'm sure if you do a search, you'll find installation videos. The blinds will also come with installation instructions.
01-02-20, 01:07 PM
Thanks for the replies. I have one blind in the house right now. It sits on the window frame, not tucked into the window. Would that be outside the casement? That's how I'd like to do the rest of them.
01-02-20, 02:26 PM
Join Date: Sep 2013
Location: United States
Posts: 10,855
It sits on the window frame, not tucked into the window. Would that be outside the casement? That's how I'd like to do the rest of them.
Yes. Here's a hint. Rather than screw the mounting hardware directly into the window casing trim or window frame itself you might want to take a 2 x 1 the width of the window and screw that on the top of the window on to the wall. Then place your blind hardware on that strip. It will be more secure and easier. And you won't be putting holes in the framing where it might split the wood or may not sit straight if the trim is beveled.
01-02-20, 06:02 PM
So you don't have room to inside mount? They look best inside, if possible.
Anyway,
blinds.com
has videos on how to install inside or outside mount, if you're DIYing. Click on the mini blinds one, which are the aluminum.
01-02-20, 08:14 PM
I agree with Shadeladie, horizontal blinds, cellular shades, and blackout will look best inside the casing and will also give you the best sun blocking if that is a concern.

We have cut to fit ready made cellular shades throughout our home from big orange and it was by far the most economical option available hat didn't look and feel cheap. There are limits on the sizes and lengths available for ready made options, so do some research first.