Hard to heat home
12-23-18, 11:44 AM
Hard to heat home
---
I just recently bought a house and it has an Benjamin cc500 wood/oil boiler and I am steady feed the boiler wood and my house can barely get 22 degrees! Right now it is 6 degrees out side and the fire have been in since 7:00 this morning and it is only 22 degrees here! I can only get the water temp up to about 170 that is with the damper open all day!
Sponsored Links
12-23-18, 01:39 PM
Fahrenheit but the lady who owned the house said the temp needs to be 190 to get any good out of it and I canít do that with wood she had her oil running to while burning wood! I do not like this system Iím used to fan forced air furnace
12-23-18, 07:22 PM
If she was running both that pretty much tells you the wood isn't going to carry the whole house when it is cold. Although your 6į C outside isn't all that cold.

There are two sides to a cold house, the amount of heat your adding and the amount of heat the house is losing. Before you buy a new heating system call an energy auditor to help locate where all of that heat is going.

I used to burn a lot of wood and liked larger pieces split to provide lots of surface area. Round wood even dry will not burn as well as split. Apparently you have a lot of smaller pieces that sounds like branches and scraps, not good. 6" to 14" hardwood split and dried for close to a year will generate twice the hear, IMO.

Bud
12-24-18, 06:01 AM
Where I live most wood we have is spruce that is all I burn and most trees are 5-6 inches in the butt, with the fan forced air furnace in my other home there where no issues heating the place! One thing I noticed in the firebox of this Benjamin boiler is that there is not secondary burn or baffle plates the smoke and flame exits right into the flue pipe, loosing a lot of heat it seems like a poor design to me
12-24-18, 06:21 AM
What type/species of wood are you burning? There is a huge difference between species how many btu's they contain. Some woods contain almost double the heat energy than others. So, picking the right wood can make a huge difference.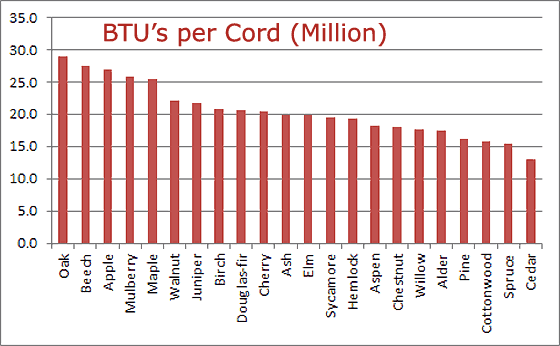 12-24-18, 06:24 AM
Spruce is not high on the energy content list and may produce more residue inside the chimney. Never burned spruce but have done some pine. And have done hundreds of cords of hardwood, much better fire. Add to that the small size and your choice of wood is part of the problem. I do realize you have an abundance of it but that does not make it a good wood.
If you can get a hold of some hardwood you can still use the dry spruce to start the fire. Be sure to have the chimney cleaned and talk to the sweep to see if your wood is causing an accumulation. Chimney sweeps have a lot of experience.
Bud
Thanks Pilot, I was typing. We don't have a like button so here it is "
LIKE
"
12-24-18, 09:46 AM
would probably have a technician out to look at the system it may be a little more efficient using oil by design but suspect your system may have something wrong. the btu per cord is not a fair comparison your denser hardwoods will burn longer but in terms of increasing efficiency of your system switching to oak or another dense firewood is probably not going to increase the water temperature but you would burn less wood, but your also comparing hardwood that may weigh around 4000 lbs a dry cord weight to a softwood 2400 lbs dry cord weight.
12-24-18, 10:35 AM
Yea Iíll have to cut some juniper we have a little bit of that around, another thing I found out is that she had someone add antifreeze to the system she said she had it fill with all antifreeze and I done some research and that is not good only suppose to be a 30-50% concentration!
Posting Rules
You may not post new threads
You may not post replies
You may not post attachments
You may not edit your posts
---
HTML code is Off
---