No zone valves on my system
10-06-19, 10:46 AM
No zone valves on my system
---
I have oil heat with 3 zones/3 thermostats (basement, 1st/2nd floor) using baseboards. The 3 thermostats are 110v line voltage units that operate the 3 circulator pumps. There are no zone valves on this system. I would like to install 3 Nest thermostats to replace these old line voltage units.

My plan is to install three 3 zone valves. I will re-use the current wiring (no plans on running new wires through the walls) to give the Nest's the 24v it needs by having the power supplied by a transformer. The Nest's will operate the zone valves and I will wire the micro switches in the zone valve to the circulator pumps to supply the pumps 110v to operate. Ive seen several systems that use the Nest which don't have a dedicated C wire and they work fine with no power lose over long term periods of non-usage.

Looking for input. Thanks
10-06-19, 11:49 AM
Join Date: Oct 2012
Location: Northern NJ - USA
Posts: 61,466
Ive seen several systems that use the Nest which don't have a dedicated C wire and they work fine with no power lose over long term periods of non-usage.
Yes.... and I've seen many that won't work properly.
Nest is far from my favorite thermostat but I won't install one without a C wire. It's a waste of my time. If you're going to spend all the time installing wifi thermostats...... run at least three wires to them.
If you wanted to leave the system as it is...... you could add three fan centers. These are 24v transformer relay combination units. Each one would control a circulator and be dedicated to one stat. If you didn't go this way...... you'd need three relays to convert the 24v output from the zone valves to run the 120v pumps. The zone valves cannot handle the pumps directly.
Example of fan center
10-06-19, 11:47 PM
My home is mega nest center with almost everything they have to offer so I would like to stick with them. The nest thermostat for the central air works great but it does have a C wire.

I want to add zone valves because of the constant thermosiphon effect throughout the winter. I will get tremendous amounts of heat specifically on the 2nd floor when the thermostats are off.
10-07-19, 07:23 AM
If you are getting water flow to the off zones then you may have worn out or manually open flow control valves or the system may not have any flow control valves. I would check these first before I try to add zone valves. If you are not sure what they are search for "flow control valves". These valves are designed to stop flow in zones that are supposed to be off.
10-07-19, 08:27 PM
Zone valve end switchs should not be used to directly activate circulator pumps. Common practice is for end switches to active relays which power pumps.

Adding pilot lights for each zone/pump helps to monitor system operation.
10-07-19, 10:39 PM
My system only has one flow control valve and its for the basement. 1st and 2nd floor piping does not have flow valves for whatever reason.
I forgot to mention that my boiler is for heat AND hot water. I have 2 taco pumps that honestly look like they are original to the system when it was first installed in 1986 and 1 newer astro pump. I moved in last year so don't have much info. I know the astro pump does not have the internal check valve installed because I found it on the boiler. When I called astro they recommended not using the check valve in hot water applications because of the chance of deterioration.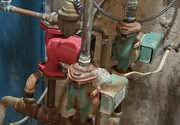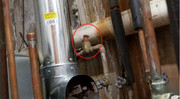 10-08-19, 06:10 PM
If you don't have flow checks you could use zone valves to stop flow when no heat demand. I would get a 3 zone circulator relay panel like a Taco SR-503 and wire the zone valve end switch to the thermostat inputs and you still have the 120v conversion for each circulator. Cleaner wiring.
Separate option is do not use zone valves and and buy flow checks. Less wiring and if it works out you need the third wire for the thermostats, the Taco relay has the "C" terminal for every thermostat connection.
10-08-19, 09:29 PM
I wont sit here and pretend I know much about boilers since this is my first home (moved in last year) but I am trying to learn.
Im learning now that right above the 1st and 2nd floor pumps there are spring check valves installed. The basement has a flow check valve on a different part of the system. Im assuming they must be stuck open and Im also assuming that is the reason the check valve was not installed in the red astro pump
Since I have 2 wire line voltage thermostats can you tell me how the 3 zone relay works with 120v pumps that now need 24v to the nest? Will this relay do the job or will I need a seperate transformer?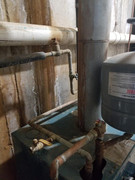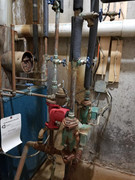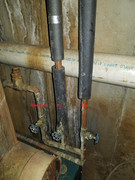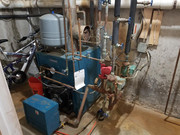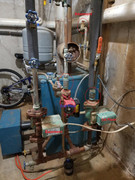 10-10-19, 03:07 PM
To stop thermal flow, adding zone valves to a circulator based zone system creates needless complexity and potential problems.
On multi zone systems with several pumps using simple swing type check valves is an easy way to stop thermal flow. They are work and are largely trouble free.
https://www.supplyhouse.com/sh/contr...g+check+valves
10-16-19, 01:46 PM
Appreciate all the advice and suggestions I received. I will be replacing those 2 old tacos with new tacos working in conjunction with the 3 zone taco relay. Taco has a direct replacement newer model for what I already have and also an option for a internal check valve model which is only $5 more.
I have been advised that since my system already has spring check valves I should just replace them and disregard the internal check on the pump. After measuring the to Spring checks one is 2.25 and one is 2.75 in length. Supply house has a spring check at 2.5 inches for only $10 compared to 50$ at a local plumbing store. That's the only length that they have. Is it safe to assume that there should be enough thread on that pipe to accommodate a 2.5 in check in both sections?