Repairing rotted garage door
04-07-16, 06:25 PM
Repairing rotted garage door
---
The wood is partially rotted away toward the center of the door and no longer holds the bottom seal. I tried to get good pics of what's going on. In the last pic you can see where the "good" wood starts to lead into the rotted wood. Can this be repaired somehow? These garage door panels are impossible to find.
Thanks!
Sponsored Links
04-07-16, 07:05 PM
It might be possible to remove the bottom section of the door, saw off a few inches, and replace with a new piece of wood and bottom seal. It would be a bit of job because the springs would have to be unwound (since the lift cables fasten to the bottom edge of the door), the door disassembled to get to the bottom section, and the new piece would have to be securely attached to the remainder of the door.

I doubt it would be cost effective to pay someone to do that repair.
04-07-16, 11:47 PM
It's a cheap composite door. Replace it with a new steel door.

Had a neighbor that went though the same thing. Added plywood gussets glued and screwed, new bottom rail, was real proud for about a week before it fell apart. I got him a good deal on a steel door and helped him install it. Depending on size and features...$400-1000.
04-08-16, 08:53 AM
You could buy one of these if your door isn't too bad, works good for me.
ALUMINUM BOTTOM SEAL RETAINER- 1 3/8" x 3" x 8' 2" long U Shaped | Country Wide Supply - Commercial Wholesale Supply Business
This is what it looks like before I painted it...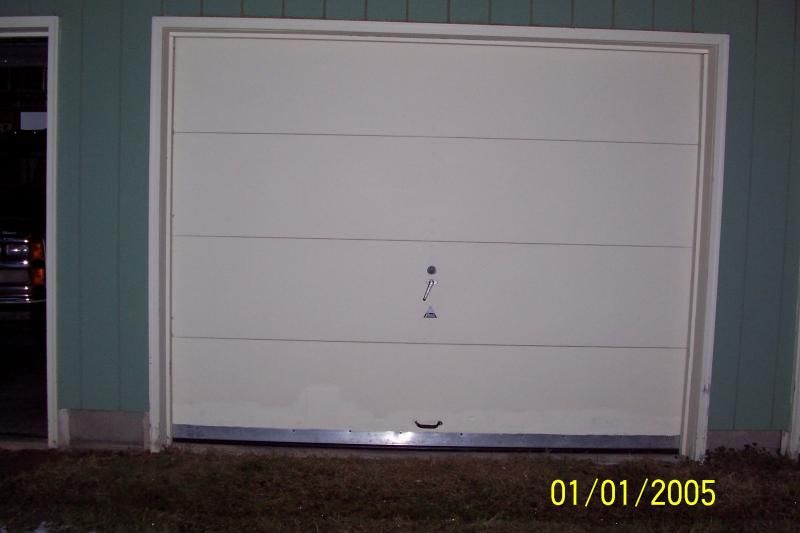 Posting Rules
You may not post new threads
You may not post replies
You may not post attachments
You may not edit your posts
---
HTML code is Off
---