green spots on wooden chest?
02-04-17, 05:50 PM
Join Date: Jan 2004
Location: United States
Posts: 1,182
Received 0 Votes on 0 Posts
green spots on wooden chest?
---
Recently given some old furniture that has been in the family. A chest has green spots on it. They did not wipe off. I tried using scotchbrite pad and a good bit came off, but can still see some of the spots. This furniture was stored in unconditioned garage for a time (not sure how long?) but has been indoors for probably last 8 years. Not sure if had them when brought indoors since they were out of state and person who had them was old and doesn't see well so would have never noticed. I think perhaps mold? if so, what would be best way to clean it?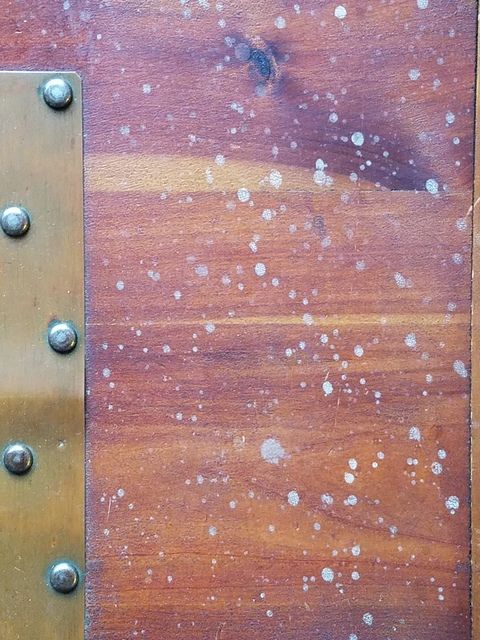 02-04-17, 06:00 PM
Try a mild solvent on a cotton ball like paint thinner or denatured alcohol or rubbing alcohol. Keep an eye on the cotton ball, if any color from the finish starts coming off, stop.
02-19-17, 04:58 PM
Join Date: Jan 2004
Location: United States
Posts: 1,182
Received 0 Votes on 0 Posts
so started with rubbing alcohol. Took off green spots-as well as the clear coat finish. Not good. I suspect it will have to be stripped and refinished. The is cedar chest made in about 1920 by Cedar Craft of Cedar Rapids, Iowa. Couldn't find number if still in business. What would have been likely clear coat used in 1920? The fact that rubbing alcohol caused it to gum up is probably a clue. Shellac or Lacquer? just use alcohol and plastic scraper? Should I lightly sand the clear only?
02-19-17, 05:20 PM
If alcohol dissolved the finish it is shellac. The old finish can be removed with denatured alcohol and new shellac sprayed or rubbed on. It's difficult to brush shellac on a large surface since it dries very quickly, so it's easier to spray or pad on several thinned coats. If only a small area was removed, you can try cleaning the rest with mineral spirits, which won't dissolve shellac, and just repairing the damaged area.
02-19-17, 05:22 PM
That means the finish is shellac. Use denatured alcohol on a cotton ball. Don't scrub it, just dab it. The denatured alcohol will melt the shellac and when it dries again hopefully the spot will have disappeared, leaving your finish intact. You can still buy shellac if you need to recoat it once you're done.
02-20-17, 03:19 AM
IMO shellac isn't that hard to brush although you do need to be somewhat quick and thinning the shellac can be helpful. While staying with shellac may keep more antique value for the piece, polyurethane can be applied over shellac and is more durable.