Louvered Pergola Plans (Attached): Opinions?
06-18-17, 07:32 PM
Join Date: Jun 2008
Location: Canada
Posts: 26
Upvotes: 0
Received 0 Upvotes on 0 Posts
Louvered Pergola Plans (Attached): Opinions?
---
Hi All,
Working on plans for a 12'X9' louvered pergola (see attached) likely using PT but considering composite as the idea of having to individually stain all those PT louver slats in the future would be a nightmare.
Originally I wanted to use the FLEX∑fence louver system sold at HD so the louvers could be adjustable, but after reading the FAQ on their website they only recommend using composite boards vertically and not for overhang applications.
I'm concerned about the PT louver slats warping/twisting/sagging so I've tried to keep my horizontal louver spans to 48" max, and also need to decide between 1X6, 5/4X6 or 2X6 for the louvers.
Any thoughts or opinions regarding my plans/drawing would be much appreciated, thank you.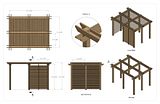 ---
Last edited by DougDIY; 06-18-17 at

08:02 PM

.
06-22-17, 04:53 AM
Join Date: Mar 2003
Location: NC, USA
Posts: 26,311
I can not comment on your plans as Photobucket is not responding and not displaying your plans. It has gotten very bad in recent years with advertisements, many of which cause problems with loading the site and displaying photos. It works better if instead of linking to Photobucket if you place an IMG link your picture in the post.

Composite boards will sag under their own weight. Pressure treated will also sag and warp. With a 48" support spacing warping could be a big problem especially if using 3/4" - 5/4" thick wood. Regular 2x ( 1 1/2") lumber could be better but even it might warp if unsupported for four feet.
06-30-17, 04:43 AM
Join Date: Mar 2003
Location: NC, USA
Posts: 26,311
Wood is a natural product. Some of it warps while other doesn't. When I built my house I did an experiment. One lumber shipment I picked to get only straight pieces another shipment I just took the whole lot. In the end there wasn't much difference in the amount of warpage. What were straight pieces when fresh from the shipping bundle would warp in a week when exposed to air on all sides. The big thing I learned was the wood had to be sat out in the environment where it will be and see what happens. In your case I would buy the lumber for the louvers and stand it up outside so all sides of the board have good airflow. After a few weeks look at the boards and only use the straight ones. Other than that adding battens/braces is about all you can do. It's one reason why I like working with metal. It doesn't warp, shrink or twist.