Looking for Advice - Honey Oak, paint/stain, granite?
02-03-17, 09:36 AM
Join Date: Feb 2017
Location: United States
Posts: 1
Received 0 Votes on 0 Posts
Looking for Advice - Honey Oak, paint/stain, granite?
---
Hello, I am looking to renovate my kitchen on a budget. I know I want to replace my blue countertops and have estimates for 2500 installed for base-level granite. I am looking at something like giallo ornamental.
I also, like everyone it seems, dislike my honey oak cabinets. I have used general finishes gel stain before and am debating staining the cabinets. I got an estimate for painting and it was way beyond my budget (3600$ and hoping to spend 1500 or less).
I am also planning to sell the house within 5 years and have to think about resale. What would you recommend for renovating on a budget? Gel stain (java or another color or is that out of style for resale?) or leave them (does anyone actually like oak) and put on pulls? Thanks for any ideas!!!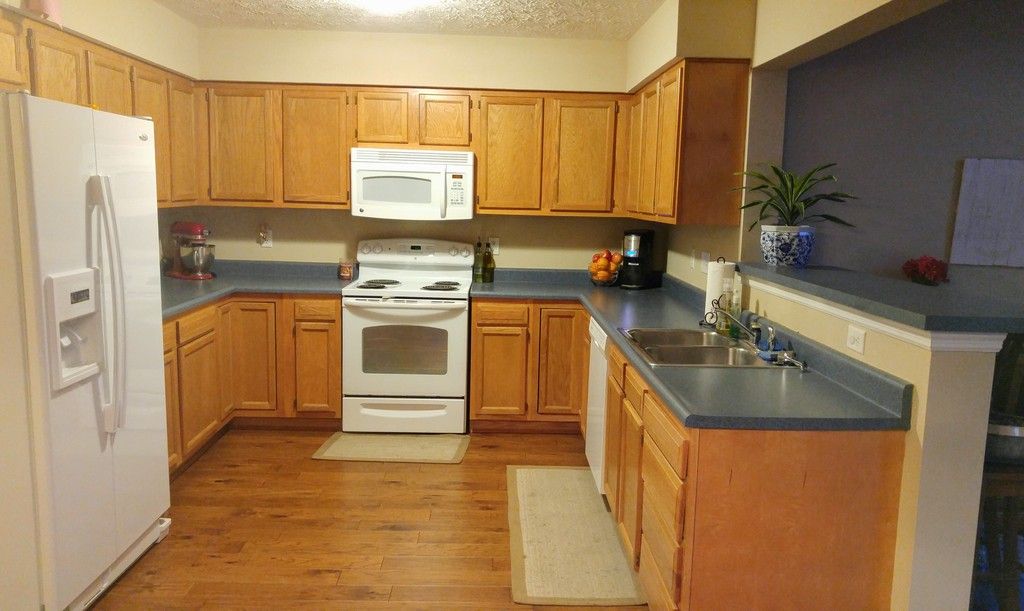 Sponsored Links
02-03-17, 09:44 AM
I like the honey oak
Probably the easiest/quickest way to change the look of the cabinets would be sand it lightly and apply a tinted poly like Minwax's PolyShades. There is a limit on how dark you can go and still retain the grain. Care must be used when applying it as it doesn't touch up and lap marks, drips/runs, missed spots will all show!
02-03-17, 11:38 AM
I think your base cabinets look OK and pretty typical.
The problem IMO is the uppers look plain. The microwave also looks too low.

Here's a few ideas to consider, the cost would be somewhat reasonable for what you're gaining:

- A Solid Surface counter top with full tile splash. The integrated sinks are nice if you can afford it, there's no caulk to deal with.
- New arched doors for the uppers. Before measuring for new doors I would modify the upper cabinets by cutting out all the middle stiles.
Cutting out the stiles will give you more room. The doors will also butt at the center rather than the 2" gap/reveal.
- I would also modify the cabinet above the range by cutting out the middle stile and shortening the height to about 33" above the counter height.

Staining the new doors to match should be fairly easy.
Posting Rules
You may not post new threads
You may not post replies
You may not post attachments
You may not edit your posts
---
HTML code is Off
---