Prefinished door or DIY?
04-07-16, 04:22 PM
Prefinished door or DIY?
---
I am looking at replacing my entry door with either a quality fiberglass or a solid wood door. So far it seems all the distributors charge extra for everything prehung and prefinished specifically. Would it make any sense to order the door not prefinished and finishing it myself or the quality of varnish they apply at the factory is far superior to anything I can get myself? I have never done it before so not sure if I even want to tackle it myself, but if somehow I can get a better longer lasting finish doing it myself I will sure try.
Thank you,
04-07-16, 05:12 PM
Yeah, you would be hard pressed to get a finish as good as factory.
Whichever you choose, wood or fiberglass, follow the manufacturers maintenance instructions.

For instance, the fiberglass should have a clear coat every so many years. I would stay on top of that because the sun will take a toll.
04-07-16, 05:12 PM
I hate paying for stuff I can do myself...but in this area, I agree with X... It's not impossible to get a really nice and durable finish without spray equipment, but it takes way more time and effort than you would think.

Plus, if you are unfortunate enough to need warranty work...it's one less excuse they can use to wiggle out of it: Oh, the door wasn't finished properly, that's why it warped....
04-07-16, 05:44 PM
Thank you guys,
I was actually hoping for this answer
really wasn't looking forward to staining and lacquering the door and all the trim...
Now, is there anything I can do to extend the life of the prefinished door's finish?
I'd rather do something easy every three month that something involved every two years.
04-08-16, 03:50 AM
What type of weather exposure will the door see? IMO if the door is exposed to a lot of sun or rain you are better off with a painted door. I've probably stained/poly'd a thousand exterior wood doors and they benefit from a light sanding and fresh poly every so often [how often depends on exposure] I don't have much experience with the factory finish doors.
04-08-16, 10:20 AM
Thank you marksr,
The door is facing East, almost directly east. It gets hit with the sun early in the morning and then been surrounded by walls it let's up quickly. My current door (I think pine) is pretty badly weathered, but I assume it's because it was never touched up by me for the last 15 years and probably before that either. I like painted solid stain doors too, but wife of course does not. If it's would be my choice I'd just get high quality reinforced metal door and be done with it, but again obviously not my choice.
Actually she just had a brilliant (if achievable) idea. To get rid of the stupid window next to the door and stucco the outside and drywall inside and order a regular 36" door that will probably cost us half compare to any other option.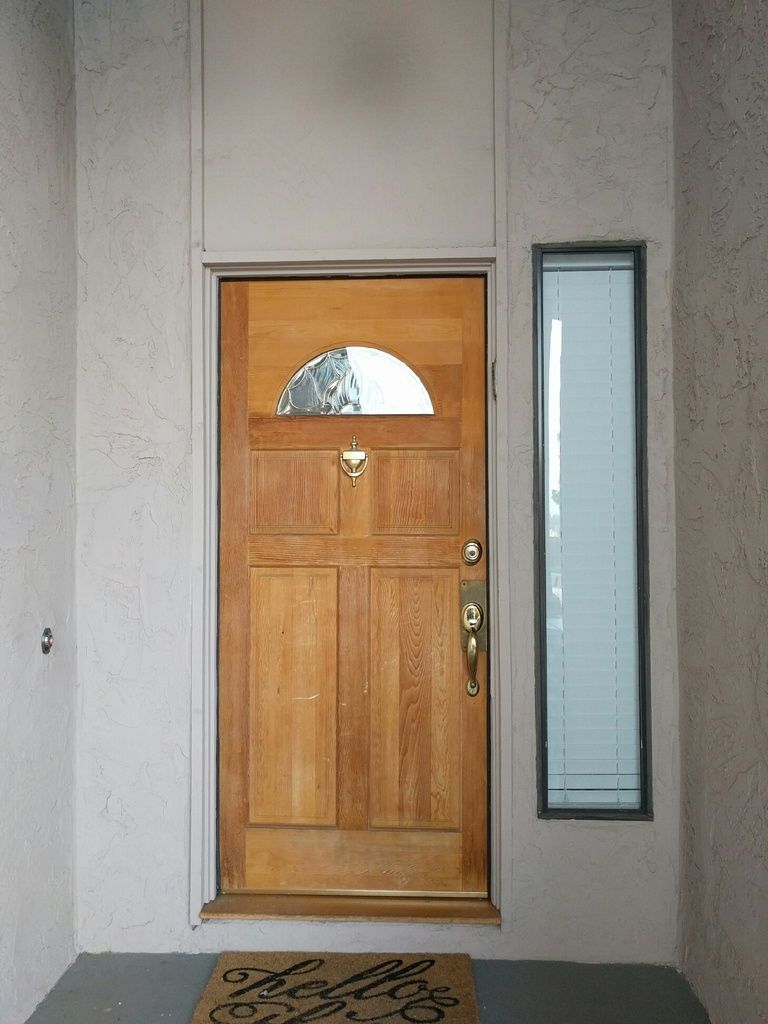 04-08-16, 11:24 AM
I take it there is enough of an overhang where the door seldom gets rained on ?
That door doesn't look that bad and it shouldn't be a big deal to refinish it IF you want to go that way.
04-08-16, 02:57 PM
To get rid of the stupid window next to the door and stucco the outside and drywall inside and order a regular 36" door
Either that or get a door that has a sidelight common mulled to it so that they are the same height, and trimmed together rather than separately.
04-08-16, 09:23 PM
That was my original plan, to just refinish it myself. It would have taken some time since I never done it before, and I would have to block the opening with some plywood for few days, but I was and still am willing to. The wife flat out refused... too tired of the old look etc.