Bottom door seal options
12-29-17, 07:40 PM
Bottom door seal options
---
I have an exterior wood door that has one of those "aluminum door bottom" with a slot for a vinyl insert. The old vinyl insert has totally disintegrated.
I looked at various door options at the local big box store, and found a vinyl insert that works with the door bottom, which is this one.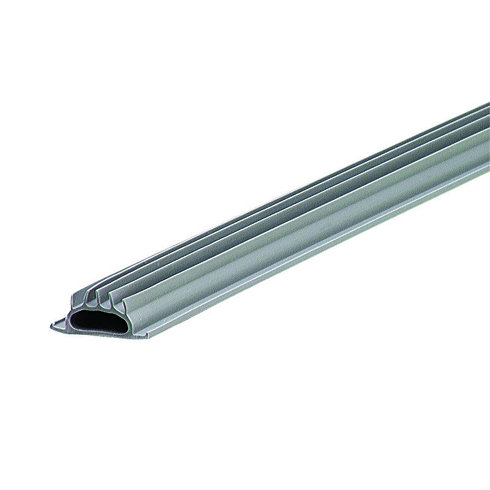 However, it didn't work because this insert is very thick and the gap between the bottom of the aluminum slot and the top of the aluminum threshold is really small. Here is a picture with dimensions.
What other options do I have to bridge that small gap? Besides replacing the door and threshold which is not practical at this point.
Sponsored Links
12-29-17, 09:48 PM
12-30-17, 12:07 AM
Should have kept any piece of the insert that may have been left. Far easier to match up. Looks to me like the type with rigid vinyl against the door and flexible fins below. Similar to below on the right....MD makes many styles and would probably have one that fit fine. Try something other than a big box. I got 1 very similar at ACE, though True Value carries them also. Ideally you would have the name of the door (sometimes found under a hinge leaf on the door) and be able tor track it that way. Normally, I take the door off, clean the track and open the ends if they've been pinched, slide the fin in and put a couple of stainless staples or slightly pinch the ends to hold it in place. It does indeed look like a Pease style insert, available lots of places.
12-30-17, 07:31 AM
Posting Rules
You may not post new threads
You may not post replies
You may not post attachments
You may not edit your posts
---
HTML code is Off
---