Cooling detached garage attic
05-06-18, 10:00 PM
Cooling detached garage attic
---
I have a detached garage/shop (see picture).
Garage (right side of picture) is 258 sq ft (not including attic), built in 50s. Single story shop was added on later (left side of picture), 212 sq ft.
Inside is one single space. Walls are insulated. Ceiling is sheetrocked. Access to attic is via pull down ladder.
There is zero ventilation, nothing in walls, no soffet vents or roof vents.
I live in Portland (Oregon), I attached the temperature info below.
It's gets warm in the attic and I'm worried the temperatures will damage items being stored there plus ig I have to go up there to grab something it's stifling.
I bought a
14" gable fan
and Broan 433 shutter. I'd not realized how large it was as it could probably handle triple the sq ft but returning to Amazon would be a PITA.
My question is on what is the best way to provide the necessary air intake ....
The lower level garage/shop area gets hot also, I bought a 16x20 return vent cover and was pondering installing it into the sheetrock ceiling between the garage and attic and installing a pair of WindeeVent vents into the garage door but it dawned on me that this was maybe not a particularly well thought out plan. While it may provide sufficient air intake for the attic exhaust fan, I'm now worried the air I'm drawing into the garage, when it's hot enough in the attic to trip the fan thermostat, may actually be warmer than the inside air.
Am I better off leaving the attic space sealed and installing soffet vents or a front gable vent -- I was planning on installing the gable fan in the rear facing gable where it's not visible.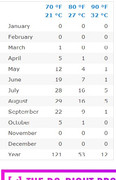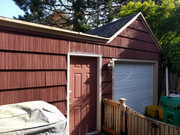 05-10-18, 04:22 PM
Another issue with your vent from the garage is fire code. You can't have openings from a garage to the attic if it shares space with a area. I know, it's detached...but ask any firefighter if it's fun to fight attic fires and how much more structural damage can occur. You are also right that you might draw in warmer air during the day. At night I open my access panel and crack the garage door to cool it off, then seal it up again in the morning.

I'd install gable vents (no fan) front and rear and adequate roof vents mounted near the peak and call it a day. Fans are noisy, they often vibrate, they use power. Installation can be a pain as well.

I guess it depends on the items stored up there... no plastic bags (they degrade from the heat) or meltable items naturally, no paints or aerosols, but xmas decorations (not fake trees), clothes properly stored in sealed containers, various other things that could be left in a car in the sun will easily survive attic heat. You are in far cooler weather than I am and even appear to have some limited shade, plenty of things go in my fully exposed to the sun all day attic. But seasonal items...not might need it next week stuff.