GE clothes washer drain cycle
06-04-16, 04:54 PM
GE clothes washer drain cycle
---
I have a GE WBB2090F1WW washer that is acting up.
If I set it to any of the wash like Heavy, Medium, Light and start the machine it will go through the cycle and at the end I will have a full tub of water.
Now if I manually set it to "SPIN & DRAIN" it will do the spin and drain - sometimes.
If I start a new load and start with wash...rinse...drain/spin, it will do the wash and rinse fine, but when it gets to the spin/drain cycle, it "clicks" and I can hear a faint noise of something running but no draining...then when it gets to the end of that cycle, the tub is full of water.
If I then immediately set to drain/spin and start it, I can hear a noise but it's not spinning or draining.
But if I wait say 10 minutes, then switch to drain/spin, more time then not it will do the drain and spin fine.
So to recap - If I do any of the normal wash loads, light, medium or heavy, it will run through everything and end up with the tub full of water.
However, if I set it to drain/spin manually after waiting a bit, it will drain fine.
What could it be? Any ideas?
Sponsored Links
06-04-16, 05:44 PM
Where does the noise come from when it does not drain,top bottom??? Lets reset computer. Unplug washer for a minute or so. plug in washer and open and close lid at lease 6 times in 30 seconds. Try a load now.
06-05-16, 12:21 PM
pugsl, I think the noise comes from the pump emptying, but there is no water to empty, kind of like sucking air.
In any case, I unplugged the washer, dragged it out and exposed the cabinet, not sure what to look for.
I opened the cabinet and inside were a lot of fibers everywhere. Some were clinged to the electrical parts, some around wires, some around the tub/drum, some tangled around metal rods and parts. I cleaned all that out...I am guessing this is from washing a cushion or pillow and the stuff inside came apart? But how does it get inside the cabinet? This is how much I cleaned out.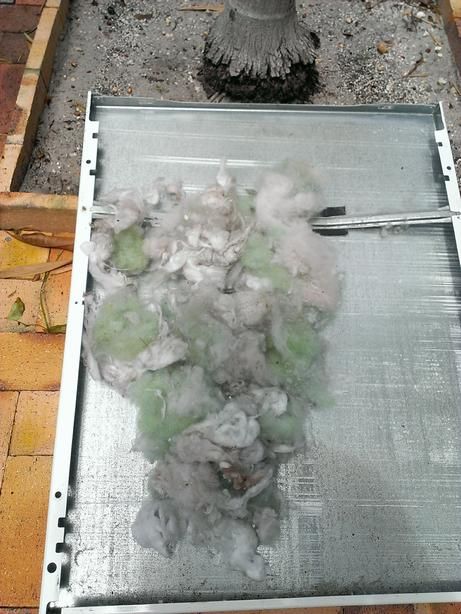 Although I am not sure this is the issue. But whatever was washed the same fibers could have made it's way into the drain and pump right? So this is the cabinet AFTER I removed all the fibers.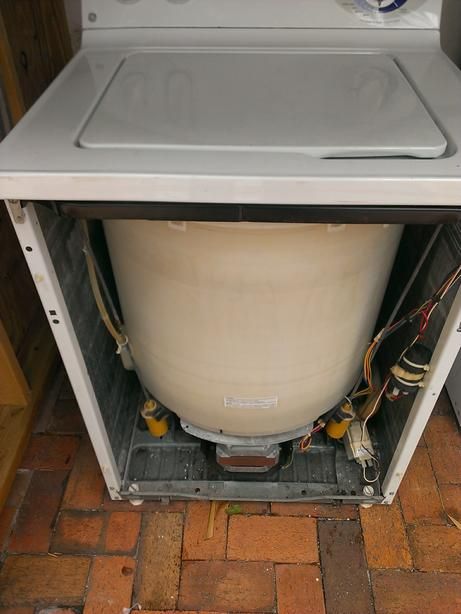 I disconnected the drain hoses to the pump and stuck my finger inside and didn't feel anything.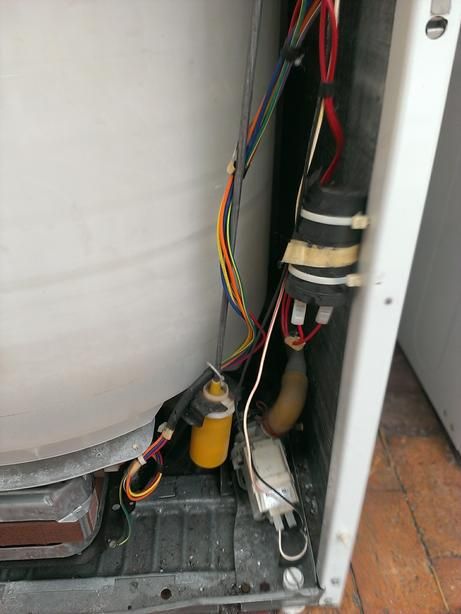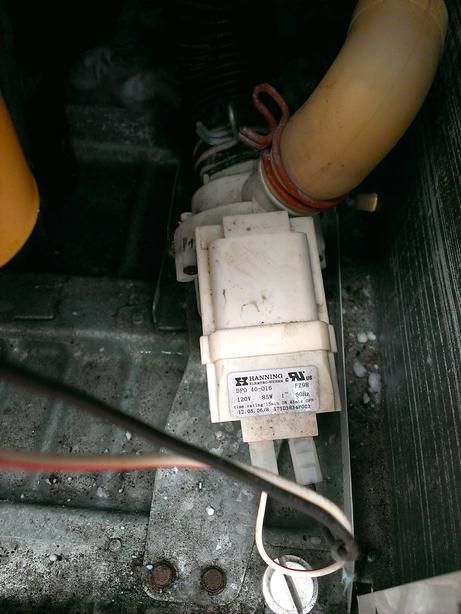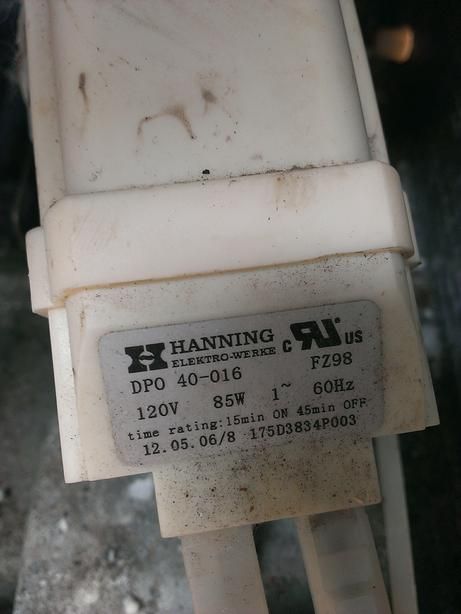 I then reconnected them. I also saw that there is a piece of plastic "cord" that's broken, on the upper left front corner. I think the circular "ring" that's broken is supposed to be connected up there.
What is the purpose of this black plastic cord? Is it important? What is it called?
I then tested three wash loads and it drained fine. However at the end of the cycle after it stopped I pushed the drum a little and I can hear some water under it sloshing...is that normal I don't know if it's always that way or this is a new issue. Is the pump not emptying completely? Or this is normal to have some residue below? The tub is empty no water just able to hear water if I push it around.
I still don't know if those fibers could have caused the original issue.
06-05-16, 01:16 PM
Fibers came from a sound suppressor that was a flat panel on the front medal panel. The broken black strap is a tub support there are 4 around tub. There are 2 screws in front that holds top on. lift front and top will slide out, Some of the newer ones you will have to lift front and slide top to the left. Unplug lid switch back right corner and take top off. You will see the tub suspension straps.
CABINET, COVER & FRONT PANEL Diagram & Parts List for Model wbb2090f1ww GE-Parts Washer-Parts | SearsPartsDirect
Part # 370 Replace all that is broken. You may have to clean pump again. Take hose from tub to pump off and stick finger in pump and tub side to see if anything in there. I have found pins that float around and jam pump. You can run washer with front off.
06-05-16, 02:15 PM
Thanks pugsl,

I am not sure how I can clean the pump even more. After I disconnected the two hoses to the pump, the inlet/outlets are facing the inside of the cabinet. I don't think I can completely "Free" the pump for a close up inspection. It is attached to the bottom of the cabinet with two plastic clips which are impossible to disconnect unless I "brute force" it to the point of breaking...

Also is it normal to be able to move the tub after the drain cycle and hear the sloshing water underneath it as if it's not drained completely?
06-05-16, 04:37 PM
You might be able to hear water in tub after draining but should be a small amount. Should not have to take pump off to feel impeller in pump. Take hose off bottom of tub and stick your finger in there. You may have a clog there. Pump if I remember right pump is held on with 2 screws. Bracket on bottom comes off with pump.
Posting Rules
You may not post new threads
You may not post replies
You may not post attachments
You may not edit your posts
---
HTML code is Off
---