Mending ripped insulation
03-19-16, 07:11 AM
Join Date: Oct 2005
Location: Florida
Posts: 1,734
Mending ripped insulation
---
I noticed one of the conductors going into an EMT conduit had the insulation nicked/ripped at the lip of the conduit where it leaves the panel box. Probably ripped some time ago when someone was trying to pull it hard.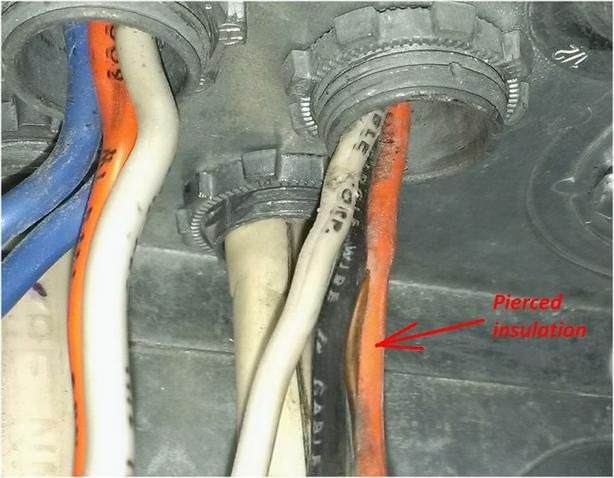 I opened the ceiling junction box about 28' away and thought I would be able to attach a string to the other end, back off that one conductor and either pull in a new one, or at least get it backed off away from the panel where I can repair it.
Not happening. There are only three #12 solid conductors (from 1955) and they are probably all twisted together somewhere and they have to all come out (which is also difficult as I tried to pull them together and it moved about 2" before that got stuck too and I quickly put it back.
What is the easiest way to repair this in place?
Just wrap tape around it? Use heat shrink tubing? Use one of those liquid tape thingie? All of the above?
03-19-16, 07:25 AM
Join Date: Jan 2011
Location: USA
Posts: 5,006
Wrap it in electrical tape.
03-19-16, 09:09 AM
If the end is accessible, heat shrink is ideal; doesn't dry out and come loose like tape can sometimes. But high quality electrical tape would do the job.