paint prep for aluminum vents
08-31-18, 01:07 AM
paint prep for aluminum vents
---
Before installing a total of 14 of these 2 1/2" round aluminum vents into a plywood soffit area I was wanting to probably spray paint them first, the same color as the soffit itself (white). Not sure about how to prep before priming then painting. Or perhaps there is special spray paint that might work fine on these (adheres to aluminum)? Should I treat the aluminum with some type/brand of chemical etching product before priming/painting? I want the paint to adhere good long-term and not have problems with it peeling/flaking from the aluminum anytime soon. Any comments/advice appreciated.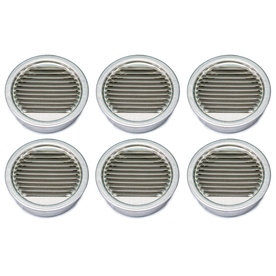 Sponsored Links
08-31-18, 02:08 AM
Since they are clean AL nothing more needed than a light coat of primer.
Since you are painting them a light color one of the Rustoleum or Krylon gray automotive primers would work, they also make a primer labeled for AL, not sure how different it is!
https://www.rustoleum.com/product-ca...-primer-spray/
08-31-18, 02:24 AM
Okay. Seems like there is a lotta info out there talking about how clean new aluminum should be etched before priming/painting, and that a "zinc chromate" type primer should be used, etc. otherwise paints don't adhere very well if such special prep is omitted.
https://www.jalopyjournal.com/forum/...uminum.125949/
https://forums.jlconline.com/forums/...st-to-aluminum
I'll at least look for the rustoleum primer product mentioned in the previous post; they might not have it at the hardware stores in my small town. They don't stock much specialized stuff.
Any further comments appreciated.
08-31-18, 03:51 AM
Posting Rules
You may not post new threads
You may not post replies
You may not post attachments
You may not edit your posts
---
HTML code is Off
---