Side and top weatherstripping for garage door
12-07-18, 12:17 PM
Side and top weatherstripping for garage door
---
I had the springs on my garage door replaced recently. I asked the tech about replacing the side and top weatherstripping, he said the existing trim/weatherstripping was a huge PIA to remove and replace but that he knew of a snap in type that would work nicely. I generally do most things myself but since he was out and his company does that kind of work I thought I'd inquire.
I've been looking at replacement products but haven't seen much other than kerf weatherstripping which is what I guess this is but, have to remove everything to replace.
The old stuff is caulked in, we have stucco exterior plus we just had the house painted - that is where the PIA comes in.
He was supposed to get back to me but I never heard anything. I've been looking online but I can't find anything that is a snap on product. If I can find the right stuff, this would definitely be DIY.
From what he told me it would snap in the inside gap between wall and trim and extend out to cover the inside of the existing trim, I'm guessing the existing could either be left in place or trimmed off.
Here are pics of existing trim and weatherstripping and where he told me it would snap in or onto existing: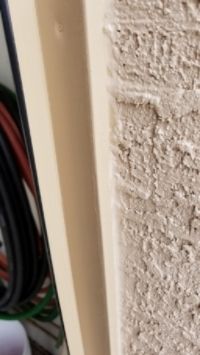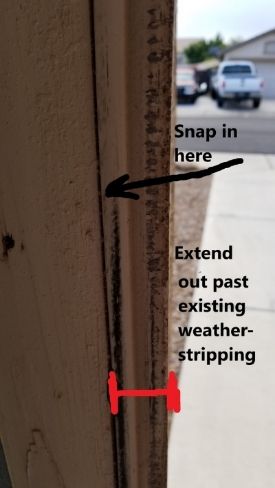 If anyone has any idea of what product he is talking about I'd surely appreciate it.
12-08-18, 12:19 PM
Doorman2722,
Yes, that is a sad pic of the trim with the weather stripping flap. I'm not home right now to measure but I think is is 1/2" x 1 7/8" actual (wood) with a kerf slot to hold the vinyl strip, I'm told the kerf is cut on the inside of the trim, which is why it would have to be pulled to replace.

Pulling them to replace the seals will pretty much blow, builders out here in Phoenix use caulk by the case to hide everything, I'm guessing 2 tubes on this 2 car door.

So far, I can find the seal that goes in the kerf and plastic trim that has the seal, if I'm remembering right, it's smaller width that what is up there now, I'm not a huge fan of plastic, it is southern exposure in the Phoenix sun. I haven't found an equivalent wood trim locally or online.

The snap on weatherstripping the door guy was talking about might not exist.
12-09-18, 03:40 AM
get me a pic with the door open, so I can see the track ( some reverse angle mounted track uses clip on jam seal) and the seal all in one photo... stand about 45deg. from the corner. If you have wood stop with a flap set into it which touches the door, I would just leave it the old seal installed and go right over top of it with new vinyl seal. I have doubled it up many times...ignore the "caulk here arrow", I pulled picture off the internet.
12-12-18, 05:58 PM
DOORMAN2722,
Sorry I didn't back to this sooner.
Here are a couple of pics I grabbed earlier, hopefully they show what your looking for. If not let me know.
Thanks for the help.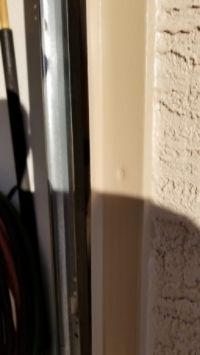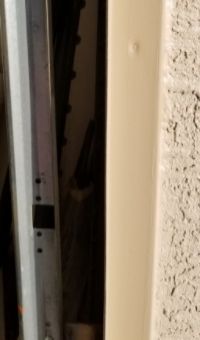 12-13-18, 02:26 AM
It doesen't appear your track is reverse angel mounted so clip on jam seal will not work for you. In my opinion the easiest thing for you to do is install new vinyl seal right over your existing seal. They make it in almond (so color will be close) or you can paint it. I would go buy a piece, close the door and hold it up there to see what it looks like