My hanging baskets never thrive
08-31-16, 08:54 AM
Banned. Rule And/Or Policy Violation
My hanging baskets never thrive
---
N.E. Ohio, porch facing due east.

No matter what type of flowers - full sun, partial sun, etc... - never last an entire summer. I water at least five times a week. Fertilize monthly. And they're always dead by mid-summer.

It's not like I'm stupid. I have a thriving vegetable garden, keep house plants alive, and have raised about 20 trees from saplings over 18 years. But the failure of hanging plants mystifies me.
Sponsored Links
08-31-16, 09:18 AM
We have had the same problem for years. We spend lots of money on hanging plants that look great until mid July or so, then they go south. I have talked to a couple of nurseries and they say "water more" or "water less" or "feed more" or "feed less" depending on who you talk to.

I still don't know the answer - or if there is one. One thing that does seem to help is that I use garden soil and compost instead of the potting soil that we used to use.
08-31-16, 09:30 AM
In the summer I find that hanging pots often need watering more than once a day if they get direct sun. You can't just go by "I water five times a week". Stick your finger in the soil and if it's dry an couple inches down then it's probably time for watering. If it's bone dry or the soil is cracking then you probably need to water more frequently.

You also must choose the correct plants. Some plants just can't handle the heat. Hanging in the air the soil and roots are exposed to the summer heat so you not only need to be concerned with what plants can take the heat but also which ones have roots that can also take a lot of heat. Many plant's roots simply stop growing when soil temps hit the mid 80s or above.
09-14-16, 01:54 PM
My wife makes up most of our hanging baskets. The primary flowers are trailing petunias although she mixes other plants in the pots. By early to mid August they often look like crap.

This weekend we drove by a new nursery in our area. They had a dozen large hanging baskets on posts and even more large planters scattered around the grounds. Their plants were huge and very healthy. The hanging petunias were probably 3 feet across and 4 feet long!

We asked a woman tending the plants how she kept them looking so good. She said they water and fertilize every day using a premixed 20-6-22 water soluable fertilizer. On very hot days they might water hanging plants 2 or 3 times. They also rotate the plants into part shade.
09-15-16, 12:42 PM
But the failure of hanging plants mystifies me.
You're doing something wrong!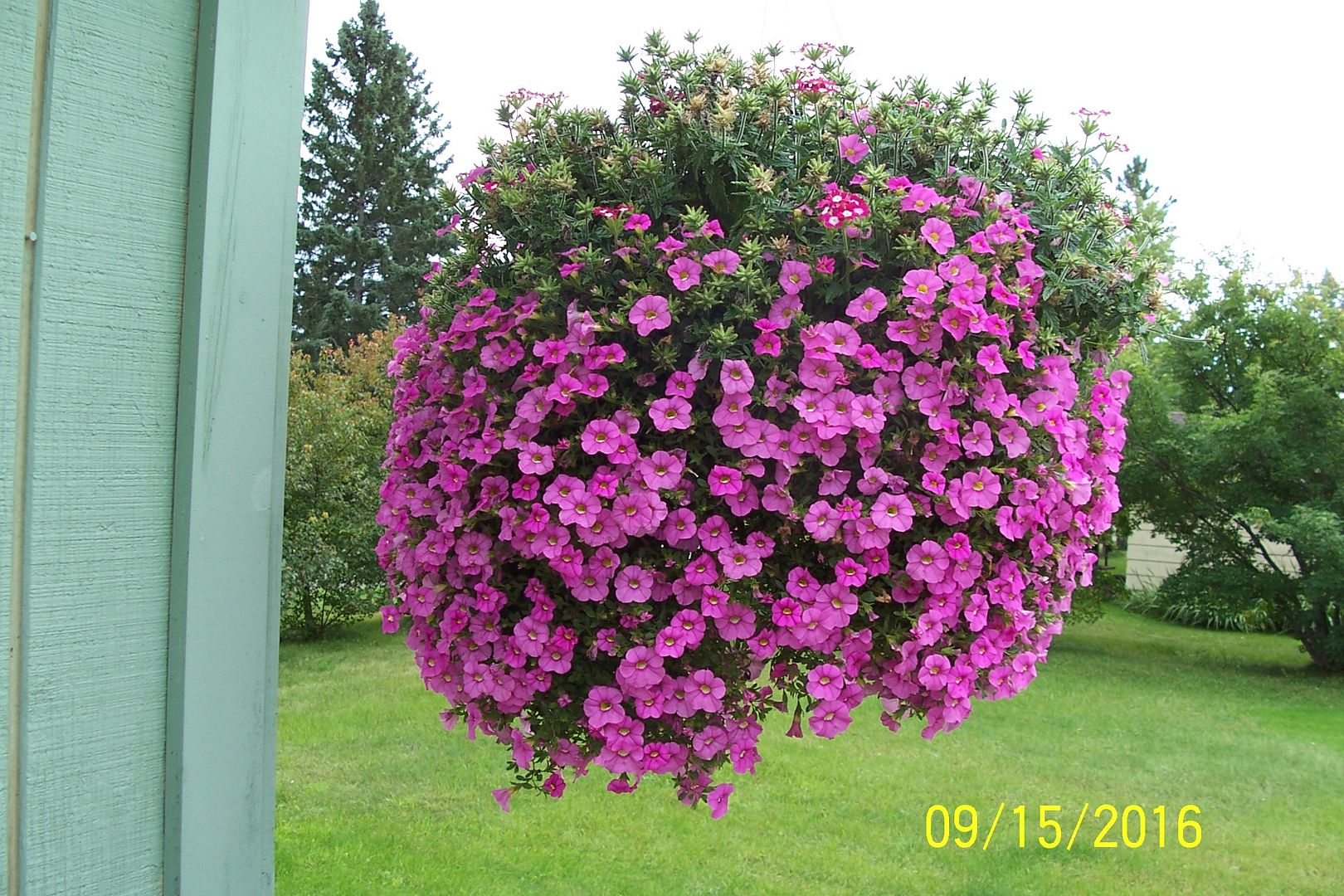 I'm surprised this one survives, hard frost tuesday night (garage was pure white) and I forgot to bring it in. The top had a lot more red flowers till a recent storm knocked off most of the pedals, slowly returning.
Got this from my little sister's greenhouse, here are some of her comments:
~ Most greenhouses use soil-less mix. This stuff drains well yet retains moisture very well and allows air to the roots. Figure that one out.
~ Water every day, one of them being mixed with fertilizer.
~ If water runs out the bottom when you water, it is too dry. Seems backwards to me but she says if the mix gets too dry it can't absorb the water quickly as if it were moist.
~ Using garden soil compacts too much after many waterings which isn't good.
~ Doesn't recommend lawn food, too much nitrogen.
What I do:
~ Three or four 30 oz miracle whip jars of water (quite a bit and not a drop runs out) every day, one day mixed with Miracle Gro Plant food, 24-8-16 at one tablespoon per gallon of water.
That's it.
I asked her about bringing it in for the winter and she says she has tried it but after a while they get spider mites and other vermin.
10-16-16, 02:19 PM
Sister chewed me out after showing her this. "I told you to pinch off the top buds after the petals drop so new ones fill in, the top should be full of red and white flowers."
My bad, maybe next year.... I'm tired of watering this thing.
11-18-16, 11:58 AM
Join Date: Oct 2012
Location: Northern NJ - USA
Posts: 59,148
No more pinching or water required now.
Posting Rules
You may not post new threads
You may not post replies
You may not post attachments
You may not edit your posts
---
HTML code is Off
---