Propane Stove and Hot Water Tank
10-27-17, 07:30 AM
Propane Stove and Hot Water Tank
---
I have a Kenmore gas stove that has been converted to propane that has been in storage for a couple of years. Question number one would be how can I tell if the stove has a built in regulator? Question two would be if I need to blow the stove lines out with air prior to hook up with gas? Question three also concerns a propane hot water tank, which is brand new, that being, can these appliances be hooked up to propane gas cylinders (4+ gallon size)? Not going to have the money for one of the bigger on site tanks until next year, just need something to get me through the winter. Is this hook up possible? Would I need a special type of regulator? Thanks in advance.
Sponsored Links
10-27-17, 08:59 AM
If the propane lines were not capped and just left open for years I would blow them out to remove any insects and debris.

No, you cannot run a water heater and stove off of a barbecue size 20 pound propane cylinder. It takes a certain amount of liquid propane to vaporize into enough gas. You need to look at the btu of your water heater and stove. Add them up an you need to be able to supply that much propane vapor. Also propane's ability to vaporize drops as the temperature drops. So, you'll get less vapor out of a tank in winter than you will in summer.

You might be OK if you joined multiple cylinders together. The key is the amount of liquid propane connected to the system and supplying the appliances. 10 gallons of liquid can provide 38'000 btu of vapor at 20f which drops to 28'000 btu when the temp drops to 0f.

You also need to consider the cost of the propane. Filling small 20 pound cylinders is about the most expensive. The price drops with larger tanks so you may find that it's cheaper to break down and get a 100 pound or larger cylinder.
---
Last edited by Pilot Dane; 10-27-17 at

09:17 AM

.
10-27-17, 09:25 AM
What about the larger tanks (7 gallon +)? How does the formula work to figure out amount of vapor to BTUs needed? Would it make any difference if each appliance was to have its own tank?
10-27-17, 11:30 AM
You need to look at the specs or data plate for your appliances. It should say it's btu's. A usually guess a water heater to be about 40'000 btu and I figure 50'000 for a stove with all four burners and the oven going for holiday cooking. So, plan on needing 100'000 btu/hr to be safe.
Below is a chart showing how much propane vapor you can get from different size tanks at different temperatures. There is some variation between charts but you get the idea. You need more propane than a little barbecue tank.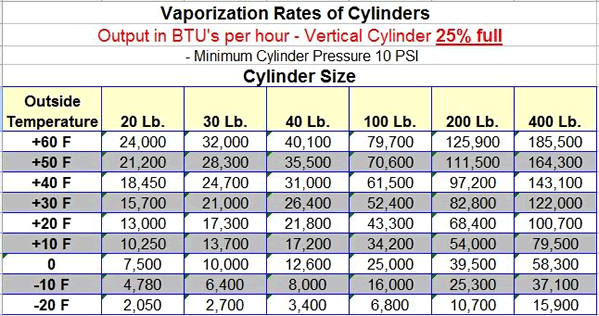 In Central America it's common to run a house off of 20lb tanks. For just a stove top they will sometimes run with just one but it's common to use two tanks tied together with a manifold. But in the tropics there is no cold winter, the appliances are generally smaller and when heating water they are only usually warming it from 60-70 up to 90-100 so it takes much less propane.
Posting Rules
You may not post new threads
You may not post replies
You may not post attachments
You may not edit your posts
---
HTML code is Off
---