Advice regarding zone malfunction
01-14-17, 11:07 AM
Join Date: Jan 2017
Location: United States
Posts: 3
Received 0 Votes on 0 Posts
Advice regarding zone malfunction
---
We have natural gas forced hot air heat. Our heat professional added a zone so that we could heat one room in the basement using the furnace that heats the main floor of the house. He added zone 2 for the basement that opens a vent that fills a small duct for that room off of the main duct. When the basement thermostat triggers the furnace, the furnace heats the basement as well as the main floor.

We can live with that... the problem I am experiencing is that for some reason now when the main floor thermostat triggers the heat, heat is now coming through the basement vent as well. I'm thinking that either the vent that channels heat to the basement is stuck open, or there is something wrong with the honeywell "controller" (forgive me, I don't know heating terminology).

When the upstairs thermostat is triggered and the downstairs one is not, I see this on the controller:

Heat: Red
Heat: no color
Zone 1: Green
Zone 2: Red
Zone 3: Red (this zone is actually unwired)

When the thermostat turns the heat off, "Heat" turns to No Color and Purge turns yellow, followed by a resting state of

Heat: no color
Heat: no color
Zone 1: Green
Zone 2: Green
Zone 3: Green

Can anyone help me to debug this?
Sponsored Links
01-15-17, 10:11 AM
Join Date: Oct 2009
Location: Texas
Posts: 7,425
The basement damper linkage needs to be adjusted ( it isn't fully closed when it should be) or the operation of the basement damper must be reversed .
It sounds like you have a Honeywell zone control.
Do you have a Honeywell damper serving the basement?
Does the damper have red and green LED's indicating position (or a giant arrow)?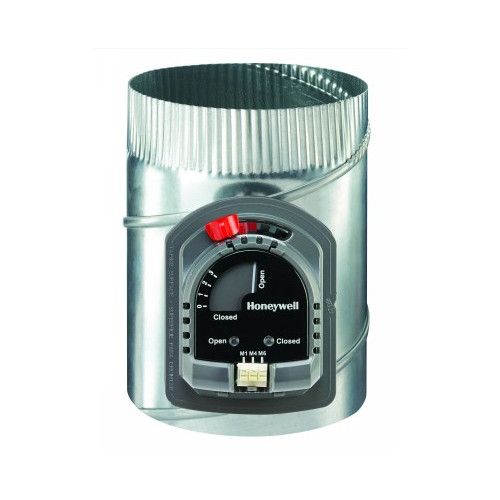 The red tab can be used to limit the ability to closed the damper.
01-15-17, 11:02 AM
Join Date: Oct 2009
Location: Texas
Posts: 7,425
I see that zone 1 doesn't have a damper. If it did you would probably end up with lockouts.
If the Zone 2 damper is a Honeywell with the factory configuration it is wired incorrectly. M1 and M6 should connect to the damper wires. It looks like you have M1 and M4 in use.
Posting Rules
You may not post new threads
You may not post replies
You may not post attachments
You may not edit your posts
---
HTML code is Off
---