Snake!
09-27-19, 01:17 PM
Snake!
---
Found a snake staring at me inside the house.
It somehow got inside, and it's a small snake, you can get a sense of the size from seeing the refrigerator right in front of it. I would say the thickness part is about the same diameter as a pencil.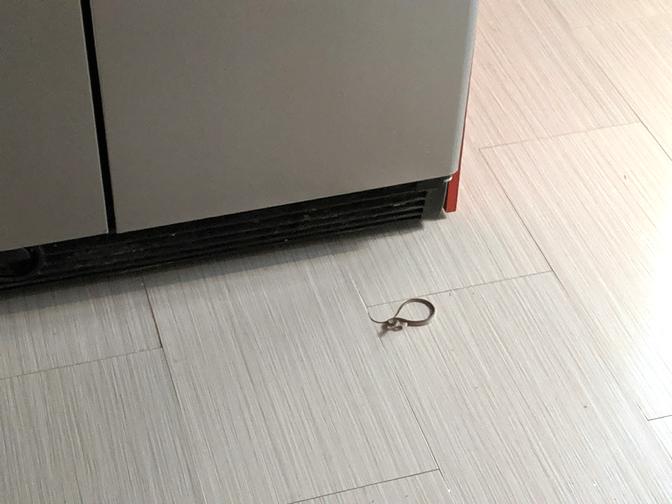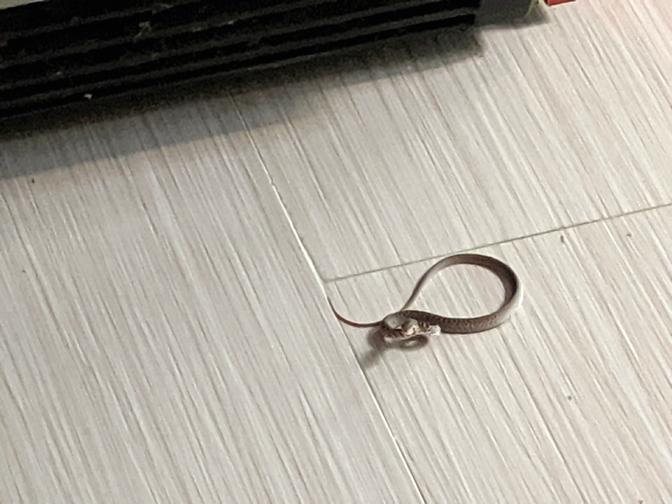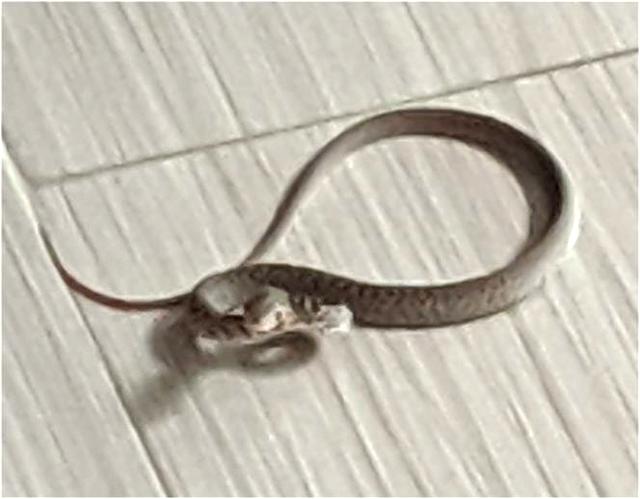 Any idea what kind of snake it is? Is it poisonous? Is this a young snake that can grow big or is this the mature size? Sorry I wanted to get a better picture but it was alert and hissing at me.
It went under the refrigerator and I am not sure if I should roll the refrigerator out, and whether that will just end up chasing it into the kitchen cabinets?
The house was built in 1941. There is a crawlspace underneath. I guess I am wondering, is this a one time occurrence or could it mean I have a snake infestation underneath inside the crawlspace?
09-27-19, 03:15 PM
You live i Florida, snakes are common there. It is a young snake. What color is it. Don't know what kind I would just grab it by tail or back of head and relocate outside someplace. They catch mice.
09-27-19, 03:49 PM
Join Date: Sep 2013
Location: United States
Posts: 11,560
Most garden snakes don't hiss at you. I'd be a little bit cautious. But I agree that you don't really want to kill it. But outside is where you want them.
09-27-19, 03:59 PM
Cute, but not in the house

It's a tad hard to tell in the pictures, but the markings look like they are 'blotches' so based on that, looks like you have a common garter snake. Non-venomous, yes, they hiss, and bite, and the bites do hurt (ish).. it's been years since I had that kind of a chat with a snake, but harmless.

You could wear a heavy leather glove and pick it up to put back outside, then try to find where it likely entered.
09-28-19, 08:48 AM
From your photo my guess it's a kingsnake, or possibly rat snake. Definitely NOT poisonous. In either case, both feed on rodents and POISONOUS snakes, so there are much worse forms of infestation to have. If you poke at him and he shakes the end of his tail like he's trying to 'rattle,' it's probably a rat snake.
All poisonous snakes in the US are either pit vipers or coral snakes. Pit vipers are easy to identify because all have heads that are distinctly triangular in shape, like a flint arrowhead.
Your's has a head that is sleek and rounded.
Coral snakes are hard to miss because they are banded in bright colors. But so are some varieties of kingsnake. The key to telling which is which is by noting what color the bands are that are adjacent to the red bands. In the coral snake, the red and yellow bands are adjacent. The red bands on a kingsnake NEVER touch a yellow band. Remember the mnemonic:
Red on yellow, kill a fellow
Red on black, friend of jack
There are endless variations on the mnemonic and one is "red on black, venom lack."
So unless you see brightly colored bands or a head shaped like an arrowhead, you know straight out it's non-poisonous. Unless maybe it's a green mamba escaped from
Ross Allen's reptile farm
.
In my state it's unlawful to kill ANY snake because our legislature was stupid enough to put the matter entirely in the hands of the state game and fish people, who are unelected and (at least in this matter) unaccountable to the people. There is no such law in Florida but even Florida is beholding to the federal endangered species act, so you still have to know what you're dealing with to be certain you're not in violation of federal law before killing it.
Or just follow the Three S rule. Shoot it, Shovel it, and Shut up.
All snakes are predators so even non-poisonous ones can bite, and snakes as a rule aren't much on oral hygiene so their bites can be pretty germy, even if they're not poisonous. But that one is so small, I don't think it could eat much.
---
Last edited by Fred_C_Dobbs; 09-28-19 at

09:05 AM

.
09-30-19, 06:41 AM
It's definitely a more rounded head. I took a storage tote,flipped it over and covered the small snake. So I can get a closer look. Here are some better pictures.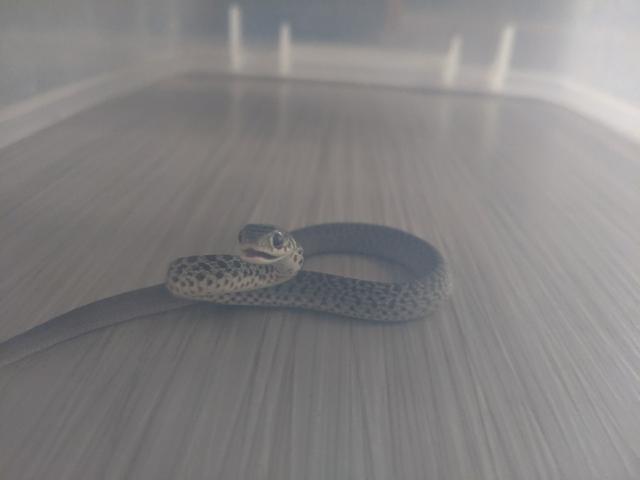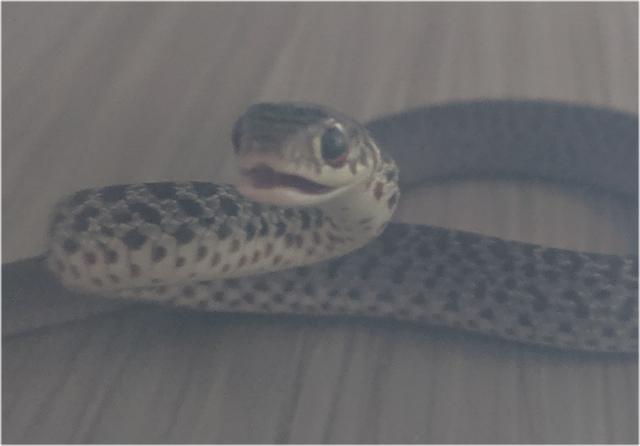 I then slid the tote into a garbage bag, closed the bag and went to the swale grass outside of the property and released it.
I was always told to watch for the water moccasin down here. This is not one of those small babies right?
The following users liked this post:
09-30-19, 07:11 AM
Join Date: Mar 2005
Location: USA - N.E.Tn
Posts: 49,393
09-30-19, 04:55 PM
09-30-19, 08:34 PM
In those photos it's obvious it lacks "pits," which look more or less like nostrils, which rules out pit vipers.

It's also too skinny. Pit vipers all tend to be noticeably thick through the body.

Also, seeing from this angle, I'm going with Utterly-NutZ's ID. It's a garter snake, which is as harmless as snakes get.

You'll spare yourself a lot of future anxiety if he should get into the house again by just picking him up with your bare hands and carrying him outside. There's nothing repulsive about handling them and the experience will "de-fang" him (at least in your mind) for future encounters.
The following users liked this post:
10-01-19, 08:29 PM
I wish I could pick it up, but I can't. I am just scared of snakes no matter how small. I could pick up a lizard but not a snake.

If I point a shovel or bloom in front of it will it go on the shovel for me to carry it outside?
10-01-19, 09:07 PM
If you live in snake country, you should own a snake tongs. They make it easy to grab even venomous types safely. I only need mine about once a year, but it's the right tool for the job.

That said, your snake looks too small to be grabbed by a snake tongs. It would probably slip right out.
10-02-19, 08:05 AM
MiamiCuse:
I wish I could pick it up, but I can't. I am just scared of snakes no matter how small....
Then fear wins. Which is exactly why I suggested you shore up your courage and pick it up.
Humans aren't born with a fear of snakes. It's a learned response, mostly from bible stories and fairy tales. What is learned can be un-learned. It's kinder to you both if you simply pick him up and put him back in his natural environment.
---
Last edited by Fred_C_Dobbs; 10-02-19 at

08:30 AM

.