Mosquito control in the woods
06-05-17, 03:54 PM
Join Date: Dec 2015
Location: United States
Posts: 2
Likes: 0
Received 0 Likes on 0 Posts
Mosquito control in the woods
---
I have a small patch of woods (roughly around 1 acre) that I love to go in and enjoy the trees, birds, and other wildlife. I recently made a small picnic/fire pit area by killing all the grass and removing all sticks/leaves. I have noticed for the past couple years, I have seen a ton of Mosquitoes out there and I would like to get rid of them. There are no puddles or anything like that I can find, so I am not sure where they are coming from.
I am wanting to bait and kill the mosquitoes and I am not sure of the best method. Anyone have any advice? Here is kind of what I am looking for in an answer:
Preferably no cords. Although I can have them, I will have to buy a couple extension cords to make it work
Something that will actually bait and kill - not just sit dormant
Won't hurt the wildlife
06-05-17, 04:58 PM
Join Date: Jun 2010
Location: United States
Posts: 2,093
Iíve never done mosquito work and thereís not much call for it here in northeast, at least not yet. I didnít know there was a mosquito bait until I read your post so now I know something that I didnít before.

I really donít have much advice but I would suggest that you talk to the local county agricultural agent. Iíve used ours various times and suggested that to many people as the agents are a source of objective information that is specific to that locality.

As for personal protection have you considered Thermacell? It is a small battery operated unit that slowly emits permethrin, a synthetic pyrethroid that is low in toxicity. We use them when kayaking in the prime mosquito months. Seem to help but who knows for sure. Iíll post a link to them soon.

Hopefully someone else on this forum will contribute with their experience.
06-05-17, 05:00 PM
Join Date: Jun 2010
Location: United States
Posts: 2,093
06-05-17, 05:13 PM
Join Date: Oct 2012
Location: Jersey
Posts: 71,051
Mosquitoes and woods go hand in hand. It's naturally dark and damp.
I have and attend several parties during the summer. Here in northern NJ without treatment beforehand the mosquitoes can be unbearable. I've used a propane fogger for 10+ years and have always been satisfied with the results.
I fog the entire area..... especially towards the wooded areas.... and they are controlled for many hours. It is only temporary relief.
Yes.... it uses a liquid chemical and yes.... you should not inhale it or point the fogger at people.
06-06-17, 05:00 AM
Those "jungle fogger" style units will kill mosquitoes but unfortunately they will kill all insects including beneficial ones and in our area mosquitoes will return within minutes of use.
This style of
mosquito killer
is pricey but will reduce mosquito levels quite effectively.
The image does not show a bag that attaches to the front to collect dead insects.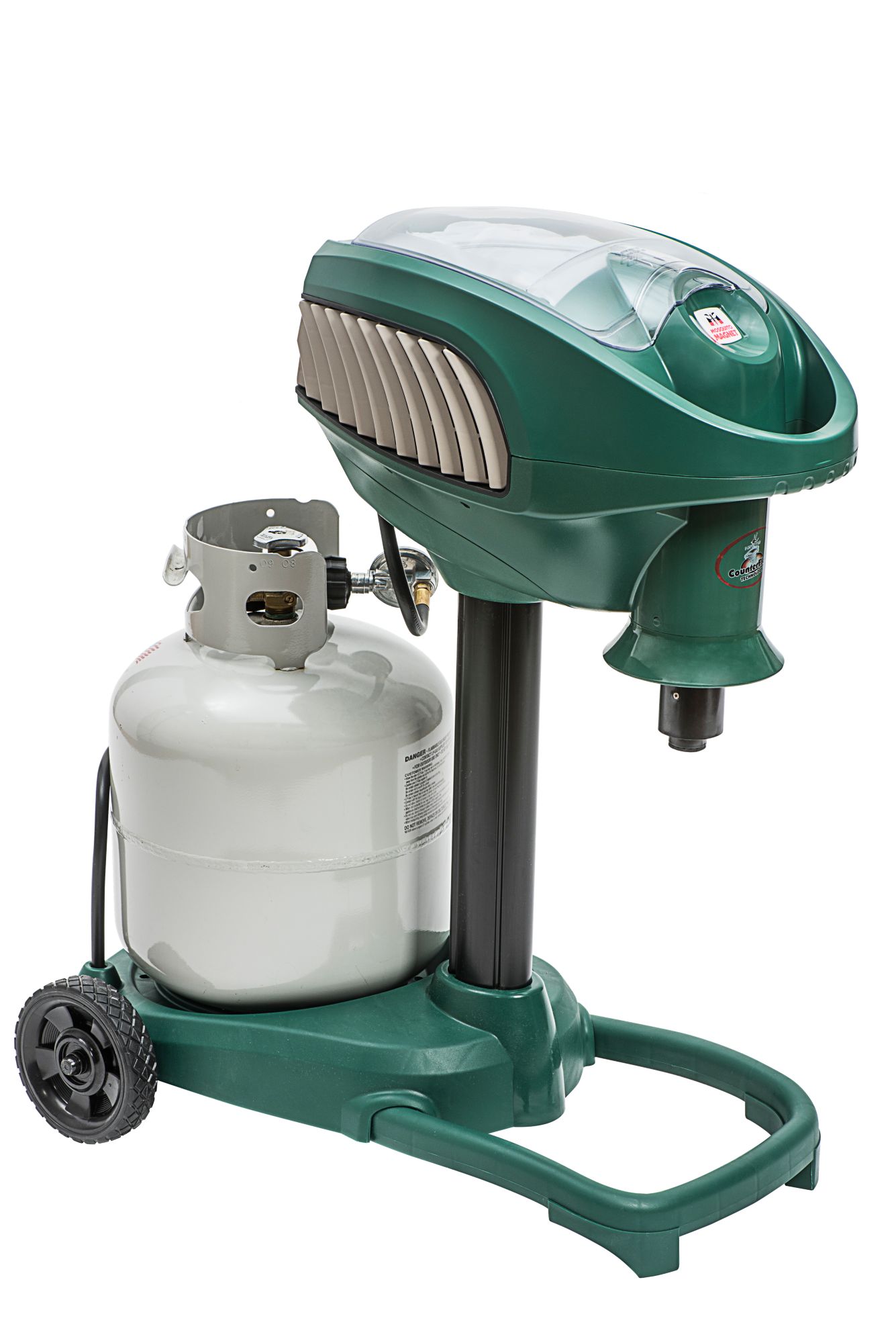 06-06-17, 08:24 AM
We were at some friend's house on the lake a couple of years ago, happened to be a year when mosquitoes were real bad in our area, so I asked him why there were so few there, and he raved about the Bayer brand mosquito spray he uses. He said that they and neighbors at least several houses either way use it on their shrubs and lawns, and it was obviously doing the job as far as keeping them away. So I bought a bottle that I use on the hedges by the front porch where we sit down most evenings, and it definitely seems anyway to help for a small area like that. But, as was mentioned, mosquitoes and woods go hand in hand, an environment in which they thrive, so I can't imagine anything like that working on a larger scale. For an area say where you want to sit and chat or eat, I think that an oscillating fan is about as effective as anything, if you have power for it. Otherwise, my wife and I started using Off Deep Woods Dry (I think that's the right name) a couple of years ago, and have found it to be real effective. I hated the sticky feel of anything prior we had tried enough that I would generally just swat and take the bites rather than spray myself with something that felt about like antifreeze on the skin, but this stuff doesn't have that feel at all. Beside having it at home, she keeps a can in her gardening bag and I keep a can in my truck along with the first aid kit, hand wipes and things like that.
06-06-17, 08:38 AM
Join Date: Mar 2003
Location: NC, USA
Posts: 28,349
I have had good luck with ThermaCELL. It doesn't kill mosquitoes but it does a good job of keeping them away.