what kind of bug is this? sos
06-07-18, 11:31 AM
what kind of bug is this? sos
---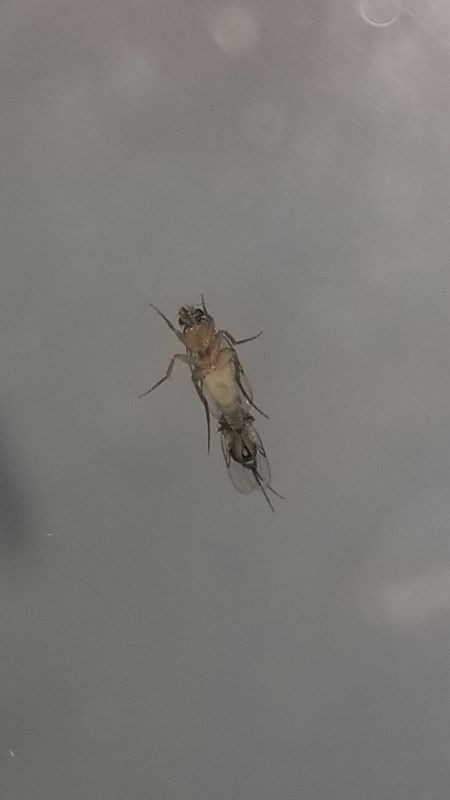 we went away for the weekend and at first we thought fruit flies.. but I'm starting to doubt it. I need them gone. I have tried various things and none are working. These things breed faster than I can kill them. They seem to be around my sliding door and windows during the day. They are typical gnats and fly in your face all of the time. I have cleaned and have no decaying fruit laying around anymore.. I'm at my wits end. We did have plumbing work done mid April and they had to tear into my floor etc. anyone please help thanks!!!
Sponsored Links
06-08-18, 01:28 PM
I didn't realize that we were looking at two insects. Now it makes a little more sense. I believe that it is two different insects. Look at the color and look at the shape and bend of the legs. One may be eating/parasitizing the other.

This time of year many types of insects are emerging for breeding/egg laying purposes and there is little you can do, if anything, if they are coming in from outdoors. The good news is that if they are primarily outdoor insects that are getting inside, the mating season can be short.

Otherwise, a good place to get proper ID is the local county agricultural extension agent. They are educated especially as to what's in the local area, and they are objective with no reason to sell you something.
06-08-18, 02:40 PM
I have figured out through Google what they are. this describes them to a T, and most likely why I thought they were fruit flies. this combined with the fact we had our water lines (that run under the home) done in April makes sense.

dum dum dum..

there Phorid flies.
---
Last edited by aic713; 06-08-18 at

02:42 PM

. Reason: made typo
Posting Rules
You may not post new threads
You may not post replies
You may not post attachments
You may not edit your posts
---
HTML code is Off
---