Removing recessed light housing from mirrored ceiling
09-03-16, 07:10 PM
Removing recessed light housing from mirrored ceiling
---
Trying to figure out what to do here on a seemingly straight forward problem and it got messier and messier.
I have this house where the previous owner basically turned into a "man cave" so to speak and did a lot of additions which I end up having to get undone for a variety of reasons.
In one of the living room / kitchen area, he has glued mirrors onto the ceiling, and actually he also glued full length mirrors on the walls in the bedroom, which kind of making it look like that endless reflection fight scene in one of the Bruce Lee's movies, but I was successful in removing the wall mirrors.
Now my focus is onto the ceiling, specifically the recessed lights on the ceiling. The purpose of this thread is to see if there is a non-destructive method to remove the recessed light housing from the ceiling safely and painlessly.
He has remodel recessed light housings installed - fitted onto the ceiling sheetrock. Then I believe some time later he got the idea of mounting mirrors up there, so he cut holes in each mirror panel and glued on the mirrors. The problem is the hole size he cut on the mirror allow the trim piece to be installed, but the hole is SMALLER than the bottom flange of the housing. Now that flange is sandwiched between the sheetrock and the mirror and there is no way to remove these housings. He should have removed the housings, mount his mirrors, then reinstall the housing. So now I have to find a way to remove these housings from below.
Here is a sketch of what I am describing.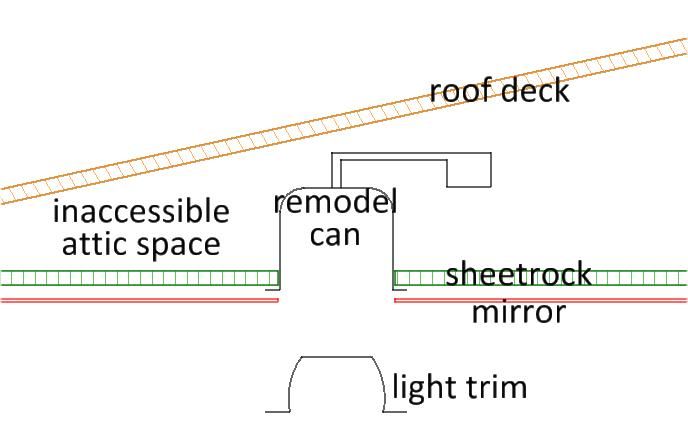 So let me back up a step here.
Why do I want to remove the housings? There are a number of reasons. But the #1 reason is he installed non-IC rated cans and he got blown insulation in his attic that is too close too these cans. I can see it from 20' away with a flashlight but I cannot get to it due to lack of head room in many areas. Whether I remove the housing and stick my hand up the hole to push the insulation away, or install new IC rated cans, either way, I need to be able to remove these cans. Besides, the remodel can junction boxes are supposed to be accessible (by releasing the clips and lowering the housing), if they aren't accessible, then it's a code violation.
There are a total of 20 recessed lights, of which about half I can get to from above, and half I cannot reach.
What about just breaking the mirrors from below, refinishing the ceiling and leave the lights? Well that is one option. But this option is extremely expensive and time consuming. Because the previous owner has created a "tray ceiling" with a recessed light in each of the "tray". Then he built wood trims all around them. Like this.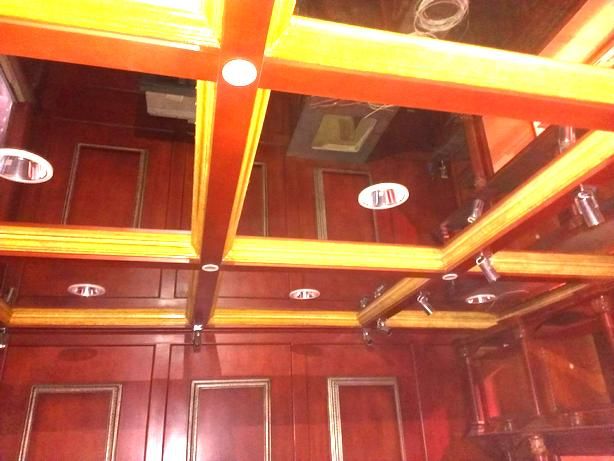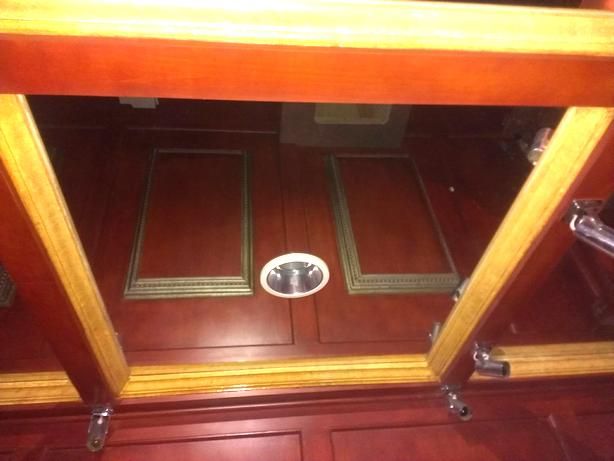 So to remove the mirrors mean removing all this stuff. Not really my taste but still...oh and even worse, he set his custom kitchen cabinets and built in pantry, refrigerator and oven cabinets high, only several inches below the ceiling, so there is no way to demo all the ceiling to the edge without having to remove all the cabinetry below.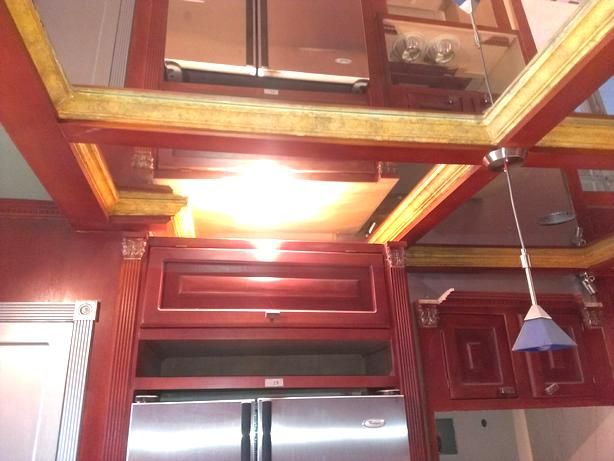 So back to the problem...is there a relatively pain and safe way to remove a 6" remodel housing from the ceiling, if the bottom flange of the housing is blocked in by a mirror?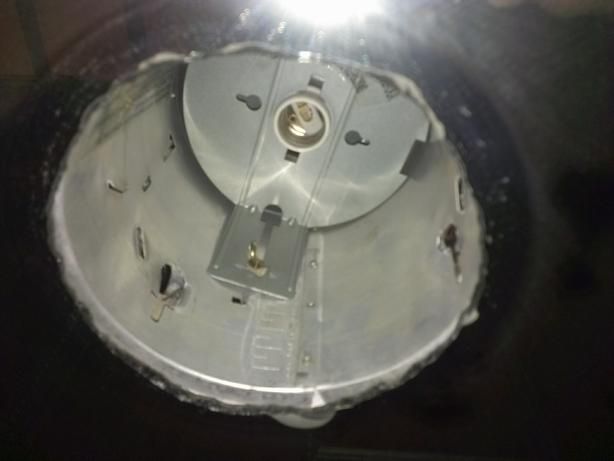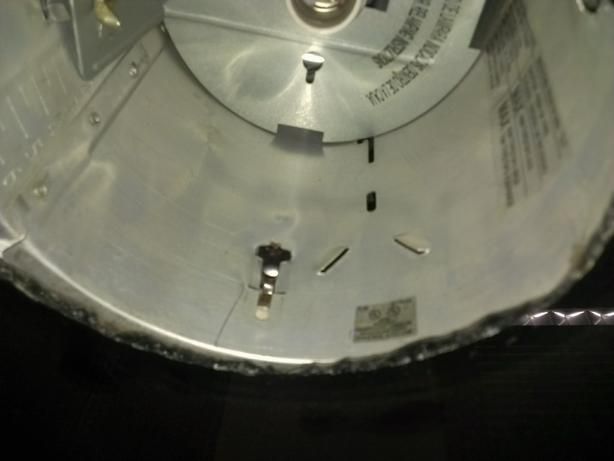 Right now, my thinking is to use a dremel tool with a metal cutting disc, to cut the entire housing from the inside, like how you would use an internal pipe cutter, as close to the flange as possible. This will leave the thin slice of flange in place, which I will then try to tease out with an aviation tin snip. But that will end up destroying 20 cans, not to mention long hours on a ladder facing up with a mask and eye protection.
I am hoping someone has a better idea.
Sponsored Links
09-03-16, 10:02 PM
Join Date: Oct 2012
Location: Northern NJ - USA
Posts: 59,099
So back to the problem...is there a relatively pain and safe way to remove a 6" remodel housing from the ceiling, if the bottom flange of the housing is blocked in by a mirror?
I can feel your pain but no..... I don't know of any easier way to get them out. The can should have been removed, mirror installed and then the can reinstalled thru the mirror.
What will you do when you do get them out ? Is the mirror hole large enough to pass thru a new old work can ? Then the problem is that those cans are hard to set in a thicker than normal ceiling due to those pain in the neck clips.
I will say..... it certainly is an interesting looking room.
(I might be tempted to leave the cans as they are and install LED lamps where the heat won't be an issue)
09-04-16, 08:56 AM
"Interesting" is an understatment LOL - the guy spent a lot of money but totally not my taste. I have never seen so many mirrors.

My thought is once I have the old cans removed (either intact or destroyed), I will put up new remodel cans. Yes the ceiling would be thicker, but some remodel cans have an adjustment in the clips to account for thicker ceilings, I have seen some advertised where the clips can be shifted "up" a notch to account for say 3/4" sheetrock, or wood panels, or thinner acoustic panels etc...
09-04-16, 09:01 AM
Another thought is to use some sort of a glass cutter tool, and I have seen them done. Even in Mission Impossible movies where they had to break into a room 100 story high from the outside. Some sort of a compass looking tool, attached in the middle with a suction thing and a compass looking thing to score a large round hole, and the glass would break off (theoretically of course especially if you are Tom Cruise).

If I can use one of these to score an 8" hole and able to break it off clean, I can use new 8" housings, the old housing would just fall off without damage...of course, I don't have glass in the middle to attach such a suction pivot thing.
09-05-16, 05:24 AM
Is that actually a glass mirror or a metal panel? Have you checked with a glass company to see if they have a suggestion for trimming the mirror?
Remember that 7 year thing about mirrors!
09-05-16, 05:53 AM
Join Date: Mar 2008
Location: United States
Posts: 9,029
I watched a show on myth busters where they tried to cut a window with a circle cutter. They could not cut on like they show on mission impossible. Glass was to thick. don't know about your mirror but how would you center, anchor the cutter without a center piece of glass to connect suction cup.
09-05-16, 06:13 AM
Join Date: Nov 2007
Location: Twin Cities, MN
Posts: 13,631
Cut a hole in plywood the size you want (or slightly larger). Put some non-slip backing on the plywood to help it not move. Place the plywood over the hole and score with glass cutter. Use nippers to break out the inside pieces.
This so it is only an idea.
Posting Rules
You may not post new threads
You may not post replies
You may not post attachments
You may not edit your posts
---
HTML code is Off
---