Pimp my Fat Scooter
05-26-19, 07:45 AM
Pimp my Fat Scooter
---
What is up,

I want to pimp my fat scooter to have it look like the second picture. As you can see I need 2 metallic bars and something holding them together. Attaching the lower end of the metallic bars will be easy, my problem however is how to attach them on the upper end.

The black piece of plastic holding them together on the picture is photoshopped and non-existant, i need to create it from scratch OR find out how an object like that is called so that i can buy it (buying the part from the guy who sold the bike isn't an option). I can't make a hole in the middle-bar, so i need to find another way to attach the "object" to the middle-bar, and the whole set-up obviously has to be very solid.

Any idea or creative thoughts on how I could proceed are welcome!
05-26-19, 04:32 PM
Join Date: Mar 2003
Location: NC, USA
Posts: 28,137
What are your skills and what tools do you have available?

Luckily everything you are doing is cosmetic so it doesn't have to be too rugged. Just strong enough to withstand the vibration and pounding from potholes.

For me I'd consider carving a mold and cast the top piece in aluminum (I love melting metals). After that my next option would be to machine it out of aluminum. Quicker but it is much harder to add creative detail. Next I might consider carving the top piece from wood and painting it. Another way is to find a friend with a big 3D printer and have them print it. Or, you could carve a mold and cast the top part in urethane or epoxy resin.

For the silver tubes I'd get aluminum tubing. Polish the exterior then clear coat.
05-26-19, 09:45 PM
Join Date: Dec 2010
Location: Galivants Ferry SC USA
Posts: 18,183
find a fork brace stabilizer... Harly ones are a lot of $$$.. so go honda or something..
https://www.ebay.com/i/232327950414?chn=ps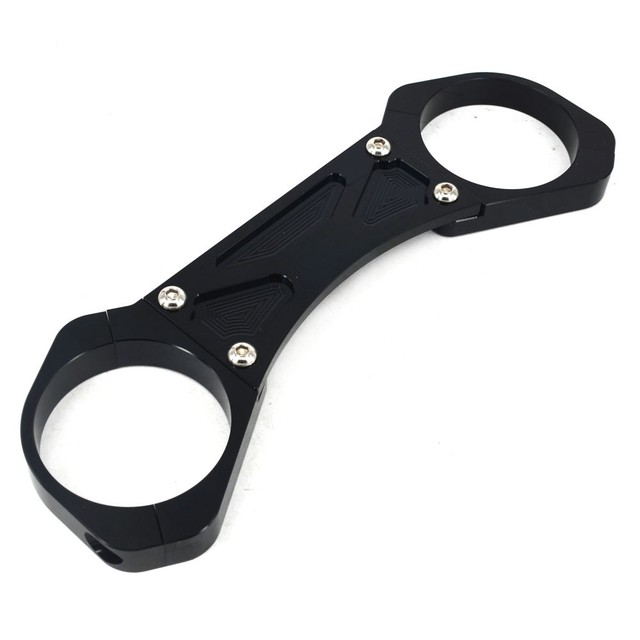 Then find a shower curtain rod that fits the holes..