Studded snow tires and sand bags for a Ranger?
09-30-17, 07:41 PM
Studded snow tires and sand bags for a Ranger?
---
last year me and my 08 automatic sport rear wheel driver with good mud and snow tires slid all over the snow and ice. my brother suggested that i get studded snow tires and put sand bags over the rear wheels in the canopy bed. winters on vancouver island are snowy and often icy roads in my area.
Sponsored Links
09-30-17, 08:34 PM
Join Date: Oct 2012
Location: Northern NJ - USA
Posts: 59,638
Years ago I used studded snow tires. Here where I live there is only a certain time of the year that they can be on the vehicle. They did work well but required a dedicated set of snow tires.
10-01-17, 03:30 AM
Studded tires will grip better on ice although as Pete said many states have regulated their use because they are hard on dry roads. Extra weight over the drive axles generally helps with traction.
10-01-17, 03:53 AM
M&S tires won't perform nearly as well as true snow tires of good quality. I mean brand name like Michelin, Pirelli, Goodyear, Firestone, Bridgestone, etc. Doubt you'll even find pre-studded in a good brand. It would have to be done at a tire shop...might be a common thing up there.
10-01-17, 06:34 AM
I was driving a small 87 Nissan 2-wheer drive pu and had a 120 mile return trip from up north, Houlton ME right on the Canadian border. The security officer had asked if I could take a load of canvas bags filled with confidential destruction back to Bangor and I said yes. Little did I know it filled up my little truck to the top of the cap and it was rather heavy. Well, before I left it started to snow and up there they don't get worried but here I was with 2-wheel drive going through 6" of snow on the interstate, not a plow in sight or any other vehicles stupid enough to be out there. BUT I couldn't believe the traction all of that weight gave me. 120 miles home and not a slip or slide.

Been adding weight to the back of my trucks ever since.

Bud
10-01-17, 12:16 PM
There is a definite difference between what were once called "all season" and a true cold weather
snow rated tire.

We have four studded snow rated tires on our Grand Caravan and the icy road performance is better than our 4x4 Sierra pick-up and deep snow is nearly as good.
If you want a good ballast 24 x 30" concrete patio blocks topped with plywood does not get in the way and snow is easy to remove.
10-03-17, 08:21 PM
I had a truck with light springs that I would put weight in and was stuck a lot. Finally figured out I was mashing the truck down till it would drag in the snow, Quit putting weight in it and never got stuck after that.
10-04-17, 05:36 AM
We get about 160" of snow per winter (not all at once) and I've been using real snow tires for the past 25 years or so, mounted on their own dedicated steel wheels, so that I swap them out myself from Summer to Winter and vice versa twice a year on a nice Spring or Fall afternoon,
I've been using a real snow tire like this, and I get 40,000 to 45,000 miles out of them (3 to 5 winters) with good alignment; but I've never had them studded.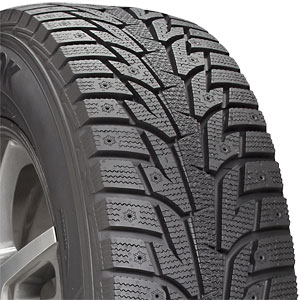 I'm told that studs are good; but really only for the 1st year . . . . and that they cannot be replaced; nor can they be inserted in tires that have already been put into service.
Are those limitations on studs accurate . . . . and has anyone ever studded their own tires ?
It sounds tedious; but shouldn't be that expensive if someone has patience.
10-04-17, 08:35 AM
I'm going on year 4 with a set of studded snow tires and the studs still look like new. Don't know how long they will actually last but are doing good so far. They do make a big difference on ice though. Have never installed them myself, I had them put in when I bought the tires @ $20 per tire and they have proven to be worth the investment.
10-04-17, 12:45 PM
Tire shops use a pneumatic tool to install studs and you doing them yourself would not be worth it.
You can only install studs in new tires as the gravel and road grit that gets into the holes would prevent the studs from seating correctly.

We have had our studded tires.for three years and we bought them used with still many seasons left to go on them.
The only downside is that they are somewhat noisy when run on clear pavement but still worth having.
10-04-17, 07:48 PM
Agreed. Rear weight makes all the difference. If you have enough weight in the back, who needs steering?

I had a pair of Fiat 850 spyders in college. (it's a Fiat, you need one to drive, one for parts) Basically, it's a fun to drive rear engine, rear wheel drive coupe.

I got caught in an east coast blizzard once, got on the interstate just before it was closed down.
Drove for miles, blowing through unplowed snow without any problem whatsoever.
Combination of rear-engine, rear transaxle, and rear wheel drive meant that what little weight the car had, was on the rear tires. Skinny Fiat tires (155mm ~6") meant that the rear wheels cut down through the snow without any problem.
The front end was a totally different story.
Styling wise, the car had a "boat front", and enclosed front trunk. When the snow was deeper than about 12" if you got above 25 mph, the front end lifted up, taking the front wheels off the ground, but the wheels going through the snow basically acted like a rudder on a boat.
Basically, I had an Italian snowmobile.

If you put enough weight over your drive wheels, and have tires that have studs, or tires that are narrow enough to cut through the snow, you'll be amazed as the amount of snow you can drive through.
Posting Rules
You may not post new threads
You may not post replies
You may not post attachments
You may not edit your posts
---
HTML code is Off
---