Slow leak at soldered copper T on outside hose bib
10-17-17, 12:57 AM
Slow leak at soldered copper T on outside hose bib
---
Hi,

Recently I noticed a slow leak at a soldered T on one of my outside hose bib. This joint was done by someone else about 10 years ago and it is 3/4" copper pipe. I have checked the other outside hose bibs and there are no leaks, just this one. I have attached two images with one marking the leak. I am not sure how to insert a photo into my post.

How do I repair this leak?

I have soldered copper before in a shop for practice but have not done it in several years so consider me a novice at soldering copper. I have searched this forum and on the internet and youtube on how to repair a leaking solder joint. A few people say that you can clean the area well, flux, heat, add more solder and hope that stop the leak.

So far, this is what I have:

1. turn off the water to the house
2. drain all water from the pipe (how do I do this? open the hose bib and all the inside faucets or just one or two inside faucets?)

Thank you very much for your time and help.
Hoang
Sponsored Links
10-17-17, 05:11 AM
If you are not using that offshoot section I would remove it so you only have the hose bib. To do that I would remove the T fitting. Then remove the pipe nipple from the male threaded fitting. Then solder the male threaded fitting onto the end of the pipe coming through the wall.
Sometimes re-soldering old pipe and fittings can be difficult. The pipe and fittings must be meticulously cleaned until they are bright shiny copper. For all that trouble it's often easier to simply buy new fittings. In your case all you'd need is the male threaded adapter.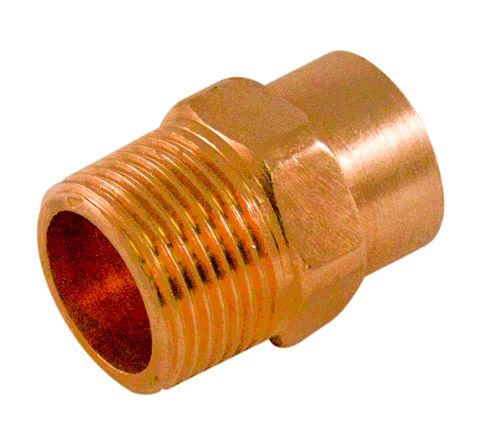 10-17-17, 10:09 AM
Join Date: Mar 2008
Location: United States
Posts: 9,029
Can not solder with even a drop of water in pipe. Drain pipe all way and heat joint If it loosens pull it out. If there is a slight dripping stick a piece of bread in pipe to stop leak. After joint (s) are soldered turn water on to wash bread out.
10-18-17, 07:57 PM
It is now repaired. Thank you all.

In my first attempt to remove the T, there was still water in the pipes so I could not get it hot enough. I had to open all the faucets inside the house too to drain all the water out.

Then I heated the leaking joint, remove, clean inside fitting and pipe really well. Flux and soldered back. So far no leak.

Again, thank you all very much for your time and help.

Hoang
Posting Rules
You may not post new threads
You may not post replies
You may not post attachments
You may not edit your posts
---
HTML code is On
---