Turning Off the Water Main
05-15-18, 01:36 PM
Turning Off the Water Main
---
Hello, changing out the cartridge in my single-handle leaky bathtub faucet. Tried to turn off the water main in my crawlspace but it won't budge either direction. I put some healthy screwdriver leverage on it to the left but will not budge at all. I don't want to ream on it extreme for fear of breaking the handle off or splitting the pipe somehow. I heavily hand massaged it both direction but no go. What's a good trick to spin this handle? I am sure I was the last one to turn this off and on for previous repairs several years ago and can't imagine turning it so tight that it will not move now. Single pipe coming in from outside. Thanks for all your great help here! :-)
Sponsored Links
05-15-18, 01:39 PM
This pic was right side up when I took it and posted it ??
05-15-18, 02:29 PM
First I would make sure that you don't have a shutoff at the street or water meter. Otherwise I would plan on replacing the valve. If it has sat a long time without being opened and closed mineral deposits and corrosion likely have it really stuck. As you guessed too much force could break the stem off or worse.
05-15-18, 02:36 PM
Thanks. Yes, I have a street valve shut-off in the front yard close to the street but I thought that is only for the water company to turn-off/on? When I bought the house, the water guy came and used a large bar hook to turn it on. I am allowed to turn it off at the street? Didn't know that.... It would turn to the left for off and right to turn back on?
05-15-18, 02:47 PM
If something happens to the street valve you might be on the hook for the repair. My valve is relatively new so I've turned it off and on a couple of times for projects with no issues.

If you do have them come out and turn it off, get everything ready to solder on a new valve and ask them if they could wait a couple of minutes while you do it so they can then turn it back on. This means prep the pipe, get the materials, even have some "bread" to stuff the pipe in case the water wants to slow drip out. Our water people have been very customer oriented, YMMV.

I'd replace with it with a ball valve myself.
05-15-18, 03:01 PM
Here's the water main street valve. Don't I need a specialty tool to turn this one off and on?

I think the water company charges for a truck roll and labor if they come out.
05-15-18, 03:26 PM
Just talked to our water company by phone. We are not allowed to touch the street valves. They will come out with appointment 2 separate times for off and back on for $103 each time. lol I would need this anyway with replacing the main shut-off in the house with a ball valve which I prefer. I would need a plumber to do that as I probably couldn't prove-up my soldering as I've never soldered. I could do it, myself and may plan for that too.

All this for a bathtub cartridge? Sheesh! Why don't bathtubs have their own turn-off valves like the bathroom sink and kitchen sink? We don't have metered water where I live so you can turn the hose on and leave it running for days.... I may let it drip, drip, drip... hmmm? pondering.
05-15-18, 03:27 PM
Mines in a box and a simple quarter turn with a adj wrench. The pros here will know more.

I'd be nervous touching yours, think what'll cost you if something breaks. Looks like a lot of roots are probably below the surface. Yikes! If you wind up replacing your house shut off with a ball valve, you never have to go near theirs again.

Risks vs rewards. It'll prob be fine if you turned it, but you'll have a second mortgage paying off an emergency call from them.
05-15-18, 04:17 PM
Thanks everyone, actually this is not my street turn-off valve. This is the neighbors. Mine is under and set away from a huge spruce tree and to get a good pic of it, I would have had to cut/brush some tree limbs away. Mine does not set near this tall, about 8 inches off the ground. Just could not get a clear pic of it without the tree limbs. Both are the identical shut-offs. Will have a plumber come out and give me a bid what the cost to change out the inside shut-off valve. (remember I've still got the street costs to pay as well...ugh) haha It could be like the mayonaise jar and valve open up easy for the plumber. heehaa! I wish!!
05-16-18, 07:20 AM
I froze my service line before the service valve in the house, made up a contraption with ice, and rock salt, worked great, about 50 years ago. Any service valve should be turned off, and on three or four times a year.
Sid
05-16-18, 11:16 AM
A plumber will likely be more comfortable turning on/off the curb stop - so they may be ok with not calling out the city to turn the valve off.
If you DIY, I would spend the money to have the water department come out. Consider it peace of mind insurance
05-16-18, 07:11 PM
That is the neighbor turn-off and it just dawned on me.... I thought all that brush and sticks by the neighbors water shut-off was odd too. That turn-off is right next to our neighborhood mail collection box and never noticed that area exposed before. These are newer neighbors having moved in last year November, 2017. The water company must of did some brushing and cut all that away in Nov. to get to their work. Yes, that's what that is. I didn't get real close but most of that will be loose wood and be cleared. I will text neighbor...if they want to put attention to it.


I will definitely have the city come out if and when I need mine turned off and on. Won't do it myself. It would be worth the couple 100 dollars.

Do some homes have water shut-off valves for the bathtub faucets? Or none at all? That would be helpful if they did.
05-17-18, 10:53 AM
Do some homes have water shut-off valves for the bathtub faucets?
By code, all fixtures need to have a shutoff. Of course, older houses (and even some newer ones) don't. Some will have shutoffs in the basement, others will have them attached directly to the valve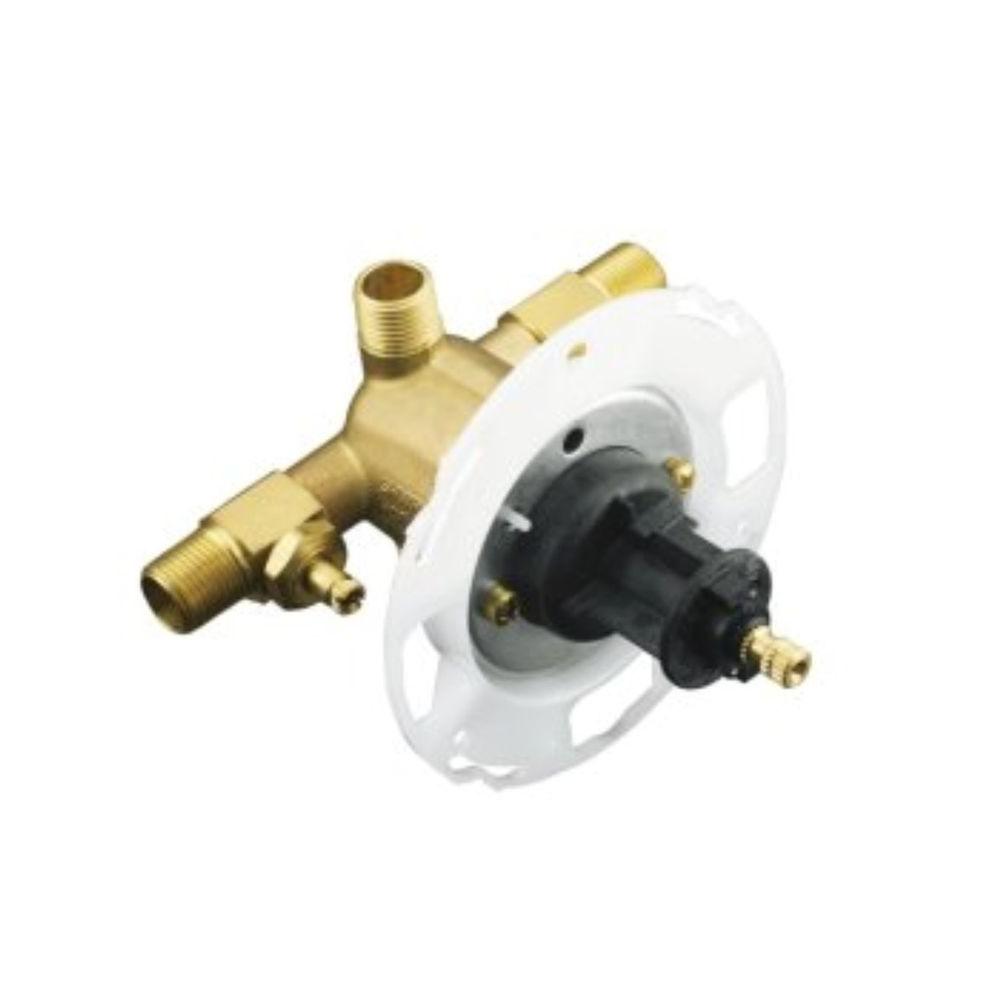 05-29-18, 09:31 PM
Thanks all, the plumber was out 5-25-2018 and got the old gate valve changed out to a ball valve. He did a great job coordinating with the water company for a single truck roll. The main turn-off and on is very easy now and I will toggle it once a year in the future. Thank you!
Posting Rules
You may not post new threads
You may not post replies
You may not post attachments
You may not edit your posts
---
HTML code is On
---