Replacing with PEX
09-19-19, 08:30 PM
Replacing with PEX
---
The previous owner of my house had all water plumbing lines run in front of the wall. It's copper and pvc. I'm not too mad at the copper but the issue is that they cut into the kitchen cabinets to run the pipe. I have new cabinets on the way and would prefer to not cut them yet I want the PEX to stay out of the wall as much as possible. Can I run the PEX under the floor and attach with clamps and only drill up/run the PEX up the floor where the fixtures are? Maybe use a manifold to run to kitchen, bathroom, and laundry and only run up where the connectors are?
Sponsored Links
09-20-19, 04:33 AM
It is very common for plumbing to run through the floor and only pop-up where it's needed. Keep in mind that most PEX is NOT UV protected so you need to make sure it's run in a dark place. Don't run it exposed (out in the open) in a room that has windows, but it's perfectly OK for it to emerge inside the cabinet underneath a kitchen sink or dishwasher.
I'm not a fan of manifolds though they are perfectly OK to use. I prefer to run a trunk line with 3/4" then T off wherever needed with 1/2" to go to each fixture. They make special T fittings just for the job that make it easy.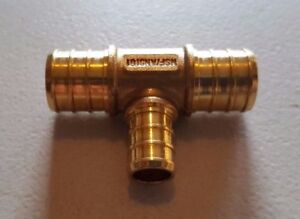 09-21-19, 10:05 AM
Thank you
---
Thank you Pilot Dane.
i did want to stay away from a lot of fitting because we'll.... I'm a girl and the PEX crimper that I have is really hard for me to compress. So I figured if I could cut down on the number of fittings.... The better. 😀 I have an RV and I've replaced many fittings and it's always touch n go with how tight the fitting is.
09-23-19, 10:13 AM
Nothing wrong with going the manifold route if that makes the most sense.
Not sure what part of the country you're in, but under the floor might be a cold space in the winter, and you don't want your pipes to freeze, so you may want to consider that.
Posting Rules
You may not post new threads
You may not post replies
You may not post attachments
You may not edit your posts
---
HTML code is On
---