door closer leaking oil
11-09-18, 12:39 PM
door closer leaking oil
---
This old door closer started leaking oil; it's an LCN model 4114. It's been gradually dripping/seeping oil pretty good right under the bottom center area. I doubt these are ever typically rebuilt or would be too way much trouble to even attempt for the average door closer dummy like myself. I did a little googling about it; it seems the fix is usually just to replace. This is apparently a fairly heavy duty commercial grade door closer and I'm finding it of course a replacement costs a lot. Also apparently the actual 4114 model is now replaced with a 4111, but I am kinda unclear about that too. Any comments/advice appreciated. Gotta do something, can't just let it go. Unfortunately.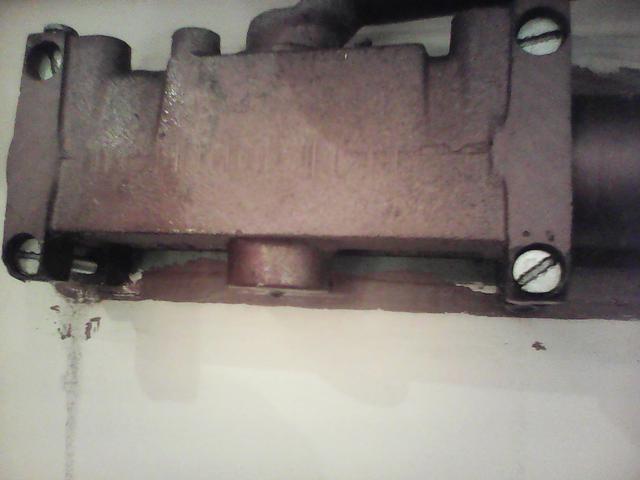 11-09-18, 02:44 PM
Join Date: Mar 2003
Location: NC, USA
Posts: 28,322
At the minimum take it apart and snap some pictures. I'd like to see what the inside is like and how it works. While doing that you might see that there is an O ring at the leak point. Then you can order a new O ring and hopefully be back in business.
11-11-18, 01:07 PM
I don't have the info in front of me, so I'll give you some generalities....Closers sold under the LCN name, whether made domestically or overseas, will maintain a high price, but the same design, which has been out of Patent for many years now, is available under several imported names, is an exact replacement, and is far cheaper. As with so many imported products, the quality may be a little less, but the price is far less, thereby justifying the purchase, except in the occasional instance where price is no object.

I believe the imported versions incorporate the "fully adjustable" and "tri-pak" options that can be had on the LCN closers, but confirm that what you purchase has these features. (Fully adjustable means 3 valves minimum to control speed, and adjustable closing force of #2 thru #6. Tri-Pak means closer arms and brackets to accommodate the one of 3 ways a closer is typically mounted, ie., Standard, Top Jamb, and Parallel Arm.

So 3 ways to proceed: 1) Spend the time researching overhaul kits and parts (closers of this quality do have replaceable parts) and try your luck at the job without the special tools it typically requires to take these apart, risk injury (the coil spring is very strong) and upsetting your wife when the dirty hydraulic fluid gets all over everything, (but, to be fair, depending on where the leak is coming from, a replacement "O" ring may be all that's required to stop a leak from a valve).

2) Order from your local locksmith, who can help you with installation tips and make sure you're getting the right imported model, or

3) Spend time on the internet to avoid the smithies' mark-up, make an online purchase and hope you're getting what you need.

Proper closer selection/installation/adjustment, even for basic surface-applied closers, is not for the novice....and even General Contractors who do it for a living, often don't get it right. When I install or service locks on commercial or industrial properties, more than half the time, the existing closer has to be adjusted/reinstalled/replaced, But I digress...
11-11-18, 01:13 PM
Re-reading your post, suggests the leak coming from the pinion shaft, which, if I'm not mistaken, requires a complete breakdown, furthering my advice to just replace.

There's a lady that occasionally chimes in here that's the real expert on closers, goes by the handle of "Door Doctor" if I recall.....maybe she'll chime in .
11-12-18, 01:14 PM
C a u t i o n
---
Do NOT try to disassemble the closer. The coil spring is pre-loaded (under tension) and without the proper fixtures, can injure you, if you do manage to release it.
The only closers I can think of that are safe to disassemble are the old pot-style that look like an upside down T. They use clock or helical springs with little if any pre-load. And they often require special tools.

12-03-18, 12:31 AM
Hello Sgull,

these closers are still rebuildable, I including have rebuilt a few of these, from seeing your picture, appears your leak can be coming from a valve on top, usually sweep or latch,

if this is the O-ring at the valves and not the pinion shaft, I would advise replacing all 3 of the valve o-rings, there may be notches in the valve holes to hold valves in, I just use a drill bit or a wide screwdriver to knock the notches down so the valves don't get destroyed when I back them out, 3 size # 5 or 6 orings that can easily be bought in plumbing section of home depot work perfectly, If it is the shaft, that's #10 or 11, if have to rebuild this, hope I can point you in right direction or even do it myself

as for holding onto it, same as I would do if it was mine, many times the older ones last alot longer then a new one.

as for the person that said the potbelly ("upside down T closers") they can be dangerous too with springs and retensioning it at end of rebuild process or relaxing it as your taking the spring chamber apart (applies to Corbin and Russwin)

sgull, I think you posted about this or another LCN 4114 in the past? Person was from Alaska who had a leaker and was looking for a replacement.

Sgull, I hope this helps and please feel free to message me if have any more questions/concerns
---
Last edited by XSleeper; 04-11-20 at

11:12 PM

. Reason: Adding your trademark tagline isn't allowed