Which screw for hasp lock?
12-28-18, 03:48 AM
Which screw for hasp lock?
---
I'm securing a shed door with a hasp lock but it comes with half inch screws!
what would be more secure?
The door is metal on outside, wood interior, metal back. The door frame is wood with a stud behind.
Can I just use 3.5" screws into the stud?
What about the metal - bolts to the inside?
The hasp bolts are hidden when closed...
Sponsored Links
12-28-18, 03:57 AM
If the screws are hidden from the outside then you have as much security as possible from a door lock. If somebody wants to rip it open they will. But I think I like the idea of a bolt that goes through the whole door. Makes it much harder to rip off.
12-28-18, 04:30 AM
On all outdoor gate hardware and doors I use the longest screws I can get away with. I generally use the longer screws just to prevent them from loosening over time on their own. As Norm said, most likely if someone uses a crowbar, they will split the door frame if it is just wood. As it's a garden shed, and I'm assuming you are protecting against a crime of opportunity, I would just use the longer screws and not bother with bolts.

We have an internally reinforced steel quonset hut "shed" at our remote cottage that houses all the motors, generators, boats and valuables we leave there. It's built to withstand a prolonged intrusion effort with angle grinders and chainsaws. We leave the cottage unlocked.
12-28-18, 04:37 AM
Why can't you put bolts through wood?
I normally use 1/4" or 5/16" bolts and through bolt. I insert the bolt from the outside. Then on the inside I use a fender (large diameter) washer and nylok nut. Even if someone turns the bolt on the outside the nylok nut is very resistant to coming loose without a wrench to stop it from turning.
If you must use a screw most home centers and hardware stores carry structural screws. They are more expensive than deck screws but are often sold individually. Their steel is much higher quality and they are available in a variety of sizes and lengths.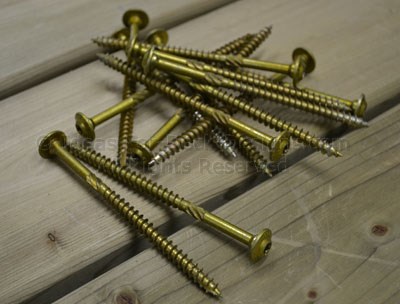 12-28-18, 10:40 PM
I'd use carriage bolts, as many times a few of the holes in the hasp are square, to accept the heads of these bolts. If not square, no worries, they can't be accessed under the hasp anyway. Note that the hasps are usually the weak link, because people will tend to buy a garden variety cheap hasp then put some gargantuan padlock on it. High security hasps are not as easy to get at big box stores as padlocks are. And since shed doors tend to sag a lot, causing hasps to become hard to operate, a heavy chain and padlock works pretty good too.
12-29-18, 03:44 AM
Hasps are used in a variety of applications and the manufacturer obviously has no way to know who will buy which one for which application so they include only one means to fasten them. So it's very common to want or need to use something other than the screws that are included. The only criteria is that you need something that matches the size of the mounting holes and you want something with a flat head in order for the hasp to lay flat on itself. You can use longer flat head wood screws or you can use flat head machine screws, and either of those will be readily available at the same place you got the hasp.
Posting Rules
You may not post new threads
You may not post replies
You may not post attachments
You may not edit your posts
---
HTML code is Off
---