Garage door repair/seal
05-25-16, 12:58 PM
Join Date: Mar 2014
Location: USA
Posts: 136
Upvotes: 0
Received 0 Upvotes on 0 Posts
Garage door repair/seal
---
The bottom section of my garage door is rotting away. When it rains, the water runs toward the door instead of away, and after time it began to rot. It's minimal in most places, but has a few bad spots. We've just painted the door and I would like to get it repaired before it gets worse. The solutions we've come up with so far-
1. Attach a new piece of wood over it. Attach with screws and construction adhesive, paint well.
2. Scrape out the rot and fill with some sort of epoxy. Paint.
3. Adjust garage door so it's down travel is maybe 1/4" higher allowing water to pass instead of sitting against the door.
4. Wife says buy one new panel...

Anyone had any problems like this before?
05-25-16, 01:04 PM
Join Date: Oct 2004
Location: WI/MN
Posts: 19,073
Nowhere in your post do I see the long term solution of diverting the water.

Depending on how bad it is, I would consider filling the holes.
05-25-16, 06:23 PM
Join Date: Jan 2011
Location: USA
Posts: 4,463
Need a picture, so far we do not even know what the doors made of.
Issue with the water needs to be addressed first, makes no since to allow the water into the garage where it's going to rot out the bottom plates and studs.
05-26-16, 08:01 AM
Join Date: Mar 2014
Location: USA
Posts: 136
Upvotes: 0
Received 0 Upvotes on 0 Posts
It is a solid wooden door. I'll give you my best guess as to what is happening with the water.
The garage has a poured concrete floor, with a block foundation. No wood within 8 inches of the ground.
My asphalt drive way is quite old. Where it meets the poured concrete of the garage floor, I'd say 12" in front of the garage door, theres a crack that allows water under the concrete. I believe this has eroded whats underneath, causing the concrete to shift, and crack inside the garage. Now, it leans slightly toward the garage instead of away, causing water to rest against the door while closed.
The concrete now has a crack in it about 2 feet into the garage, where the water that gets under the door drains under the concrete. The amount of water is very minimal, I'd say less than 8 oz. The garage door has had no maintenance or repair in years. Yes, I know. Bad homeowner.
05-26-16, 08:42 AM
Join Date: Jun 2002
Location: Northern Minnesota
Posts: 1,626
You might be able to get away with one of these, put it on my door a couple years ago and works fine...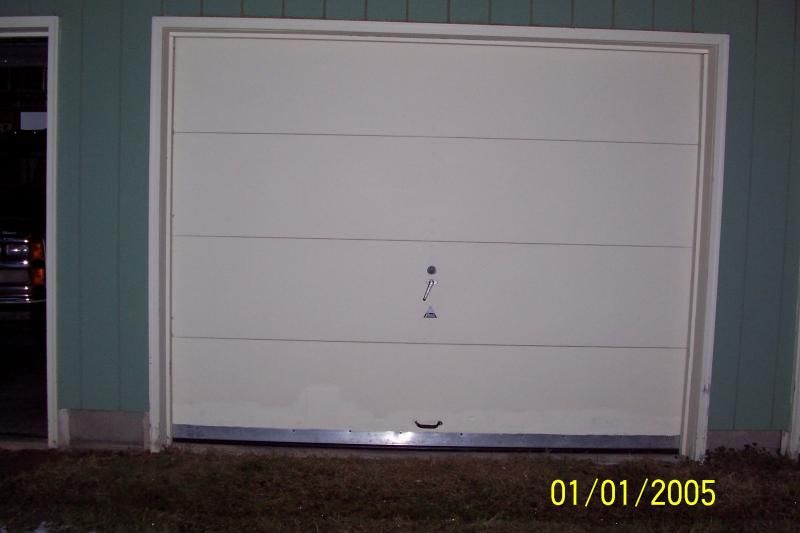 It's a "U" shaped aluminum channel and goes up both inside and outside of door 3". It's pretty snug with the weather strip on the bottom.
06-23-16, 07:59 PM
Join Date: Sep 2013
Location: United States
Posts: 10,855
My first reaction was to agree with the others about addressing the water problem 1st. But you say only about a 8 oz. You also say its years old. Do what Baldwin and Quickfixgarage say. Its an easy fix and not expensive.

However, the water problem should be addressed at some point.
06-24-16, 02:13 PM
Join Date: Mar 2005
Location: USA - N.E.Tn
Posts: 45,493
Get prices on replacing it with a steel door. I can't remember how long it's been since I painted a new wooden garage door. They always rot sooner or later although sealing both sides and all edges helps them last longer. The only worry with steel doors is if they get dented ..... and that only affects the looks.
08-15-16, 01:55 PM
Join Date: Mar 2014
Location: USA
Posts: 136
Upvotes: 0
Received 0 Upvotes on 0 Posts
Thanks everyone for the suggestions.

The water runs toward the door, instead of away, because the floor is shifting. water is getting under it and eroding the soil. A crack has developed a few feet into the garage where the water exits. Short of digging up the garage floor and driveway, thereís no permanent solution. Trust me, I would love to replace the driveway - it butts against one entire side of the house, allowing water to seep in, and come through the basement blocks. Itís not severe, but itís still water getting in.

Thanks again!