Seeking flat roof insulation options please.
05-25-16, 08:07 PM
Seeking flat roof insulation options please.
---
I don't think this can be considered a DIY project, so I am searching for suggestions.
I have a flat roof, almost rectangular, about 20x50 with the usual vents and ducts, not too many of them.
The moment weather hits 80+ it gets 80+ inside immediately and it seems like the ceiling/roof retains the heat. I thought about laying aluminum siding on the roof hoping it might absorb heat with some kind of "vent" underneath, but it's dangerous since they won't be easy to secure. I thought about getting some kind of metal sheets and just screwing them and then sealing the seams, but it sounds like that may not be effective.
I live in NYC, and something like this:
https://www.youtube.com/watch?v=M2KBvdNuzyo
would be just perfect for my roof. Does anyone know if this is being offered/installed in USA by anyone or is there a similar option?
PS: Roof was lined with Karnak (it's silver color, not sure which one) few years ago, we did not notice a big difference.
Sorry about the tilted picture: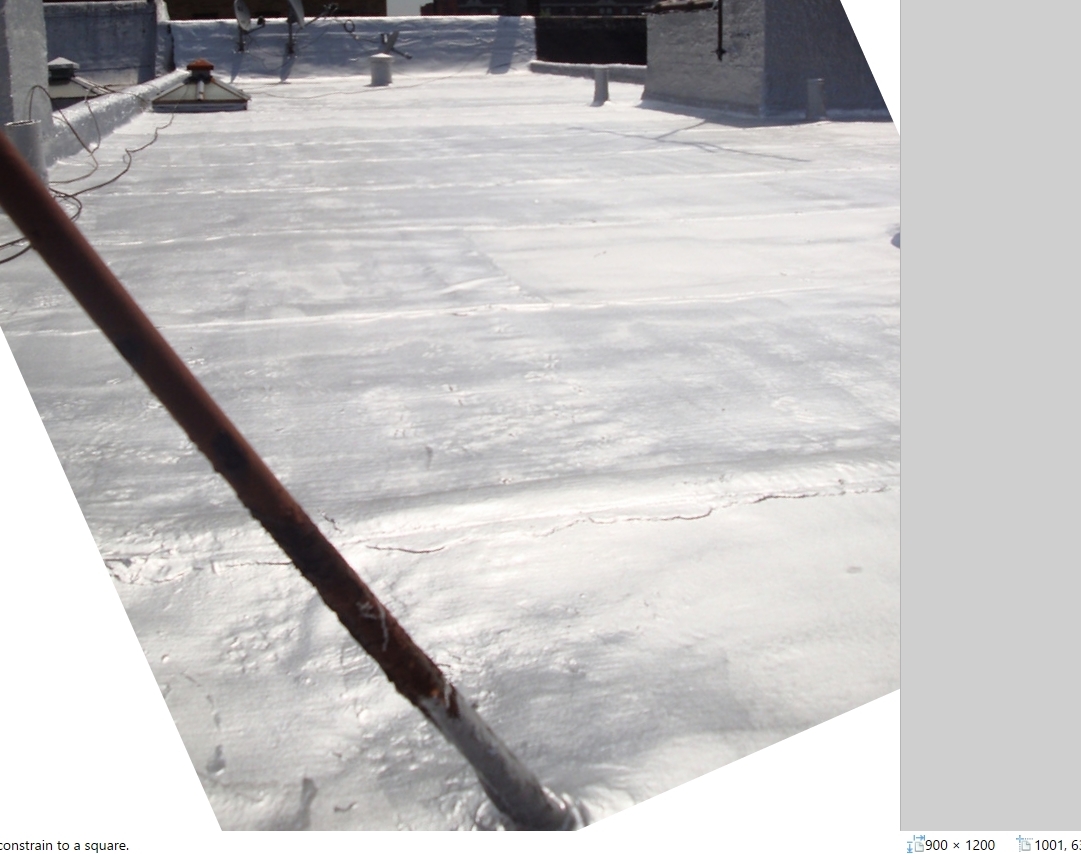 05-26-16, 03:00 AM
Join Date: Dec 2005
Location: USA
Posts: 39,964
The roof is meant to repel water and the elements, not to insulate. What does the underside of the roof look like? Is there any insulation between the roof and the bottom of the roof framing? Heat transfer will happen. You can slow that transfer down by properly insulating under the roof. You may could install lateral exhaust fans up high on the walls (not through the roof) to help evacuate much of the heated air.
05-26-16, 05:33 AM
A different approach might be to install solar panels. They would shade the roof below and help pay for more ac.

Seriously, as chandler asked, tell us what's already there below the roof, both for space and for insulation. And what is that structure on the right? Does it connect to the space below the roof?

Bud
05-26-16, 11:07 AM
Thanks for the replies.
Right under the roof I have about 15" of space between my ceiling and the roof (or before the roof structural material starts). It's a house from 1930's and when we renovated 8 yrs ago they built all ceilings from ground up, I am suspecting that the insulation they put in was not sufficient or they did not property insulate that gap throughout the house, therefore heat might be getting trapped there, and then travel down into the side walls both interior and exterior.

I assume it would be a huge job to bring down the ceiling and replace/fill insulation. My ceilings are are also high, about 10ft, would it be better to install a new ceiling and try to drop fixtures and fill insulation in between? Still sounds like a big job. I just thought we could find an easier way from up top.

My house is attached on both sides, only has front and rear exposed, East and West, so the walls might be retaining heat on both sides plus the roof, making it very hot throughout the day. But I think our main source of heat is the roof.

If accurate measuring is needed, I can go up to the roof and measure the distance to my windows and then measure the interior and find the difference and let you know what kind of space we are looking at.

Solar panels is a great idea, but I was told they have to be installed in a slope, not flat down, is this correct? Then I would have to install them in /\ /\ /\ like this?
05-26-16, 12:42 PM
It's not that they have to be, other than hail, it is just that they are more efficient. But the idea of shade is still a potential. The surface looks almost white, which I believe is good as it reflects much of the solar heat.

Just thinking out load, but can you spray a mist up there? May be a bad idea, but it deals with rain on a regular basis. Evaporating water takes away a LOT of thermal energy. If not directly applied to the roof there may be benefits from a cooling tower where the excess water is drained away but the cool air would flow down across the roof.

Ventilation of the space below is difficult but not impossible. Are there currently any vents?

Bud
05-26-16, 09:31 PM
The mist is a simple idea, I can run a line to the roof and turn it on/off mist on a schedule if you think that would actually help at all.

We almost never get hail here in the city, and I thought newer panels would have to take some huge hail to break/damage, but it's good to know. Roof looks white but it's actually "aluminum" color, it's just the reflection of the sky and the angle along with the camera's color issues makes it look white. It's pretty reflective in real life.

There are two vents on the roof, but to be honest, I am not sure if they are still open on the bottom (in that 15 or 2ft attic/crawl space) or if the previous contractors just sealed them. Even if there was, they probably have insulation where they would be venting underneath.

I am home now and when I stand up on top of the sofa, I can feel the temp difference between near the ceiling and near the normal standing height. The cloths I keep on top of my storage feel like they just came out of dryer.
05-27-16, 02:42 AM
Aluminum may actually be better than white, the key would be its reflectivity in relation to solar energy.

It would be easy to test the mist approach, especially if you had a remote temperature gauge in the attic space.

As for the solar panels being flat or angled, as long as they shaded the roof. Anything that intercepts the sun light, absorbs that energy and allows it to dissipate into the air reduces the heat buildup of the roof.

Insulation doesn't stop the heat transfer, it just slows it down. Are you using ac? AC controls the temperature inside your house and your electric bill is where you would see the effects of any improvements. To reduce the heat at the ceiling, use some fans to circulate the air. The ac will respond and all of the air in the house will then be a more uniform temperature. Of course, with no ac the house just gets warmer.

If those old vents are open into the attic space you should feel some heat being exhausted at the top. But to make vents work better we need air intake as well. With a low slope or flat roof there is minimal high to low difference, but that can be modified without building a new roof.

Top left of your picture beside the dividing wall is a square structure a couple of feet tall. Is that one of the old vents?

Bud
05-27-16, 10:26 PM
Thanks, I tried some fans but all they do is just (feels like) cancelling the A/C because they seem to push the warmer air down instead of balancing the whole area, it's really hot, god, it's 84 right now and it went up from 79 to 84 within 1 hour after I turned off the A/C. It's 74 outside, opening windows doesn't help much either. I am going to buy two window vents and see if they help push hot air out or at least circulate (one intake one output). I am trying to figure out how to cool the back room where there is no A/C. Do I push the a/c from front living room with fans or do I push the warm air out of the room with fans first, it's tough.
The square structure is the decorative skylight that's outside my apartment (2nd floor) entry door, has a small vent, which I don't think is working properly since the cooking smell seems to be trapped up there.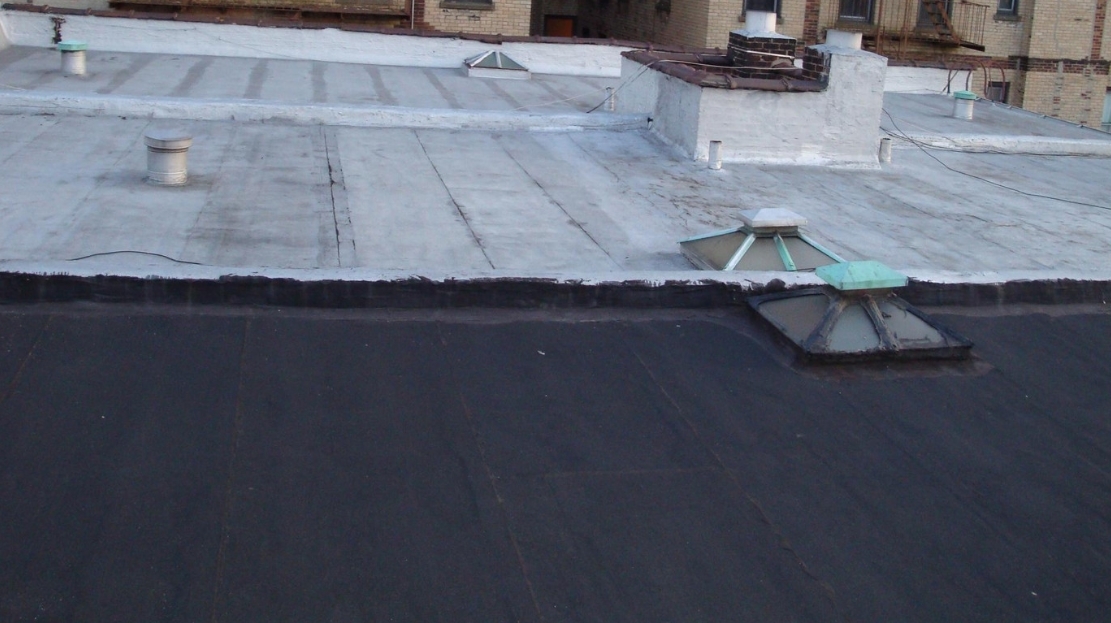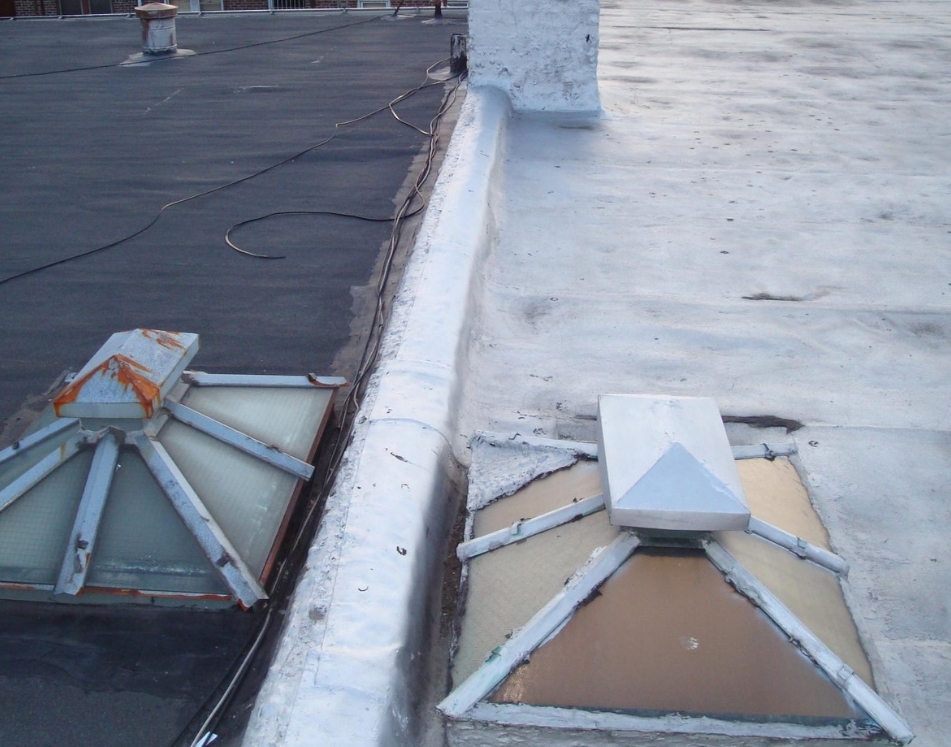 Or if you are referring to this, that's just "common area" about 6x6 between two houses where bathroom windows are facing with the flue/chimney running on one corner from boiler room.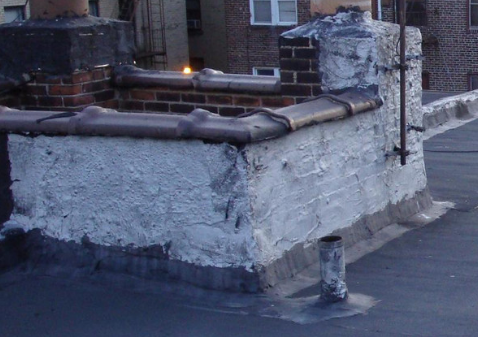 Here is a view from a different angle (pre-karnak application)
There are two plumbing vents and one air vent (I think that's air vent) that you see at the center, but I don't think it's connected. I can go up there and check, I think you are right, those vents might be blocked, keeping the heat trapped on the roof, is there a way to open them to check? I don't want to mess things up and cause rain water to enter.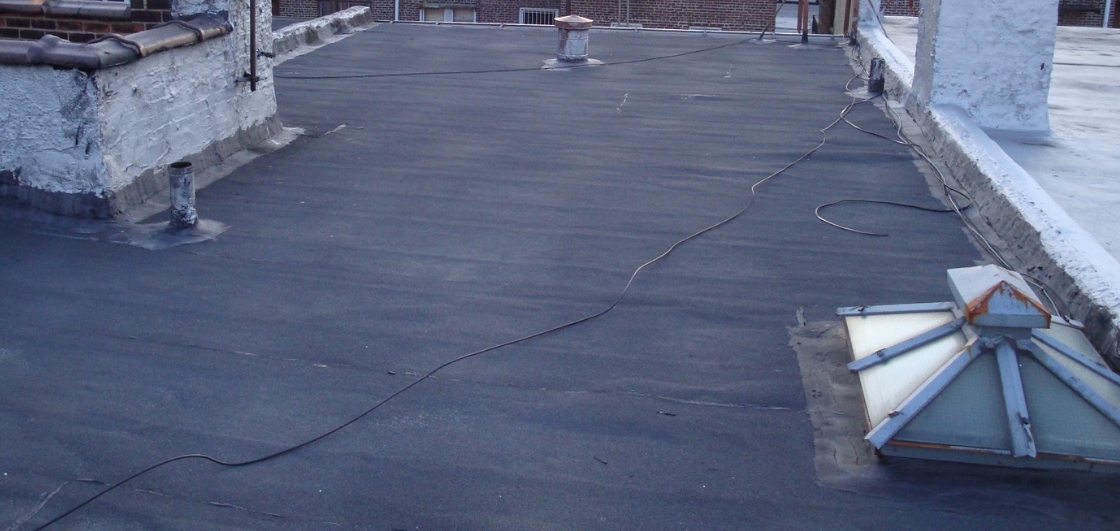 Here is a closer look of the 2nd air vent -i suppose that's what it is- (there are total of two, one in the back, one in the front)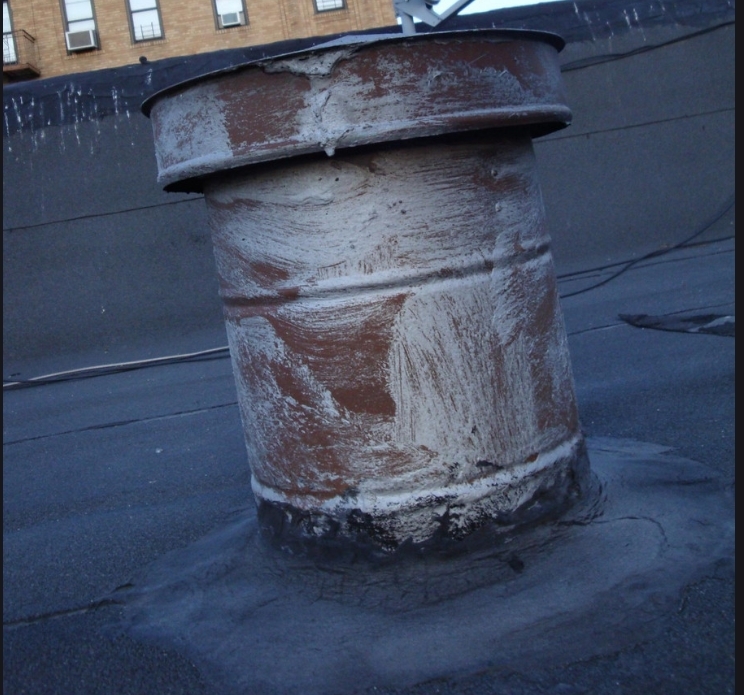 Would replacing them with things like this help in any way?
http://www.lowes.com/pd_20120-228-WT...000041873&pl=1