DIY roof repair options?
05-11-18, 03:38 PM
DIY roof repair options?
---
Hi -
Just checking to see if anyone has any other suggestions on what DIY options I have in repairing my roof. In the past, my roof had a problem with leaks and ponding water near the edge of the roof (see picture). That area is pretty flat with a slight slope that lead water to the drain. Last summer, I applied a very thick layer of Gaco silicone white coating (the white stuff in the picture). I dont think that Silicone coating was meant for repairing leaks but it did the job for the past year.
I checked the roof this past week and the silicone coating still seem to be in very good shape. No cracks no fissure. I just dont know how long this will last. So I want to know what DIY options I have that is more of a longer term solution (3-5yrs) ? How does the pros handle a roof like this ?
Is it an option if I lay a roll of aluminum sheet over the area ? Like using
this
If I cant find another solution, I',m thinking about applying another layer of the GACO Silicone coating just for maintenance and cover up a few spots that I missed. Is there any reasons why this solution is not advisable ? The product is quite expensive ($250 for 5gal.) and I dont think it is meant for making leaks repair, but at the same time it is the only easy solution I can come up with.
05-11-18, 08:26 PM
Liquid rubber
like what is used for RV roof repair would work well on your roof.
The tough part would be to try to remove all that silicone without damaging roof surface.
05-12-18, 05:02 AM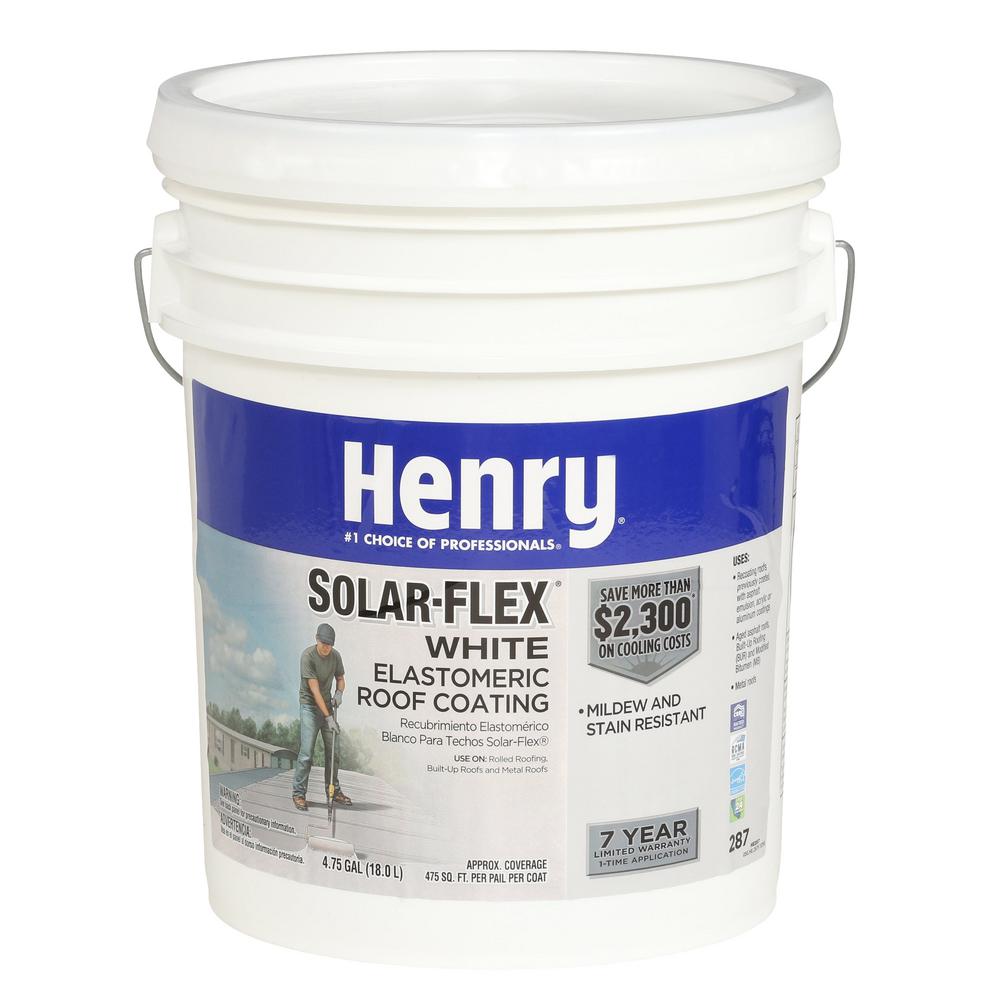 This product
might work for you.
Silicone when applied and cures will stick to some surfaces.
When cured not much will stick to it.
IOW if you try to put anything on top of the silicone you will have a bigger mess than you do now.
05-12-18, 06:53 AM
Join Date: Jun 2002
Location: Northern Minnesota
Posts: 1,626
Henry Company
Now,
if you have any ponding water
, then our Henry 287 Solar-Flex won't work. The best option for this would be to fix any minor leaks with our Henry 885 Tropi-Cool Seam & Roof Repair, then coat with our Henry 887 Tropi-Cool 100% Silicone White Roof Coating.
=======================================================
I've been reading about different coatings for years and I'm lost. If I use the rubber stuff you can't have any ponding... I do. Use the silicone then nothing else will stick to it.
Good luck
05-12-18, 01:19 PM
Another idea, I'm thinking is a sheet of EPDM rubber and use silicone glue to lay over the existing roof. Is there any reason to think the EDPM wouldn't adhere properly if I use silicone based adhesive ? I did some research and found that EDPM membrane like the firestone ones are the same type that people use for fish pond linen. As long as I seal the seams properly, it should be able to waterproof the roof for many years (i think).
05-12-18, 05:48 PM
You really need to get off of the silicone band wagon.
It is a good product for certain applications but roofing is not one if them.
The ultimate authority for how to use a product is the manufacturer.

EPDM is one if the best products for roofing.and the manufacturer will tell you what to use and sillycone would not be one of them.