leak after flushing toilet bowl
02-02-17, 11:23 PM
leak after flushing toilet bowl
---
I had posted this but couldn't find it in a search so I'm reposting.
I have a small leak when I flush the toilet on the side of the bowl, 2 inches from the rim and towards the back of the bowl. There is no leak unless the toilet is flushed and it's a small leak.

I was wondering if there is an expanding sealer that I can apply to the small area at the leak site that would seal it.
Sponsored Links
02-03-17, 04:26 AM
Join Date: Dec 2005
Location: USA
Posts: 39,965
Welcome to the forums. Most likely the tank to bowl bolts are loose or you have a bad spud gasket between the two. Check the tightness of the screws holding down the tank. The only time water passes from tank to bowl is during a flush, so it seems reasonable that would be the area of concern.
02-03-17, 05:50 AM
Likely the spud gasket between the tank and bowl needs to be replaced. There is no spray or squirt stuff in solution. The tank will need to be removed from the bowl. Luckily this is a very easy fix.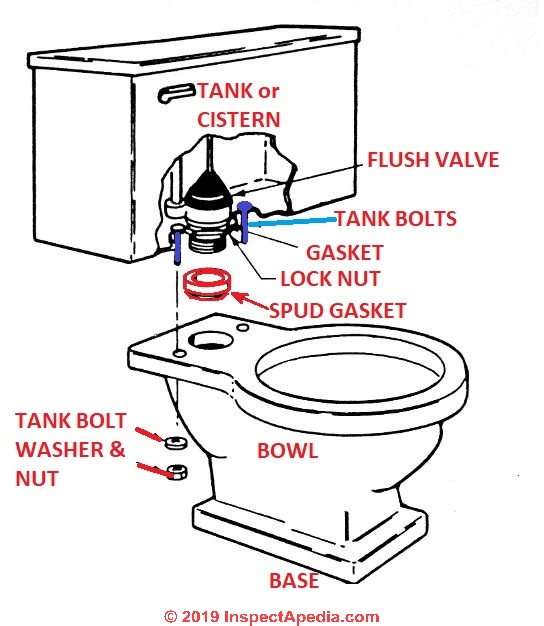 02-17-17, 05:36 PM
leak after flushing toilet bowl
---
I have checked and the leak is below the rim of the toilet in the porcelain itself. Upon flushing, there is no leak from the site of the spud gasket. It appears that there is a tiny crack in the porcelain a little below the rim of the bowl towards the back of the bowl itself on the right side.

I was wondering if there is a filler compound that expands into cracks to seal them in such a case. The leak itself is very small and the amount of water that comes out upon flushing is about 10 drops. I suspect that I could use one of those toilet dyes you put in the tank and see where it creates a stain when it comes out to find the exact spot but I would still need some kind of effective sealer. Being this leak isn't a pressure leak and small, I would think it could be sealed but am not sure what to use.
02-17-17, 06:02 PM
Join Date: Dec 2005
Location: USA
Posts: 39,965
If you have determined there definitely is a crack in the porcelain, then the toilet is due for replacement. I know of no fool proof method of sealing the porcelain. I think your dye idea will make the discovery easier.
Posting Rules
You may not post new threads
You may not post replies
You may not post attachments
You may not edit your posts
---
HTML code is Off
---