Old shower door hardware question
10-08-17, 04:28 PM
Old shower door hardware question
---
I looked into this a little last year, and came up empty handed. Again today, I'm coming up empty handed.
Are there supposed to be little handles, or maybe a long metal bar across my shower doors where these bolts are? I can't figure out what is supposed to go where they are, it definitely looks like something is missing. You can click the pictures to make them bigger as well.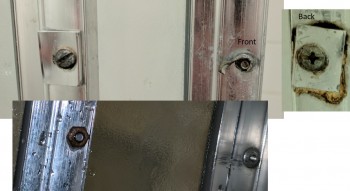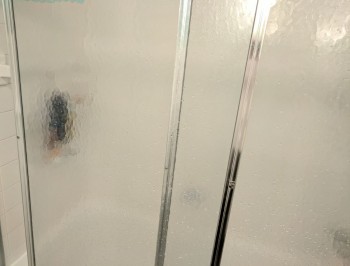 Sponsored Links
10-08-17, 05:20 PM
Looks to me like it used to hold a shower bar which probably was broken off and it had a poor repair. Notice how the one is a threaded rivet and the other has a regular rusty nut on it? Might be some caulk under the plates to prevent leakage?

Don't think I've ever seen a sliding shower door w/o a towel rack, and they have to be on the outer panel of course.

Do a search for "replacement towel racks for framed sliding shower doors" there are lots of options. Remove the old screws/plates, put new brackets in their place, cut the bar to length and attach to new brackets. May need to keep a plate on the forwardmost interior point to act as a handle to get the door open, but there are many options, incl making your own.
Posting Rules
You may not post new threads
You may not post replies
You may not post attachments
You may not edit your posts
---
HTML code is Off
---