Shower curb help
05-23-17, 11:26 AM
Join Date: May 2017
Location: United States
Posts: 2
Received 0 Votes on 0 Posts
Shower curb help
---
Hello,
Has anyone seen a shower curb like the one in the attached photo? I am trying to do something like this in my bathroom. I don't have the space for a typical 4" or wider) shower curb. This curb is under 2" wide.
The shower floor is typical. It slopes towards the linear drain at the front.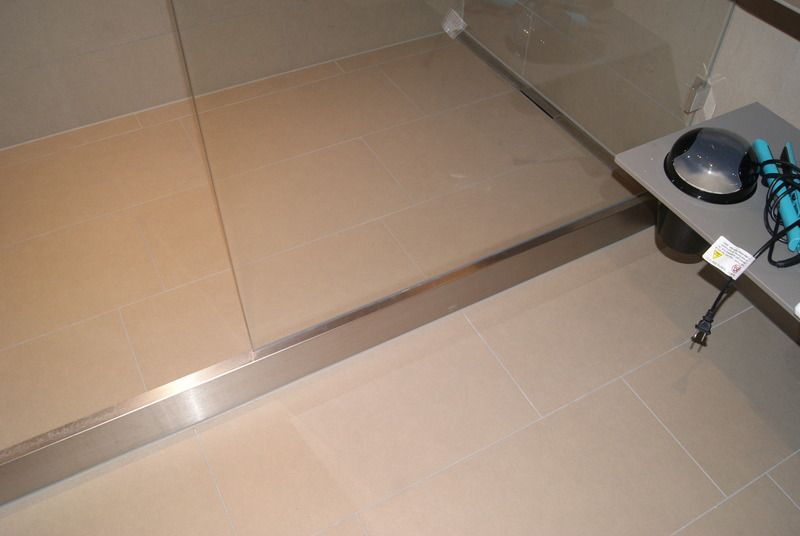 Sponsored Links
05-23-17, 01:02 PM
That is not likely a "shower curb" at all. More than likely its just extruded trim for the glass panel to sit on. My guess would be that the entire bathroom floor and 6" up the walls has been waterproofed with kerdi and ditra or similar waterproofing membranes and if water gets outside the glass panel its not an issue. That shower looks pretty narrow and has no door. I cannot imagine that water doesn't get onto the floor outside. If it is in the true sense a shower curb meant to contain the water I cannot imagine how it works.
05-23-17, 01:19 PM
Join Date: May 2017
Location: United States
Posts: 2
Received 0 Votes on 0 Posts
The shower floor is a couple inches higher than the bathroom floor. They are not at the same elevation. That's why I thought it was more like a traditional curb. I didnt even think that it could be part of the glass.

There is no shower door so some (just a little) water does splash onto the bathroom floor but there is no floor drain in the main bathroom area. Just the linear drain in the front of the shower.

This was at a newly renovated hotel I stayed at in Switzerland. Maybe its some European product that isn't for sale in the US.
Posting Rules
You may not post new threads
You may not post replies
You may not post attachments
You may not edit your posts
---
HTML code is Off
---