Melt snow for humidifier
09-01-17, 06:25 PM
Melt snow for humidifier
---
Kind of an odd request but we need humidifiers in the winter as the house gets extremely dry down to around 5-10%
When we use the local well water, the humidifiers get blocked up with minerals on the heating element pretty quickly. I found one year that by melting snow overnight in a plastic barrel Anna using that to fill the humidors, we never had any problems. Presumably there is negligible amount of minerals in rain water.
It becomes tiring to fill a big barrel and let it slowly melt each night so I was thinking about setting up a barrel outside work some sort of heat and then connecting a tube to the inside of the house to refill a jug by gravity.
What sort of heating element could I use for this and what is safe. Should it be in a metal barrel, is plastic ok with say a gutter cable? Would another type of heating pad be better?
Sponsored Links
09-02-17, 05:10 AM
Tiring to melt snow for water???.......How tired did folks get before modern conveniences!
A
stock tank heater
would likely do it for you.
Just make sure you follow usage instructions.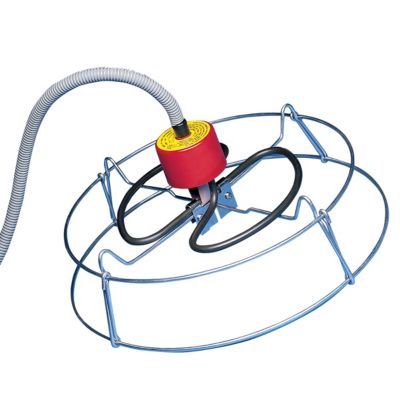 09-02-17, 10:00 AM
Sounds like it might be a good application for some sort of solar, either passive or solar panel.

BUT, a better approach might be to resolve why you are experiencing such low humidity. In most cases it is due to air leakage where incoming air is dry to start with and becomes extremely dry when heated to house temperatures. I realize most people don't want to accept that their homes leak a lot but in reality the desired air exchange is a complete replacement of all inside air every 3 hours. Tighter than that creates problems, one of them being high humidity. Very tight home will often need to run dehumidifiers in the winter.

More on air leakage if you are interested.

Bud
09-02-17, 10:44 AM
I'd consider an ultrasonic humidifier that doesn't heat the water,
or just old school pan of water sitting on the radiator or above the heat vent.

My wife's orchids don't like dry air, I've occasionally rigged up a passive humidifier beside them
by bringing over a hand towel stand, and dipping the end of the tower into the bowl of water.
09-02-17, 04:55 PM
There is negative pressure in the house but it's also because the winters are dry. It's -20 Celsius average here in winter, snow doesn't melt much except in the sunshine.
solar could be good but would it provide enough power. The horse water buckets are around 200W of power and even those you have to insulate if it's sitting outside.
09-02-17, 07:46 PM
Passive or solar humidification is not usually adequate for the Canadian climate.
As suggested sealing up air leaks is a good idea but even well sealed houses would use an air exchanger to meet codes for new construction.
As far as options and their costs operating a heater to melt snow could be cost effective compared to maintaining your humidifier.
Another option is if you have a water softener then that is one of the most cost effective water treatment methods for humidification.
09-03-17, 04:06 AM
Right on both counts.
I only mentioned an air exchanger to say that it will have a similar effect as a drafty house which yours must be.
Humidity will build up in a tight home and an air exchanger will remove it.
Your home is drafty which has the same effect as an air exchanger which requires you to add moisture.
09-03-17, 07:10 AM
In the winter there is a negative pressure in the lower portions of your house as well as a positive pressure up high and both are constantly exchanging your air. I've added a RH calculator link below so you can see what happens to that outside and once it is heated to inside temps. Quite common in a cold climate for RH to end up in single digits with a lot of infiltration. I have never made the switch to Celsius (my bad) so won't attempt any numbers but the calculator handles either.
In addition to sealing as many air leaks as possible you might try reversing our normal advice for homes with too much moisture. Minimize the use of exhaust fans. Enjoy long hot showers and leave the door open afterwards. House plants, aquariums, an inside cloths line, along with pots of water everywhere. If you have a wood stove it could be exhausting a ton of air.
More if you want to address air leakage
Bud
Temperature, Dewpoint, and Relative Humidity Calculator
09-03-17, 08:37 AM
Originally Posted by GregH
Another option is if you have a water softener then that is one of the most cost effective water treatment methods for humidification.
Hmm, a water softener would also be a source of room temperature brine, good for de-icing.
There's an interesting twist, a water softener would take the hard water (cations, usually calcium and magnesium) and converts them into salt for you (well, a calcium and magnesium brine).
So, air seal the building, add a water softener for the humidifier, and consider a salt-water hot tub. Problems solved.
---
Last edited by Hal_S; 09-03-17 at

09:43 AM

.
Posting Rules
You may not post new threads
You may not post replies
You may not post attachments
You may not edit your posts
---
HTML code is Off
---