Hardening steel?
12-18-18, 09:59 AM
Hardening steel?
---
A friend has an ice chisel (for ice fishing) that I can easily sharpen using a file. Is it possible to harden the steel by heating it, then quenching it so it doesn't get dull so fast? Or does it have to be a special steel to do that?

FYI, I have a custom made ice chisel of my own that a file won't touch. I have to use a stone to sharpen it.
---
Last edited by Bruce H; 12-18-18 at

11:07 AM

.
12-18-18, 02:00 PM
And a follow-up question if I can harden the chisel cutter. The internet says steel has to be up to 1450-1500 degrees for hardening. The internet also says MAPP gas burns at 2020 degrees. Do you think I can get the end of a chisel that's 7/16" thick x 2-1/4" wide hot enough using my little MAPP gas torch I use for sweating copper pipe or will I need to have my friend use his oxy/acetylene torch?
12-18-18, 02:19 PM
You'll need the friends torch. You need to get it up to close to the right temp based on color. Of course, you're just guessing on it's composition. You can also use a magnet to test it. And you should use a quenching oil...not water. Water will make it harder, but will also stress it a lot more creating possible cracks and fissures...not what you want in a tool.
A Woodworker's Guide to Tool Steel and Heat Treating
12-18-18, 06:14 PM
beelzebob:
You must be from a southern state LOL!! This is an ice chisel for chopping a large hole through a frozen lake in order to fish through the ice and none of them are hardened unless you pay a lot to have one custom fabricated. I'm thinking that even a partial hardening is better than what he has. We use a chisel until the ice gets more than about 12" thick, then switch to a power auger with an 8" bit. The chisel my friend has is 52" long, like this:
https://www.cabelas.com/product/Cabe...3.uts?slotId=0
12-19-18, 04:09 AM
This video gives a visual of heat treating. This Old Tony is a machinist channel on youtube; in this video he's making a tap for a project, and toward the end he heat treats it.

https://www.google.com/url?sa=t&source=web&rct=j&url=https://m.youtube.com/watch%3Fv%3DL3rINJWcmbA&ved=2ahUKEwjDgNjX36vfAhUnn-AKHS-4DS0QtwIwAHoECAcQAQ&usg=AOvVaw0ypPG40TN7oT_ZwUiryc-8
12-19-18, 04:44 AM
I live in New England and have chopped many holes in ice for fishing using my store bought chisel for steel. I also sharpen it on my grinding wheel. If you think you can harden any type of steel by just heating with a torch and quenching, be my guest.
12-19-18, 06:54 AM
Thanks to all for the responses! I'm heading to my friends house with the oxy/acetylene outfit tomorrow to try hardening the steel. Prior to hardening it, we're also going to grind the edge to a steeper angle so it more closely matches the angle of woodworking chisels. I'll let you know how it goes.
12-19-18, 07:35 AM
Nothing to do with living in the great white north. Broad/wide chisels do exist. You just need to look for one. You can also look for "masonry chisel" as many of them are broad.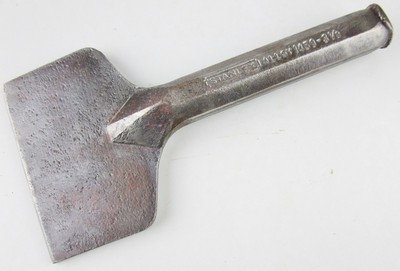 12-20-18, 10:26 AM
Just got back from getting the ice chisel hardened. It worked like a charm; a file barely scratched it! Now to take it out to the lake and give it a try. Thanks again to everyone for the input.
12-20-18, 12:09 PM
I hope you have a rope tied to your chisel. My buddy, perhaps a bit impaired, let it slip from his hand when breaking through and the darn thing disappeared down the hole at light speed. It was a real bummer trying to finish opening the hole with other, improvised tools to salvage the afternoon's fishing trip.
02-07-19, 01:50 PM
Ya can harden mild steel pretty easily. And anything with carbon in it can be used as a quench. Will ya ever get mild steel as hard as M2 or HSS? Nope. But ya can harden it a good bit. But ya need to get it to its Currie point. This is the point while heating that it looses its magnetism. Ive done it in my homeade wood stove. Took about three hours of burning before even putting the piece to heat. But it can be done.