How to make removable plug for slot repair in cast iron drain pipe
02-02-16, 07:40 PM
Join Date: Aug 2001
Location: Los Angeles County, California
Posts: 271
Received 0 Votes on 0 Posts
How to make removable plug for slot repair in cast iron drain pipe
---
When I recently dug out my septic tank and the drain pipes, I found two places (inlet pipe and outlet pipe) on the top of old cast iron pipe that had worn (cracked??) through. They each measure about 1/4" wide and 2-3" long, and they have imperfect edges.

These slots are very useful for monitoring the flow in and out when I'm trying to figure out a blockage. I also used one of them to pour OxiClean into the leach field. So I don't want to permanently seal them.

I'd like figure out a way to make a removable plug for each slot, so that next time I need to dig them out to find a problem I can remove the plug(s) and see if there's a blockage before or beyond that point.

Any ideas for making a plug that would conform to an uneven slot. Something that could be removed and hopefully re-used?

John
Sponsored Links
02-02-16, 07:55 PM
None of that makes any since to me.
If I saw old steel pipes I would have keep on digging and replaced with PVC.
In 63 + years, dozens of houses I've never once had the need to peek in and check the flow.
Cracked pipe should have been a clue it's time to replace it.
02-02-16, 08:01 PM
Tend to agree with Joe re replacement, but if you're intent on keeping the slots, I'd get an appropriately sized fernco coupler, cut a lenthwise slit in the rubber sleeve, wrap it around the pipe, and secure it with the stainless clamps. Just keep the slit in the rubber on the side opposite the slot in the pipe.
02-02-16, 08:02 PM
Join Date: Oct 2012
Location: Northern NJ - USA
Posts: 59,738
02-04-16, 03:59 AM
Join Date: Aug 2001
Location: Los Angeles County, California
Posts: 271
Received 0 Votes on 0 Posts
I'm afraid I gave a poor description of the two slots. First of all, they aren't really cracks, and they aren't on the cast iron pipe.
This photo below shows the edge on an old concrete septic tank. The inlet cast iron pipe was laid into the hole, with nothing fixing it in place. After some earth movement (earthquakes proabbly) this end of the pipe dropped down a couple of inches and only the upper part of the pipe was allowing flow into the septic tank. I repaired it by building a concrete saddle underneath the pipe and that lined it up well enough to work properly. The hole/slot you see in the photo is where the pipe must have work down over the years of being loose.
The slot on the outlet side of the septic tank is narrower than this one and is right at the junction of some concrete and another pipe (that presumably leads to the leach field). So neither lends itself to an easy solution, at least to my limited experience. I'm sure I could lay some mesh across the holes and put concrete over it, but I like the idea of having a way to look in and check the flow. I also used the outlet slot to pour a lot of oxiclean into the line/leach field, and it would be useful to be able to do that again...there's no filter on the outlet side to screen effluent going into the leach field.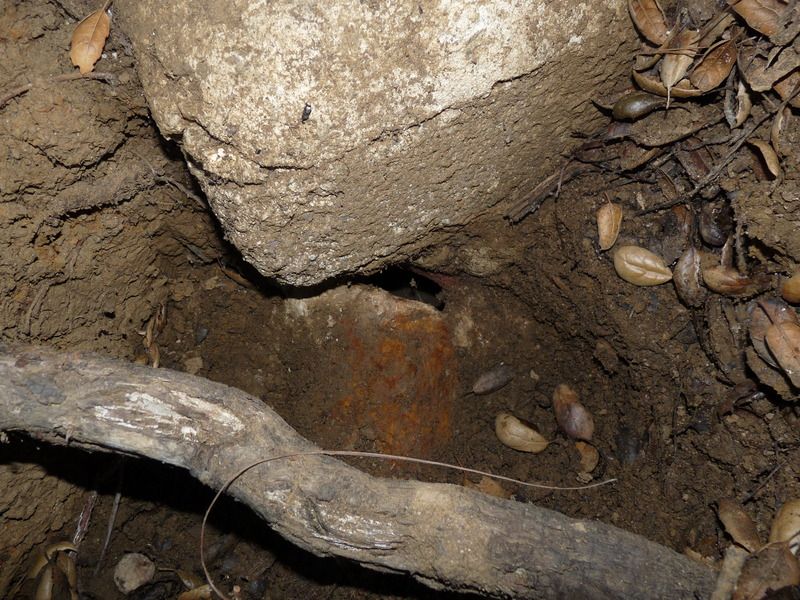 The septic is old, the house is old (even had an outhouse when I acquired it), and I'm old. This is a down and dirty repair. I considered replacing the cast iron pipe to the tank, but as I recall the plastic pipe wouldn't fit into the opening. The concrete saddle is working perfectly, at least until the next earthquake.
Posting Rules
You may not post new threads
You may not post replies
You may not post attachments
You may not edit your posts
---
HTML code is Off
---