Natural flowing Artesian well - run off piping clogged
12-26-18, 04:51 PM
Natural flowing Artesian well - run off piping clogged
---
Ive been trying to find a way to unclog the piping but am not having any luck. We have an artesian well that has a continuous flow that continues past our house when not in use like a run off so the water never stops flowing. Well we just got this house a few weeks ago and I thought this would be an easy fix but I canít get it unclogged. I tried running a snake down the pipe but I canít seem to find a clog or blockage.

Are there any known ways to clear a clog?

the pipe Iím working with appears to be 4Ē cast iron or some other black metal piping and if it runs to the river on the property, it would be approximately 150ft but I havenít found where it is supposed to drain out yet because it is completely clogged and no water making it through.

Any ideas greatly appreciated!

Thanks,

Adam
Sponsored Links
12-26-18, 04:55 PM
Join Date: Oct 2012
Location: Northern NJ - USA
Posts: 59,134
You may need a plumber with a snake/camera.
How far were you able to snake it ?
12-26-18, 05:33 PM
I made it about 50í . I hit a few snags but it felt like it made it through until about the last 5-10ft then the snake feels like there is tension not letting it spin freely. I think thatís where it is but I spent 30-45minutes at that spot going in and out spinning it with no luck.
12-27-18, 12:33 AM
pipe Iím working with appears to be 4Ē cast iron or some other black metal piping
Pipe may have corroded and busted open, might have to dig up the spot where you got too and see what is going on!
12-27-18, 10:11 AM
Thatís what Iím thinking, just running new pvc down to the river. If there is an easy way to clear the clog or fix the broken pipe whatever it might be, Iíd rather do that (Iím not a fan of pvc), but if not it will probably be more time consuming to find and fix it rather than just run new pvc.
12-27-18, 02:33 PM
Below the frost line is the best bet but flowing water is very resistant to freezing.
No need to go that deep, as long as the pitch is good.
All my gutter drains, sump pump and GEO thermal lines are at best 18" deep but they have very good pitch and have never frozen even during the arctic vortex in 2012/13 when we saw many nights in the -10 to -20F range for weeks and the ground was frozen solid!
12-28-18, 08:55 AM
Found the culprit! That was a nice work out. Itís approximately 3 ft down, I had to dig up about a 6-7ft stretch until I found this. With the water still running in the drain I started digging and noticed water coming out along the pipe so I remove the pipe with water flowing from the drain and kept digging downstream along the drain pipe until I found this. Hopefully thereís no other issues downstream.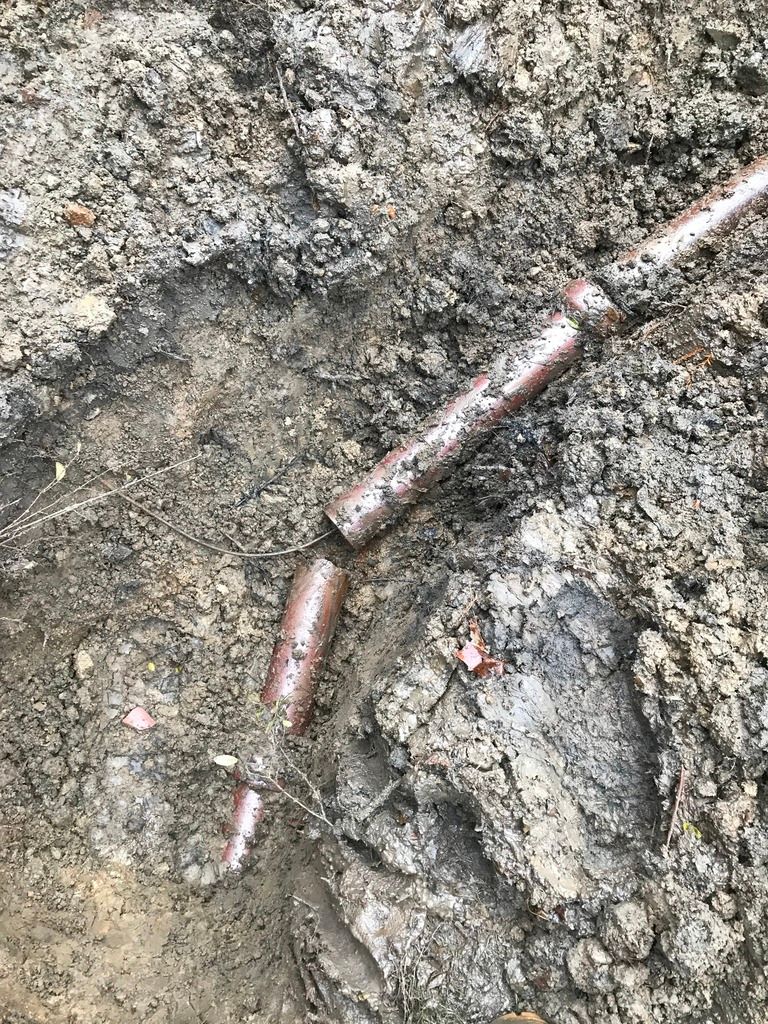 12-28-18, 09:22 AM
It is tempting to just run all new pvc now that I know itís terra cotta. The pipe coming up out of the ground was cast iron then they ran that to terra cotta. It looks like they replaced it before because I kept digging up old chunks of terracotta as I was digging along the pipe. Thanks for your help!
12-28-18, 12:10 PM
Join Date: Oct 2012
Location: Northern NJ - USA
Posts: 59,134
You need to look at it this way...... this is not just a drain line like you'd have from rainwater runoff. This drain line will be handling water flow forever. Spend the time now to fix it right because it will only get worse and have to be cleared again.
Posting Rules
You may not post new threads
You may not post replies
You may not post attachments
You may not edit your posts
---
HTML code is Off
---