Broken/missing outlet baffle on Septic
11-17-19, 07:41 AM
Broken/missing outlet baffle on Septic
---
While getting the septic tank pumped out, we discovered the outlet baffle had broken off and dropped to the bottom of the tank. I'm not currently having any issues with drainage, but obviously, I need to get this fixed. The baffle is broken off nearly flush with the inside of the tank at the outlet pipe.
The pump guy had a baffle kit with him, but the 4" PVC adapter that he was going to insert into the slightly larger terracotta outlet pipe was too small to twist into the outlet pipe and hold securely. My question is, if I were to first cover the 4" PVC adapter with butyl tape before placing it in the slightly larger terracotta outlet pipe, would the butyl tape be enough to hold the outlet baffle unit in place? I'm trying to avoid digging up and replacing the terracotta outlet pipe from the septic tank to the first distribution box.
---
Last edited by PJmax; 11-17-19 at

08:39 AM

. Reason: resized/enhanced pictures
11-17-19, 10:08 AM
Join Date: Dec 2010
Location: Galivants Ferry SC USA
Posts: 18,168
you make a tee like this
Use a fernco to terracotta 4" to 3" most likely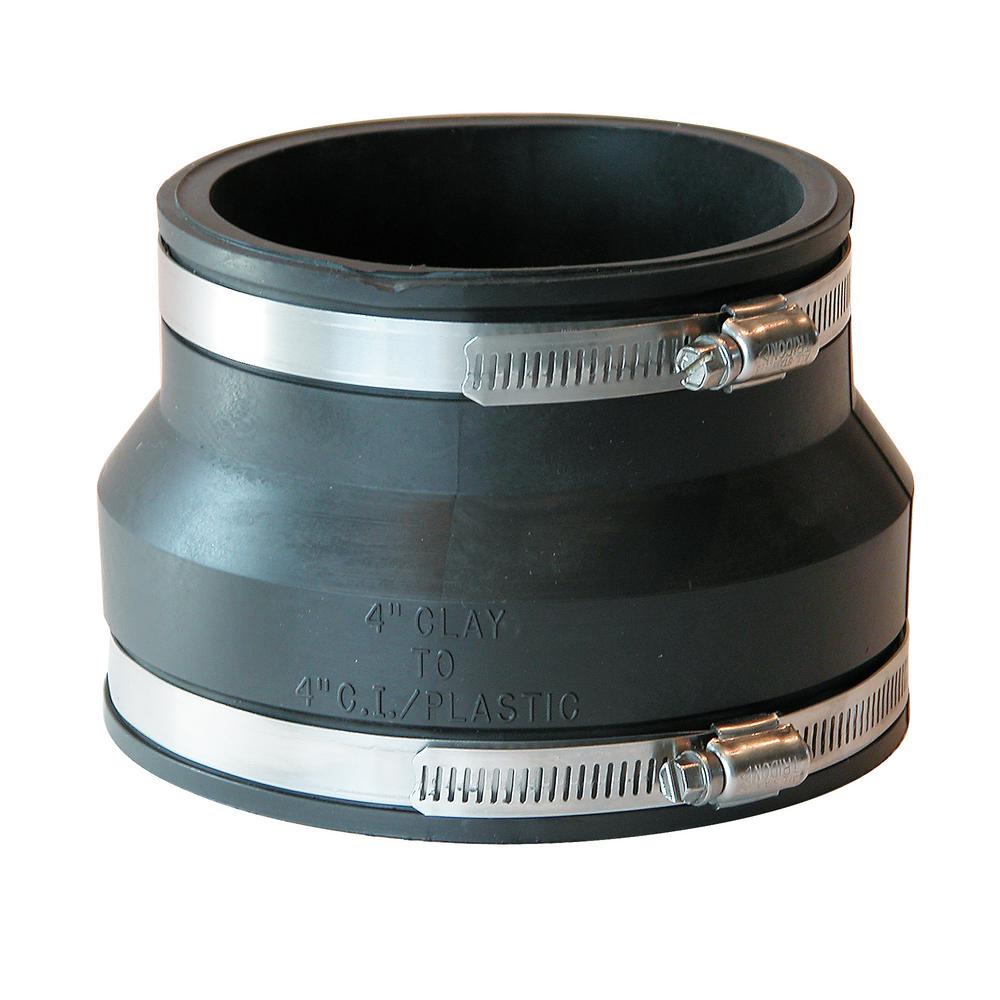 11-17-19, 01:40 PM
Join Date: Mar 2003
Location: NC, USA
Posts: 28,501
I would install a filter.
11-20-19, 10:26 AM
Join Date: Mar 2003
Location: NC, USA
Posts: 28,501
If replacing the pipe you'll first need to have the tank pumped. Then remove the terra cotta passing though the wall of the tank. There is no reason to keep it. Thoroughly clean the hole in the tank either with a garden hose & brush or a pressure washer. Insert your PVC into the tank and use mortar or hydraulic cement to seal around the new pipe.

Since you are installing a new exit pipe you can leave it a bit longer so it's more easily accessible. Then you can glue on the filter. You don't need to use the tapered fitting like you would it installing a filter into old/existing pipe.
11-17-19, 08:18 AM
Join Date: Sep 2016
Location: USA MI
Posts: 9,935
It tough providing advice on a situation that you cant see first hand.

Is it possible, maybe, but Id be asking if there wasn't a correct part available before trying to jury rig something that clearly was not intended to work!
11-19-19, 04:50 AM
Thanks for the replies! :-) Yes, I think that's what I'm going to have to do- use one of those boots and install a filter. I didn't realize the Fernco was made specifically for clay to plastic- good to know. Now all I need to do is figure out the beer/pizza to labor conversion ratio on septic repair and which friends will help me fix this pipe :-)
11-19-19, 05:30 AM
Join Date: Mar 2003
Location: NC, USA
Posts: 28,501
I've used the fitting I pictured with terra cotta, cast iron and PVC. It's tapered so all you do is tap/shove it into the outlet pipe. I don't see that you have enough terra cotta protruding into the septic tank to be able to use a rubber boot.
11-20-19, 09:08 AM
I wasn't going to use it inside the tank. I was going to dig up the terracotta pipe after it leaves the tank, cut it, and attach a PVC pipe with the boot that will extend through the broken section of the terracotta pipe inside the tank, then attach the baffle to that. I'll use butyl tape to fill in any gap between the PVC pipe and the broken ring of terracotta that's visible inside the tank.