10 Cost Effective DIY Projects
When you have time on your hands, DIY home projects are one of the best investments for your time. These DIY projects don't have to be expensive either, you can find plenty of projects that are low cost ($100 or under) for those who don't have a large budget. Here are a couple of cost-effective DIY projects to help pass time and give a better overall look to your home.
1. Repair Concrete In Your Driveway
Cost: $10-$20
Sometimes cracks appear in your driveway from all the usage. In order to make sure that you're car doesn't get damaged, and give your driveway an aesthetic look repairing cracks in it is a good way to do it. All you need is a concrete patch to fill up and seal any concrete cracks in the driveway. Mike Boenisch from Sakrete has these helpful suggestions: "As a tip or reminder any cementitious patch will only be as sound as the substrate that it is being applied over. Surface preparation of the host substrate is critical to assure a good bond and longevity of the newly applied patch. The removal of any loose and soft materials followed by a good cleaning of dust, dirt, or foreign materials should be done before the patch is applied."
2. Wash Your Siding
Cost: $2-$3 (Water Usage)
Washing your siding has many benefits ranging from removing grime and mildew preventing costly home repairs due to it and giving your home an overall better look increasing it's value. Andy Lindus, COO of LindusConstruction mentions, "An easy way to enhance your curb appeal and breathe new life into your home's exterior is through washing your siding. A hose or power washer on a low setting can be used to clear away organic debris that has built up over time. Take care to not use an aggressive upward spray which can trap water behind the siding, leading to mold, mildew, and dry rot."
3. Polish Your Wooden Flooring
Cost: $30 - $60
Wooden floors will start to look old and worn down due to build up over the years of people walking on them and bringing in debris from the outside. By using a polisher specifically made for wooden floors you can make it look shiny and new again. Your local hardware stores like HomeDepot or Lowe's will often rent wooden floor polishers by the hour. On average to keep the wood floor looking fresh, polish it every 3-5 months.
4. Trim Out Your Window
Cost: $30
Adding window trim gives your windows a more aesthetic look and style, plus it also helps cover up any gaps that leak cold air to the outside. There are multiple styles you can from but most people just match their style to their home architecture. There are also several different colors and sizes to give you a wide variety of options on how you want your window interior to look.
5. Paint Your Front Door
Cost: $25-40
The easiest way to change how your home looks, is by painting one of the first things people see when they walk up to it, the front door. Door paint will often chip after some time, and front doors that are worn out are easy to notice. Be sure to carefully select the day you choose to paint it so that you can leave it to dry without worrying about rain.
6. Replace Hardware In The Bathroom
Cost: $50-$70
Replacing the hardware in your bathroom is one easy way to give it a refreshing new look. Craig Russell, the founder of The English Contractor, suggests, "Sometimes a bathroom or a kitchen is still in great shape, but just needs a little bit of a facelift. Typically, all anyone needs is a screwdriver to pull both the existing door pulls and handles to install the new ones. Of course, to avoid having to drill new holes in your cabinets, you'll want to make sure that the new hardware is about the same size."
7. Replace Your Toilet Flapper
Cost: 8$
One of the most annoying things about toilets is hearing water run continuously without stopping. The sound is annoying to hear and your water bill increases unnecessarily due to it. One of the easiest ways to fix this is by replacing the toilet flapper.
Russell adds, "Replacing the toilet flapper is easy and inexpensive and might make sense to attempt before calling a plumber. Just remove the top of the toilet tank and take out the existing flapper by its sides. Take the flapper to the hardware store to find a match and then just slide it into place. It may just do the trick and you will have saved some cash."
8. Declutter Your Home
Cost: 0$
Decluttering a space is probably one of the easiest and free DIY projects that can make any space look better. "Sometimes just cleaning out a room, down to bare walls and floors, is all a homeowner needs to really see the space's beauty," Russell says. It can also help you figure out other ways you can make it look good. "When getting ready for a remodel, ruthlessly decluttering can really be helpful in making some decisions about the space."
9. Update Your Home Hardware
Cost: $10-$100
The bathroom isn't the only place where upgrading the hardware might make it look newer. Lindus adds "Dated porch lights, mailboxes, address numbers, door handles, and drawer pulls can easily date a home. Many of these items can be easily replaced in an afternoon. The end result is a more welcoming, put together space."
10. Cabinet Refinishing & Painting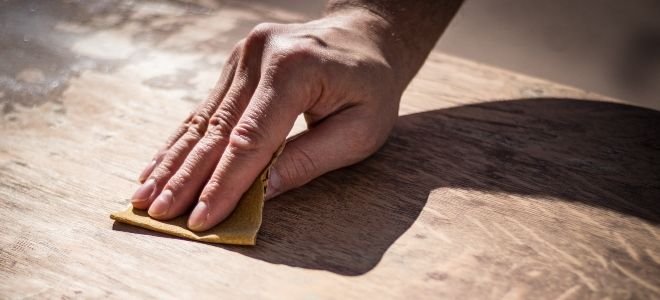 Cost: $50-$100
One way to give your kitchen an updated visual appearance is by updating the cabinets. Richard from JWE Remodeling & Roofing suggests, "If your cabinets are faded, old stained wood you can really update your kitchen by transforming them with a painted finish. You'll want to start by taking off all the doors and hardware and sanding down all visible surface areas with fine-grit sandpaper.
Then apply two coats of heavy shellac or oil-based stain-blocking primer. Lightly sand the primer and apply two to three coats of an oil-based cabinet paint or a waterborne-alkyd slow-drying paint that will "self-level", meaning it will provide a more smooth and even finish than regular water-based interior paints."
Mark Soto is a freelance writer with a professional knowledge of home improvement projects from years of working with roofers, landscapers, painters, and other contractors. He comes from a family of DIYers and lives in Milwaukee, Wisconsin.