10 Hacks for Customizing Furniture
Have a piece of furniture collecting dust that needs new life breathed into it? Love those end tables but are tired of looking at them? The new rug isn't going to match that old credenza? We've all had one of these scenarios, and here are some ways to keep those pieces but give them a fresh new look.
You might even be surprised at how the furniture piece feels brand new and inspires you to tackle more of what you already own. As a designer, I'm often asked to integrate a sentimental piece that might be an heirloom into a client's new decoration.
With a lot of experience in reimagining grandma's treasures, I'm going to share some tips on going from granny to snazzy. Don't forget those before pics so you can share the afters on the social media platform of your choice.
New Handles or Knobs
Photo:
Anaïs Rodgers
This is one of the easiest things that anyone can do to change up a piece of furniture's look in only a few minutes and a screwdriver. First thing you'll want to do if you have a handle with two screws to measure the distance between them so you can avoid drilling new holes and filling the old ones.
You'll want to use the existing holes for a fast, finished look. Now for the fun part; shopping! Many companies offer handles in several sizes and knobs as well as pulls. It's ok to mix and match knobs and pulls. Consider putting some knobs on the upper cabinet doors and drawer pulls on the lowers in a kitchen.
If you're someone who likes to visit the flea markets or garage sales and find one-of-a-kind handles, consider mixing them on something smaller like a dresser. Using the same material, such as brass, can give it a fun, cohesive look. Play with scale here. I love a large handle on a smaller piece.
Give it a New Set of Legs
Furniture legs are sold in all kinds of shapes, sizes, colors, and materials and can change not only the look of a piece but also its function. I once found an old wall hanging cabinet with great shiplap double doors and added 25-inch high hairpin legs in bright blue to the bottom, and boom, instant towel storage to put in the bathroom.
Like the legs on your dining table but want an update to compliment those new chairs? Paint 'em! Pick a fun color that's either in the dining chair fabric or the art in the room and get busy. You'll want to use a semi or high gloss paint to make the legs scuff-proof and easier to wipe down and keep clean.
A wall-hanging TV unit can be put on legs instead if you don't want to drill into your walls. Keep them low for a modern look.
Painted Door Fronts
Stripes, dots, scallops, chevrons, diamonds, pick a shape and a color you love for transformational door fronts. Go bold on a smaller piece like a nightstand and consider a more subtle look for somewhere like your kitchen, as larger areas give you a real impact with less.
You may want to add a drop of color with pinstripe to the door's existing molding details. The first thing to determine is what material your door fronts are made of. Woods are the easiest to prep and paint on, but there are all kinds of ways to make paint stick to just about any surface.
Your local paint store can share tips on products that will best help you prep the surface. Almost all surfaces will require a light sand to receive the paint. Choose a paint finish that will hold up to hand traffic and can easily be wiped down.
Stripes are a personal favorite, and I often do them in the same color but change the paint finish from glossy to matte for high impact fun.
Wallpaper, Wallpaper, Wallpaper!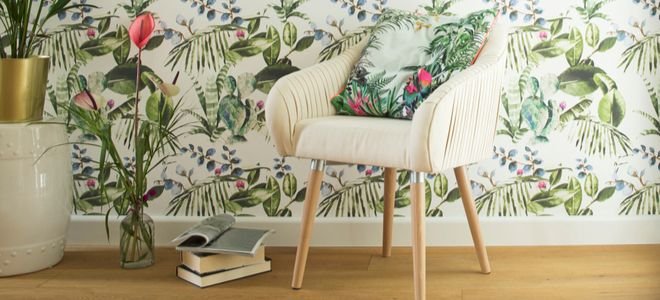 I love wallpaper. Almost everyone does, but it can take real courage to commit to a room full of wallpaper. I'd like to encourage you to use wallpaper on all the walls if you're going to use it at all.
Forget the accent wall and commit, but if this gives you a rash to consider a room of wallpaper, then let's start with baby steps and tackle a smaller space. One of the simplest places you can put wallpaper is on the inside of a cabinet.
If you have a small bar cabinet, it will delight your guests to open those doors and be greeted by a sassy wallpaper. This is also an affordable endeavor as you can find leftover rolls that are on sale at a local home store that carries paper.
You can also call a store that sells only paper and get them to send you some pics of what's in the sale bin. If you're nervous about using paper glue or want the option of taking this out easily, you could cut out the size you need and use double-sided tape to adhere the paper to the back of the cabinet.
If there are shelves that are adjustable you should take those out first so you can use one full piece of paper. Make sure to use an area of the paper that has an interesting part of the pattern. Don't leave out that butterfly or bird.
I have been papering inside kitchen cabinets for as long as I've been designing, and while that might just be an audience of one enjoying that splash of color when you reach for a plate, you're worth it!
Contact Paper
Photo:
Anaïs Rodgers
Often considered the lesser product to wallpaper and relegated to inside a drawer or on a shelf, contact paper has made some real strides in its offerings. It's easy to apply with its own adhesive already on the product. If you've never used it, it's inexpensive enough to do a few test runs to get your application technique down.
You'll want to make sure the surface you're adhering to is nice and smooth and dried completely if you've just cleaned it. The trick here is to apply slowly and avoid getting any bubbles under the paper.
Use a plastic putty blade to smooth out the paper while applying, and don't worry if you get a bubble, you can use a stick pin to prick it and smooth it out. Terrazzo, chic caning, and marble are just a few of the seemingly endless options.
Consider an entry table top in terrazzo to give the piece a stone look. Don't just do the shelf tops of your pantry, do the walls behind them too!
Caning
Photo:
Anaïs Rodgers
Also known as rattan, caning on furniture is hot hot hot in design right now, and it's relatively easy to get the look. Take a simple shaker cabinet door with an inset frame, adhere a piece of caning, and voila, you have yourself a high-end door. If you have a door that has a cutout already that has glass or an old metal screen, even better.
You can use a good staple gun to adhere to the inside of the door or drawer. I recommend an electric stapler to save your arm and ensure a full grab of the staple.
Even though it's fastened on the inside of the door, you still want to place your staples in equal increments to keep it look neat and keep the caning from any sagging in the future. A light blonde caning is gorgeous next to white, soft grays, navy, or even black.
Interior Cabinet Lighting
Please don't underestimate the ability of a humble light bulb to make an impact on your existing cabinet or to highlight your new handiwork. That new wallpaper you just installed; light it up. Rope lights, under cabinets, puck lights, sconces, or even a tiny lamp really change your interaction inside a cabinet.
They even make drawer lights that pop on when you open the drawer. Swoon! You'll need an outlet nearby, so consider this before drilling a hole in the back of a piece of furniture to get a wire through. A favorite designer trick is small lamps that fit nicely in a bookcase and illuminate a leaned art piece or favorite family photo.
If you add glass shelves to a pie cabinet, then all the items will be beautifully lit inside. Keep it neat. We don't want to call attention to a mess.
No-Sew Upholstery
Like wallpaper, people are really intimidated by upholstery. But if you've got the skills to do any of these projects here, you can do an upholstered wall or headboard. I promise. That electric stapler you used earlier is going to be your best friend on this hack. My favorite way to change a bedroom is to add an upholstered headboard.
Working with a square or rectangle piece of MDF will be the easiest for a first timer. Measure the bed you have and add a couple inches to either side of that for a more lux look.
For example, if you have a queen-size bed, which is 60 inches wide, you can make the headboard 66 inches wide, and your nightstand can sit in front of the extra inches. Most home improvement stores will have someone who can cut your MDF or plywood to your exact specifications if you don't have power tools at home.
Get a piece of foam that you'll glue to the surface of the MDF. Choose the thickness you prefer. I suggest at least an inch. It's a headboard you'll be leaning on to read or watch TV, so make it comfy. Let the glue dry before you proceed to the batting phase.
Batting, AKA Dacron, is used in upholstery to reduce the friction foam has and helps with the longevity of the fabric. You'll want to use a thick fabric or upholstery fabric for this project as you'll be pulling and stapling, and you don't want it to tear. Snugly wrap the batting around all four sides and staple at the back.
Lay your fabric down on the clean floor or surface you're working on and begin by putting one staple at the top center, next at the bottom center and do the same to the right and left.
You can then turn it over to make sure the pattern is straight before you finish the rest of the stapling which you'll continue to do in the top, bottom, side-to-side technique to ensure equal tension on the fabric all the way around. I use a french-cleat system to hang on the wall.
Make sure the screws are short enough that they won't poke through. I've done walls with just the batting and it's sensational.
Cut Outs
Peek-a-boo! If you have a steady hand or a friend with a jigsaw, this is a good time to give them a call. Decide on a shape that you'd like to cut out on your cabinet door front. Get your sharpened pencil and trace the shape you want to cut out of the door of the cabinet.
Yes, you're going to have the best results if you take the doors off the hinges and work on a stable surface. A really simple cut-out is a circle since they make drill bits in several size circles. You could do all the same size in a grid pattern or several sizes in a random pattern. Think bubbles.
Use painter's tape to cover the area you'll be cutting as it helps make a clean cut and cut back on splintering. Choose a really poppy color to paint the interior and a softer color outside to highlight the interior color. You could also add a colored piece of thin plexiglass or caning behind the cutouts on the backside of the door.
Add an interior light, stand back, and pat yourself on the back.
Moldings or Wooden Craft Shapes
Flat front credenza doors got you down? Give it a second chance with a topical addition. For a super modern update, add semi-round dowels vertically to the surface of your doors. Take the time to do the math on the spacing for a high-end result. I like a ¾-inch wide semi-circle with a number two pencil spacing between each dowel.
Pre-cut the desired amount beforehand for quick assembly. Lay the first piece down with a few beads of wood glue along the back and tack down with a finishing nail. This will be easier with a power tool. You don't want glue-ooze so go light here.
Once you've nailed all the dowels, you can fill the nail holes with wood putty while the glue dries, and add a caulk bead where the dowel meets the door on either side. This will make the addition look seamless once you paint it all the same color. A favorite for a pre-cut craft shape is monstera leaves.
The shape is bold and looks great applied to a door front in a different color or even as a monochromatic effect. Lay the shapes out on the door before fastening. Feel free to only use a portion of the shape if there's an overhang and cut the shape down to fit. If doing an opposing color(s) paint the shapes first.
If it's all going to be the same color, you can paint after you added the shape. Adhere the shape with glue and a couple of finishing nails if it's used a lot. Wood filler for the holes and dot the fill with paint color.
Now call some friends to come over and enjoy the fruits of your labor. Share your pics and get some likes on the Gram.
Lead Photo:
Anaïs Rodgers