10-minute Holiday Decorating Ideas
To ensure our content is always up-to-date with current information, best practices, and professional advice, articles are routinely reviewed by industry experts with years of hands-on experience.

Reviewed by

on Mar 22, 2023
1-3 hours

•

Beginner

•

25-50
Christmas ornaments
Ribbon
Bowls, dishes, baskets, or platters
Candles
Christmas lights
Mirrors
Wrapping paper
Tinsel
Glitter
Empty boxes
Glass containers
Pine cones
Evergreen twigs
Holiday cards
Clothespins or binder clips
Christmas ornaments
Ribbon
Bowls, dishes, baskets, or platters
Candles
Christmas lights
Mirrors
Wrapping paper
Tinsel
Glitter
Empty boxes
Glass containers
Pine cones
Evergreen twigs
Holiday cards
Clothespins or binder clips
With the holidays approaching at super speed, decorations are sometimes the last thing on your to-do list. During this time of year. there are many gatherings and parties, with friends and family dropping by at any time. Create a festive atmosphere in your home this holiday season with these quick and easy decorating ideas that can be done in ten minutes or less.
Give Ornaments a New Place to Hang Out
Christmas ornaments aren't just for decorating trees—they can be hung from anywhere to create shiny, brightly colored displays. Hang a few at different heights from chandeliers, light fixtures, and hooks using ribbon.
Place ornaments in bowls, dishes, and baskets or on platters to create a simple but elegant holiday display. If you live by the motto that more is more, place a candle, some Christmas lights, bows, or mirrors in the display to liven it up. You can even place some ornaments near candles or lights to reflect the glow (and the holiday spirit).
Brighten Up Your Space With a Strand of Lights
A fail-safe holiday decoration, Christmas lights will bring the holiday spirit to any room. Hang a few strands in various places around the house such as around mirrors, doorways, or large pictures.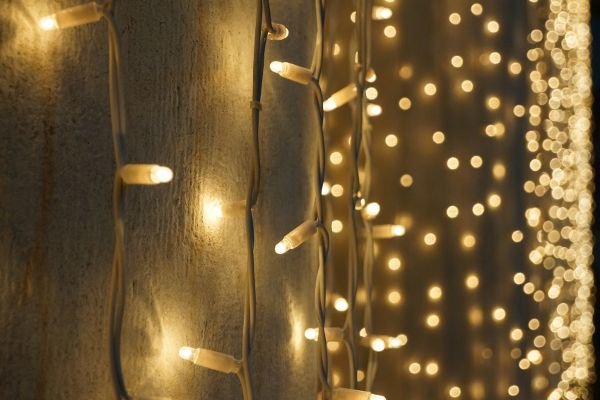 Drape a string of lights across tables or mantelpieces and accent them with a few ornament displays. You can also wrap the lights around staircases, pillars, or curtain rods.
Think Outside the (Gift) Box With Wrapping Paper
Use holiday wrapping paper, either new or some you have saved from past years, to create decorative Christmas trees for display on the mantle or on a side table. Cut the paper into squares of various sizes and wrap them into a cone shape, taping the edges discreetly.
These trees can be decorated with ribbon, glitter, and tinsel for that extra holiday touch. Display a group of different sizes and patterns for the best impact.
Cover empty boxes with wrapping paper and decorate them with ribbon to look like presents. These gift boxes can be clustered together on mantelpieces, dining tables, or in any area that needs a little holiday spirit. You can even display them under the tree for that designer holiday touch without risking damage to your real gifts.
Put Unused Glass Containers to Work
Put festive, decorative items inside glass vases and jars for a sophisticated holiday display. Ornaments, ribbon, tinsel, or a combination of any of these can be used. Layer them for a dimensional display, or use multiples of only one item for a striking impact.
These look great as centerpieces on the dining table, but try placing one in a bathroom or a hallway to spread the holiday spirit throughout the whole house.
For a more rustic look, place pines cones and interesting evergreen twigs and branches inside larger glass containers with a little ribbon or tinsel for extra sparkle.
Make a Garland With Those Holiday Cards
Use holiday cards from previous years as decoration by hanging them up around the house. Use string, twine, or ribbon to drape them across a bare wall, banister, or even across an entire room from wall to wall. Clip the cards onto the string using clothespins or decorative binder clips, using festive colors for an extra touch.
Let the Dollar Store Do the Work
If you're out running holiday errands, take a quick trip to your local dollar store, where everything is as inexpensive as can be. These stores tend to have a wide variety of holiday decorations such as door hangings, window clings, tinsel, ribbon, and more that don't require much work to display.
If you're looking to decorate in a more classic style, pick up some candle holders and taper candles in colors like white, gold, silver, green, or red. These can brighten up a room, even if you never plan to light them.
Check the basket and ribbon selection; brown rustic baskets decorated with festive ribbons can serve a dual purpose by both decorating and storing items. Use them to hold treats, such as nuts, seasonal fruit, or hard candy, on the kitchen counter or coffee table. Or, fill the baskets with ornaments, pine cones, and festive branches instead.
Amy Jensen has been a freelance writer for over 4 years, on a wide variety of topics. She has always been a do-it-yourself kinda girl, learning how to do things through her own creativity and research. In her spare time, she likes to garden, cook, clean, and take on projects around the house. From decorating and vintage fashion to nutrition and travel, she enjoys writing about her many interests.

H.R. Helm is an accomplished DIY craftsman. He has been DIY since childhood and is now a septuagenarian. He is experienced in wood and metal construction, having designed and built several houses and metal buildings. He built every permanent building on his current homestead and did all the plumbing and electrical work. He has several years experience as a professional cabinet builder, and he is an accomplished auto repairman, having operated an auto repair business for many years. He currently has a home shop where he sharpens and rebuilds saws, repairs lawn mowers, mobility scooters, hydraulic jacks, and anything else that comes along. He also builds custom tools for metal working. Invention prototypes are another of his many accomplishments. He owned and operated a manufacturing business building Compact Utility Vehicles for homeowner use. H.R. enjoys making jams and jellies during fruit season along with cooking meals. He is committed to outdoor cooking in a Bar-B-Q pit he welded together several years ago. He maintains fruit and nut trees along with helping his wife with a vegetable garden. He farmed commercial garden produce for several years. It helps to have over 50 years of farming and ranching experience. Employment/Education Highlights ASE Certified Master Auto Technician Certified Welder Cross country truck driver -- over dimensional freight Design Engineer/Project Manager for injection molded plastic company Bus Driver/Substitute Teacher Inventor with two patents (weight training – anti-rollback for manual wheelchair) BS in Industrial Technology