10 Scrap Wood Craft Projects
Whenever you complete a DIY project involving wood, you're likely to end up with leftover scraps you aren't sure what to do with. Luckily, there are plenty of fun and useful projects that require just a little wood. Those scraps headed for the trash or the fire might be perfect pieces for these projects!
1. Wooden Bathtub Tray
Upgrade your bathroom to a home spa! As long as you have a piece long enough to extend over the width of your bathtub, you're in business. Sand and stain a scrap that can rest on each end of your bathtub and you'll have the perfect caddy to use for candles or a book. You can even add handles if you want to make this piece extra fancy.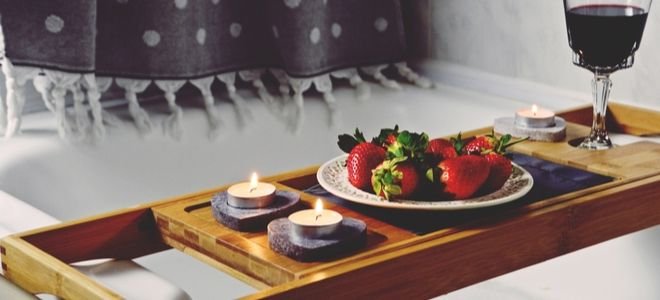 2. Photoblocks
Scrap wood can be the perfect backing to display photos in a creative way around your home. Cut square or rectangular blocks to fit the pictures you want to mount, and sand them smooth. Then, use your favorite adhesive to adhere photos to the blocks. These standing frames will fit neatly almost anywhere in your home.
3. Rolling Caddy
A rolling caddy can be a useful item to have for many reasons. It can house items such as plants that are frequently moved from spot to spot, or hampers that need to be mobile to go from bedrooms to the laundry room. Make one of these by placing strips of scrap wood parallel to each other. On each end, layer a strip of wood perpendicular to the other pieces. Then, screw four wheels onto the bottom of the wood. You'll have a fully operable rolling caddy in no time.
4. Drawer Dividers
Scrap wood is the perfect material to use to make drawer dividers to help you stay organized. Simply measure pieces that will divide drawers length and width wise and fit them into the drawer of your choosing. They'll stop all your gear from jumbling together, making it easier to access when you need it.
5. Doorstop
Make a clever, useful, and decorative doorstop by sanding, staining and/or painting a small block. To take this project to the next level, add a leather handle.
6. Hanging Chalkboard
Take a flat piece of scrap wood and make it into a hanging chalkboard—useful as either decor or a memo board. Sand the piece of wood and paint it with chalkboard paint. Adhere a ribbon to the top so that you can hang the board wherever you please.
7. Tablet Stand
A tablet stand is a great way to facilitate watching videos while you sip some coffee. Take a flat rectangle piece of scrap wood and create a dip towards the front of the wood wide enough to hold your tablet, allowing it to stand up at a slight angle. Sand and stain the stand as desired.
8. Wine Bottle Holder
Display your bottles of vino in style! Take a solid block of wood in the shape of a rectangle. Create holes in the top of the rectangle that are large enough to house the neck of a bottle of wine, allowing an upside down bottle to be stored. Create as many holes as the size of the wood will accommodate. Sand and paint or stain this piece of wood as desired to match your preferred aesthetic. If you want to go for something more elegant, you can carve an angular holder that will support wine bottles inserted from the side, using their own weight as balance.
9. Ironing Board Rack
Use scrap wood to create an ironing board wrap to help you organize your laundry room. Attach two rectangle pieces of scrap wood together so that one ways flat against the wall and the other is placed on top of that one going the opposite way, creating a shelf atop it. Add metal pegs on the piece that lays parallel to the wall so that they can hold up an ironing board. Place your iron on the shelf once this handy creation is mounted onto the wall.
10. Garden Walkway
Long pieces of scrap wood—even if they're varying widths and lengths—can be used to create a rustic and beautiful garden walkway. Sand and stain these boards and then dig a pathway to lay the boards down amidst the plants and vegetation. It will be an impactful addition to your yard. If you're looking for something simpler, or you're working with smaller pieces, you can always break them into wood chips instead.
Sara LeDuc is a freelance writer for DoItYourself.com. She also writes for a handful of other websites and platforms. She has been growing her skills and client base for the past two years, but has been passionate about writing for as long as she can remember. She has worked with Internet Brands for over three years and enjoys learning about — and completing — DIY projects and keeping up with the latest and greatest home improvement trends. Besides her work for DoItYourself.com, Sara also has worked with retail, human resources, fitness, commercial, and medical clients to help them increase client engagement, grow their following, and drive traction to their blogs and websites. Sara has furthered her skills and reach by working as an editor with a media company. This has helped her diversify her abilities as a writer and work with additional writers, editors, and a wider range of clients. Sara enjoys continuously learning and building her skills in the field by working on SEO campaigns and outreach programs to increase the visibility of her freelance clients. She loves being creative, pitching article and post ideas to clients, learning more about the freelance industry, and completing DIY projects.