11 Tiny Homes Under $50K You Can Buy Right Now
To ensure our content is always up-to-date with current information, best practices, and professional advice, articles are routinely reviewed by industry experts with years of hands-on experience.

Reviewed by

on Jun 15, 2023
The tiny homes movement is still going strong and continues to lure people burnt out on renting. Affordable options are on the table for those willing to cull their belongings and embark on a tiny journey. But they're not just for people looking to abandon traditional living spaces. These kits can be used as additional living spaces on your property, a home office, a "you" place when the rest of the house is too much, etc. Check out these offerings that offer style and function for under $50,000.
Escape Vista
At only 175 square feet, the Escape Vista is about as tiny as you can get, but it's $49,300 price tag for the basic model makes it one of the more expensive kits per square foot. It's customizable, and incorporates exceptional craftmanship with space saving amenities like pop up tv and fold down butch block table.
Thankfully, there's still space for a full sized refrigerator and full height storage space. (Some things that simply can't be compromised!) The kit comes with a 6000 pound trailer for when you're ready to pull up stakes and head out on your next escape.
Prefab Arched Cabins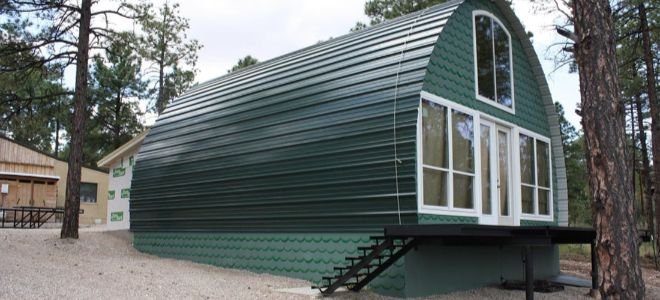 Prefab designs have come a long way from the associated stigma of trailer parks, poor design, and poverty. If you haven't broken away from this outdated image, prepare to be charmed by these prefab arched cabins. These customizable kits are amazingly sturdy, with the ability to stand up to winds gusting up to 150 miles-per-hour! They are also one of the most budget friendly of our list, starting at $1000, and can be shipped across the country in the 48 contiguous states.
Cube by NOMAD Micro Homes
These ultra-compact homes measure 13.5' x 13.5' x 13.5,' with large windows for a bright, airy interior. The insulated steel panels are easy to assemble, resistant to termites, and have been shown to exceed industry standards in fire tests. Cubes can be connected to create adjoining spaces, and disassembled, stacked, and moved if necessary. Priced at $38,800 as of this writing, Cubes sway toward the higher end of the budget, but their convenience and quality are worth it.
84 Lumber
84 Lumber offers a range of DIY, semi-DIY, or finished homes at a wide range of prices. On the low end, their 150 to 200 square foot homes can be customized and purchased for $6,884 for the trailer and plans. If you don't have the time to for DIYing, the manufacturer can set you up with a fully built option. Just be willing to wait up to ten weeks for it to be built and shipped. And be prepared to pay $49,884 and up.
Liberation Tiny Homes
This company has several options to choose from. The Rumspringa jumps in at $45,000 with style offerings that lean either modern or more traditional. And just because it's tiny doesn't mean you have to sacrifice on deluxe features like soaking tubs or stairs with built-in storage. Eco-warriors might also appreciate the composting or incinerating toilet options.
Rocky Mountain Tiny Houses
Inspired by the natural world, founder Greg Parham wanted to encourage others to enjoy the simple pleasures of the outdoors. This beautiful collection of tiny homes is built with quality and aesthetics in mind. Often using reclaimed materials. Parham creates custom builds, for which there is a waiting list. You can also find houses on his website (as of this writing, there are none available,) but when they are, prices often come in below market value.
Allwood Outlet
This outlet offers a 273-square-foot kit home starting at $10,895. Just because it's tiny doesn't mean it can't be grand, and they mean it with large windows and a wraparound porch. The Arlanda XXL is minimalist design at its best, and we're looking at this one with heart eyes emojis. The higher priced $18,800 Allwood Getaway Cabin Kit from Lillevilla measures 292 square feet and is an easy DIY for two adults. The kit requires minimal tools and can be cranked out in two to three days.
Toronto Cabin
Listed as of this writing for $16,000 on Tiny House Marketplace, this custom designed tiny cabin made was by the Redriverdesigns team. The 60" window is a main focal point in this cabin, making it a perfect rental for a cottage or large properties. Made by experienced carpenters, it comes with a firewood stove, deck, siding, bed and composting toilet. The bathroom can be upgraded upon request, solar and electrical can also be added. Custom builds available, please contact for more information. Offers welcome.
DublDom
If you haven't gotten on board the prefab trend, we submit for your approval the DublDom. Prefab design usually gives you a nice price reduction, in this case, a starting point of $14,000 for the 26-square-meter option. Homes come with timber and double-glazed windows. And the best part? You don't have to block off the whole weekend since the company boasts easy assembly that can be completed in just one day!
Green Magic for a Charming Hobbit Hole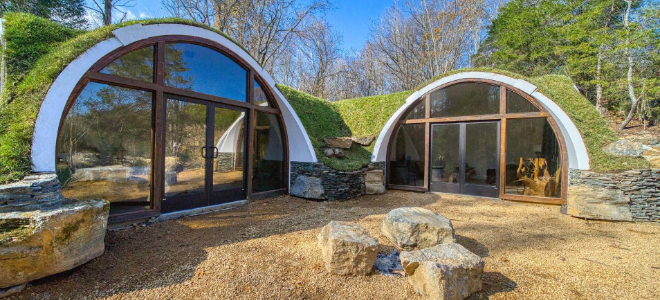 You don't have to be a fan of Tolkien and Hobbit lore to find the charm in these magical homes. Their green-roofed kits start at $41.74 per square foot, offering a unique space for anyone looking to relax in fairy tale comfort. Find yourself in complete harmony with the natural world even faster by opting to get their assistance with the build.
AL Tiny Homes
This company has served the Southeast United States for over 20 years. Their collection offers five customizable models starting at $48,000. Transport is easy with an included trailer, and you'll have comfort dealing with a company that deals with the entire production process, from design all the way through construction.
So much more than homes, these tiny spaces bring comfort and personality to any location with the space to accommodate them.
Tiny Homes Under $50K FAQ
What is the cheapest you can build a tiny house?
The amount you pay to build a tiny house depends on a number of factors. The amount of work you do on your own plays a big role, as does the size and the various amenities of the tiny house.
If you splurge on stone couches and stainless steel, for example, the build will cost more. It is possible to build a tiny house for a few thousand dollars, though it is more common to spend tens of thousands of dollars.
Are tiny homes hard to finance?
It can be difficult to obtain a mortgage or a loan for a tiny house because you're not sure how or when that investment will pay out and many lenders consider it to be a risky investment. Usually, you will have to find a way to self-finance this project.
How to afford a tiny house?
There are several ways to finance a tiny house project. Many people take out second mortgages, take advantage of builder financing, or save up the money over time.
Can you permanently live in a tiny home?
Many people have embraced tiny home living. Those who live in tiny homes permanently say it saves a whole lot of money.
Living in a tiny home also makes it pretty hard to collect clutter and those extra items that fill up your life. It makes it easier to maintain a minimalist lifestyle.
What is the lifespan of a tiny house?
Tiny homes last, on average, from 30 to 50 years before they need to be replaced However, this lifespan only happens with regular maintenance and care.
A neglected home will have a much shorter lifespan.