13 Colorful Plants for Your Fall Garden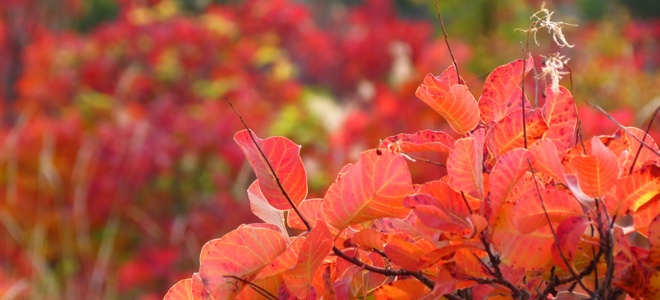 Autumn is well known for its vast array of warm colors, from bright reds to vibrant pinks and oranges. Although fall is typically viewed as a time to wind down the gardening season, it's actually a great time to start planting. From garden mums to Russian sage and smokebush, here are 13 colorful plants that are sure to brighten your fall garden.
1. Smokebush
Smokebush is a great addition to any fall garden as its bright and colorful foliage can be trimmed as a shrub or left to grow into a tree. Smokebush, or smoketree, turns a yellow-orange in the fall, though you can purchase varieties that feature purple or red.
2. Goldenrod
Just like its name suggests, these plants will bring a bright yellow hue to your garden. Although they sometimes have a bad reputation for kicking up allergies, goldenrod is not usually the cause of fall allergies.
3. Witch Hazel
For those gardeners that need a good fragrance as well as a tree, this plant will do the trick. Witch hazel turns a smooth yellow in the fall and gives off a spice-like fragrance. The flowers will also remain on the limbs of the tree even after it has shed the majority of leaves.
4. Aster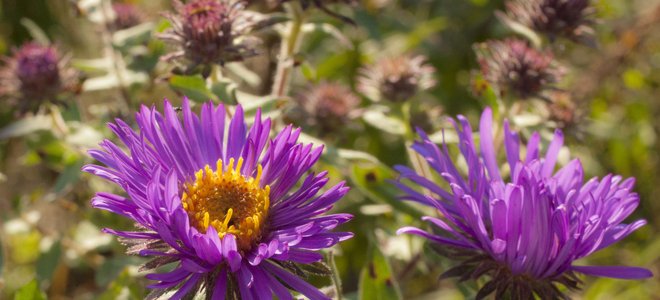 New England aster is a great choice if you want to add warmer colors to your fall garden. These flowers turn pink, purple, white, and blue. They are also fairly easy to maintain and do not require much upkeep in the fall.
5. Garden Mums
Garden mums feature the classic colors of fall, from bright orange and gold to a softer bronze and russet. These plants also offer a wide range of coverage and bloom for weeks on end. Given their variety of colors, mums are one of the most popular plants for fall gardens.
6. Japanese Anemone
Japanese anemones are another common plant found in many fall gardens. These plants bloom late in the summer and will continue through the first frost. Each stem features an elegant white bloom with a yellow interior. Japanese anemone require little upkeep throughout the year.
7. Fall Crocus
There are many species of plants that flower in the fall, but the most common are fall crocus, also known as C. autumnale. These plants bloom into a soft purple flower by the fall before the foliage goes dormant in the spring.
8. Blueberry
Long after the blueberries have gone, the leaves of this plant can turn a sweet wine red in the autumn. If you're interested in color only, make sure you purchase a northern variety of blueberry, as these types all feature bright fall colors.
9. Clematis
Although they do best when planted in the spring, clematis will bloom into a gorgeous purple throughout the summer and fall. If you have to plant in the fall, give it plenty of time to establish before the colder weather sets in.
10. Sumac
Not only are these colorful plants native to North America, but they also offer interesting hues throughout the year. In the fall, sumac turns into brilliant red clusters that last through the early part of winter.
11. Russian Sage
Russian sage is another plant that features warm colors. This plant typically turns purple during the fall, which goes along great with its silver foliage. Russian sage is also a hardy plant and smells great in the cool autumn weather.
12. Maple
With its beautiful shades of orange, yellow, and red, the maple tree has been a staple for the fall season. Some maple varieties can reach heights of over 75 feet, so make sure you plant it in an area that has enough room to handle a robust tree.
13. Purple Picture Hebe
The purple picture hebe is a plant that offers both colorful flowers and gorgeous leaves. This shrub features deep purple foliage that changes to green in the fall to complement its bright purple flowers that spring up in the summer.