13 Projects You Can Make After One Trip to the Hardware Store
We love quickie DIY projects. Especially ones that don't need much time, money, or effort to make a big impact. Check out these ideas before your next trip to the hardware store for some quick, stylish inspiration.
Crown Molding
We love the elegance of crown molding. They are easy to install, adding height and interest to walls and cabinetry, transforming a plain space to something worthy of a social media hashtag.
Custom Mirror
You know the type—the plain framed full-length mirrors that sell for $10 or less at many big box stores. We love the minimalist look of these guys, but a simple project in the form of rose gold paint and tape can add some glam to your space.
Canvas Tool Bags
They're sturdy. They're reasonably priced. And they can be fashioned into any sort of carry-all that can carry all of your project needs. Create a custom look with some paint and stencils to suit your style.
Shop Canvas Tool Bags on Amazon
Stencil and Paint Your Nightstand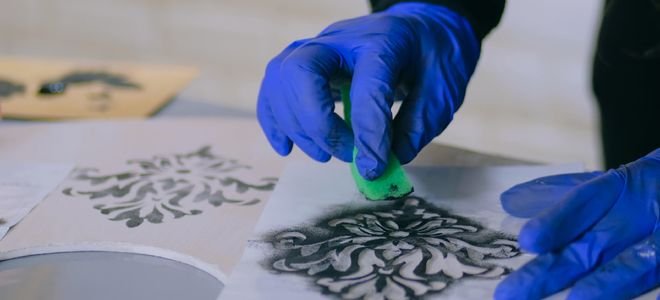 It might sound strange to have a piece of furniture that brings a smile to our faces, but this one does. Don't judge. It doesn't even have to be a true "nightstand," as long as it sits by your bed at night. Right? A chair, a stool, a short file cabinet, a slab of wood placed on a cinderblock base. Whatever it is, consider brightening it up with some color and elegantly placed stencils.
Picture Ledge
Keep your most treasured moments in a place of honor with a picture ledge (or two.) If it's not the pictures you treasure, use it to display your collectibles. Doesn't matter what you plan to showcase. Just make one to make your heart happy.
Peel and Stick Backsplash
The geniuses behind peel and stick anything are our heroes, but a removable backsplash? Mind blown. Less intimidating than a kitchen reno. And there's minimal installation involved, which is great if you're renting and don't want to incur any penalties when your lease is up.
Shop Stick-On Backsplashes on Amazon
Copper Towel Ladder
These pretty copper ladders require some tool know how, but not more than the savvy DIYer is capable of. A tube cutter expedites the job since you'll be making multiple cuts into copper pipes, so measure twice, cut once! The end result is industrial yet chic, and matches well with a variety of bathroom styles.
Custom Shelving in Pantry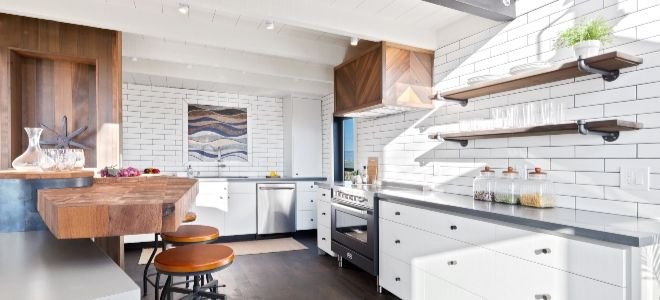 Upgrade the wire pantry shelving with wood shelving and drawers. Easily procured from your local hardware store and installed as a weekend project, the wooden shelves transform the look from utilitarian to custom in moments.
Succulent Wall
Succulents are cute and easy to care for. Use them to decorate your homes in a variety of fashions e.g. succulent garden, terrarium, and even on your roof. If space is at a premium, but you need more greenery in your life, try a succulent wall in your landscape. Shiplap, 2x2 pots, and some clips are the essentials, but you can forego the shiplap if you've already got a vertical space that just needs a decorating.
Entryway Organizer
Having a place to drop the random bits of paraphernalia you inevitably come home with like mail, receipts, spare change, etc. is a handy bit of space. It doesn't take much to make either. Some scrap wood from your last DIY project, a few hooks, and anchors to set it into the wall give you a place to unburden yourself at the door. Just don't forget to clear it out from time to time lest it turn into another junk drawer.
Shop Entryway Organizers on Amazon
Lazy Susan Pencil Holder
A random chunk of wood can turn into an art piece in this project. Simply drill holes into the wood to accommodate pencils and attach a lazy Susan to the bottom of it for the heck of it. And because it's cute as hell.
Fancy-Shmancy Plant Hook
You don't need to fill your house with plants to create a showcase. One simple plant in an upgraded plant hook can make a statement just as well. Attach a plant hook to a pretty cut of wood. Or how about attaching it to some driftwood? Either way, you've just put bit of nature on display in your home.
Chalkboard Wall Calendar
Since we're spending a lot more time at home these days, keep yourself organized with a chalkboard wall calendar. Yes, it's huge, but we know you've got a lot on your plate to keep track of. And we're here to help.
Shop Chalkboard Wall Calendars on Amazon
Just a few small projects can make a big impact, and all it takes is a quick trip to your hardware store—or a few quick clicks!
When you purchase through links on our site, we may earn affiliate commissions at no cost to you.